The BBAR, my part in its downfall
(A Thrilling Story of Science and Fantasy)
Before we go any further I have to say that this is a bit of a tricky read. And I probably recommend that you ignore Chapter 0 and Chapter 8. In the middle is all the detail of how we eventually won the BBAR Team (along with Glenn also bagging a second solo BBAR win).
Chapter 0 - On the way out

There was once a young man who lived on the top of a hill in Buckinghamshire. They say he was born on a distant island which was inhabited by beings called Caulkheads.
I met him in a cafe in Old Amersham. He had just eaten one of Greasy Fred's infamous "Dog Rolls", and was still in a convulsive state, with beads of sweat visible on his forehead. I helped him up off the floor and asked him where he'd been. He told me of faraway places and fascinating experiences. He had the answers to all the important questions. He had even seen the plans for the latest hyperspace bypass.
He told me his story. He seemed a little uncertain at some stages, and kept looking at a special book for help. I didn't see the title, but written on the front were the words "1st Every Week". He must have nicked it.
Chapter 1 - Prelude.
In June and July, I had virtually no interest in the BBAR competition. What with the various targets I had for tricycling, there was no time to think about bikes as well. However, two factors changed the situation.
Firstly, Glenn & Pete shaped up some competitive 50s & 100s. This led me to think that they might need a third-counter for a team. At that early stage, I knew Nev had a faster 50 & 100 than me, so the place wasn't definitely mine.
Second thing to happen was my overhearing Gary Dighton say to John 'Woody' Woodburn : "Jack has completely given up hope of us winning the BBAR team this year". Of course, you never know quite whether the Manchester Wheelers will spring a surprise, but this was certainly interesting news.
In August, Glenn & Pete further improved their 50 & 100 times. Nev chose to ride the Sussex CA 12 hour, recording 239.46 miles. I presume this was his heroic sacrifice in order to assist Glenn in the Poole 12, or could it be that he couldn't face a 12 two days after returning from honeymoon!
It looked as if the BBAR team competition would be between the Leo RC, Poly CC, and us. Over two distances, we were slower than either of those teams - wholly due to my 50 & 100! My view was that we would only beat them if they failed to qualify a complete team.
I then rode the Western TTA 12 on my trike. A very warm and pleasant day on a sporting course (0.2% dual carriageway!) netted me 237 miles. After the Poole 12, we had a complete BBAR team. Our average speeds were :
Glenn 1-45-24 3-42-50 300.086 26.799 mph
Pete 1-51-36 3-58-20 268.753 24.818 mph
Ralph 1-53-34 4-09-45 237.699 23.416 mph
This gave us a team speed of 25.011 mph. In order to overtake us, Shay Giles (Leo RC) needed 279.7 miles for a 12 hour. Alternatively, Martin Pyne and Duncan Smith (Poly CC) needed to record 237.5 miles each.
Rumours then started flying that Pete Longbottom might ride the CC Breckland 12, to give the Manchester Wheelers a complete team. A swift calculation indicated that he and Gary D would need 241 miles each to overtake us.
Chapter 2 - The Bike Ride around Bedfordshire.
All the above calculations were based on my 12 hour on the trike. Whilst it was possible that we could 'clean up' using that ride, I didn't intend to leave it to chance. The entry was already in for the Luton Wheelers 12 hour, on a conventional (normally aspirated) bicycle. I put aside the memory of my previous ride in the Luton 12 (I failed to finish the Championship in 1989), and got on with the job of improving on 237.7.
It was a nice day, although things were a little chilly for the first few miles. I was No. 116, and I didn't like to think about what the early starters must have experienced - some of them had to set off more than 90 minutes before me!
After riding the first 10 miles in 25 minutes, I was caught for 2 minutes. I can't say that I was too bothered by this, but I did wonder what possesses someone with a PB of less that 240 miles to start a 12 with a 23 minute 10 ? Must be mad, pal. At 75 miles, the rider packed.
At 50 miles, Martin Pyne was 5 minutes up. Martin had started 1 minute in front of me, and Pete P had instructed me to catch him. This didn't look likely, as I had taken 2-07 for 50, and he'd taken 2-02. Meanwhile, Pete Wells was in the lead, closely followed by Ian Butcher.
I carried on in my own unruffled way, letting the race go on around me. 100 miles passed in 4-20, and I was 4 minutes up on a schedule for 257 miles. Pete Wells must have passed 100 miles close to 4 hours - could it possibly last? The answer is no, as that was the last we saw of him. At this stage Andy Cook stopped, and John Morley disappeared from the scene.
At 125 miles, Martin's lead over me was again 8 minutes (it had been 10 mins at 110 miles). At the next check, to my surprise, I was only two minutes behind him! This boosted my morale, and I continued my pursuit. After 150m the gap was down to 1 minute. A few miles later, he was in sight, and I reeled him in. The historic moment (for me, anyway) passed rather unspectacularly. Just as I pulled alongside, he sat up to eat some food, and was unable to exchange small-talk about the weather, or the situation in Yugoslavia. I continued, rather disappointed - but hopefully Tim had got it on film from the following car!
At the 190 mile turn, I assessed the remainder of the competition. It seemed that a certain Mr S Campbell of the Rugby VC was fractionally ahead of me, and Ian Butcher was about 20 minutes up. Martin Pyne had slipped back a further 8 minutes. I think it's fair to say that he had had a bad patch between 130 and 170 miles, which can't have been helped by me coming past. But, credit to the guy, he continued.
200 miles passed in 8-53, and I hit the finish circuit after 9-17. I was 17 minutes up on schedule, and so was confident of beating 260 miles. I knew I had to reach TK4 on the fourth circuit. With an hour to go, I figured that I would actually reach TK5 with some time left. Then, with 30 minutes left I realised that I would probably pass TK6 before running out. When I finally reached TK6, I had 4.5 minutes left, with 1.5 miles to TK7. When I reached TK7, I was horrified to see that I still had 19 seconds left! I was just able to maintain 20 mph to TK8, where I slumped to the ground. QDF. 265.33 miles.
Ian Butcher won with 275 miles, I was second. Mr Campbell was third, and Martin P was fourth with 262 miles. He obviously managed a good finish.
Chapter 3 - The Aftermath.
So how did the statistics look after a 27 mile improvement? Well, ironically, the situation hadn't changed an awful lot. Certainly, the Leo RC looked less likely to do the job, as Shay Giles had a revised target of 307.4 miles. However, the Poly CC still only needed 239.7 from Duncan Smith. If the two Manchester Wheelers were to ride the Breckland 12, then their targets were revised from a laughable 241 each, to a modest 255 each. Not a formality, but certainly not too much for those two to contemplate.
Our team stats became:
Glenn 26.799
Pete 24.818
Ralph 24.184, giving an average of 25.267 mph.
It all depended upon the start sheet, and then possibly the result sheet for the CC Breckland 12 hour. What would happen?
Well, I phoned the organiser after the closing date. He informed me that there were no entries from the Poly CC, and only Gary had entered from the Manchester Wheelers. Whoopee!!
So, unless I had missed some rides being done by other members of these various clubs, it looked as if we'd got the BBAR team award. This would have been the first time that we'd have got First Team, having been second in 1986.
Looking at the individual part of the BBAR, we had Glenn perched at the top, and Pete precariously hanging in there at 10th. At this time, I was looking forward to the North Middx & Herts 100 on an 'emergency' version of the F1/100. Many of you southerners would have been preparing to blitz around the Southampton Wheelers 50.
In order to maintain a place in the Top 12, Pete obviously needed to avoid being overtaken by more than two people. With Woody a mere 0.002 mph slower than him, Pete had firstly to be sure to improve by no less than the "Old Man from the Manchester Wheelers".
Next on the 'risk list' was Ian Butcher, who was making a late bid. He needed a 4-4-45 for a 100, and this had to be likely as he began the Luton 12 with a 4-9. There were several other riders in the 100 who could have been a problem - Steve Ayres, Brian Phillips & Alan Roberts for example.
Looking ahead to the Breckland 12, Gary Dighton & Gethin Butler would spoil the party if they were to finish. Clearly Pete was hoping for a thoroughly miserable day in Norwich. This is not a view which would have been shared by Mark & Steve, who I understood were to be tandemising.
Chapter 4 - The Battle of Little Bighorn
Sorry, that should read Little Paxton. The NM&H CA 100 took place on a morning of light winds. The earlier riders (including me) had wet roads for a while, but nothing serious. I was number 51, chasing Brian Phillips. No problems there, because I didn't get near him.
My objective was to improve on 4-9-45, and I went through 25 in 1-1-0. So far, so good. Along the A604 towards Alconbury, I passed 50 miles in 2-2-45. Heavy traffic flowing towards RAF Duxford (for an airshow) offered a fast third 25, which duly took 59 mins. The last 25 was dealt with in 1-1-12, to give 4-2-57. Not a PB, but an improvement in BBAR terms. My average was up to 24.408 mph, and the team speed was now 25.342 mph.
As threatened, Ian Butcher produced a good ride (3-53-43) to sneak into 8th place in the BBAR. Mr D Hatton of the Scunthorpe RC got round in 3-52-14, which allowed him to squeeze in ahead of Pete - by 0.002 mph.
Colin Roshier and Andy Cook improved their 100s, but didn't change their places in the table. Colin won the race with 3-45-21, Andy was second with 3-51-54.
So this left Pete apparantly languishing in 12th place.
Chapter 5 - Swimming in the Forest
Well I'm told that it rained a bit, but nothing serious. The Southampton Wheelers 50 featured vaguely unpleasant, but fast, conditions. Pete set off as if he'd eaten 5 Shredded Wheat, and went screaming down the road leaving burning rubber on all the corners. He then blew up. Oh dear.
Glenn set off at a modest 29 mph and managed to stay the whole course. His PB of 1-43-51 raised his average to 26.940 mph, and the team speed to 25.388 mph.
Also in the event, Clive Brooks improved to 1-46-13, taking him up to 4th place in the table. Lee Paxton bettered his time to 1-51-19, but didn't move in the table.
I was then informed that the BBAR table in Cycling was incorrect, and that Pete should have been positioned one place higher ie from 10th to 9th. With the result of the 100 included, this then became 11th.
Chapter 6 - More statistics
Our final figures were:
Glenn 1-43-51 3-42-50 300.085 26.940 mph
Pete 1-51-36 3-58-20 268.753 24.818 mph
Ralph 1-53-34 4-02-57 265.330 24.408 mph
This averaged to 25.388 mph.
Just for interest, had Pete Longbottom actually ridden a 12, he and Gary would now have needed to produce 261.65 miles each to beat us in the team competition.
As we awaited the Breckland 12, Pete could afford to be overtaken by one person. Shay Giles needed 254.6 to do this, Gary Dighton needed 217.6, and/or Gethin required 226.3 .
We sat in our armchairs, gripping our tenterhooks nervously.
Suddenly my telephone rang. A familiar voice said to me: "Hello, you're speaking to the Manchester Wheelers' Club Champion of 1991, on account of the fact that I've ridden a 25, 50, 100 and 12 hour". I was confused, as surely Gary would ride the 12 hour, and sweep "Big John W" out of the way. Apparantly, however, Gary had decided not to even start the 12. This left the way open for a 54 year-old to grab the honours - how embarrassing....maybe Derek Smith will be next year's ART champ.
This development improved Pete's chances of a Top 12 place slightly, although he seemed resigned to slipping out into the murky depths of the lower reaches of the BBAR table (along with people like me!).
Chapter 6a - STOP PRESS - Pitt Alert!!
Just when I thought it was safe to relax, I received a phonecall with the message that "... Mr David J Pitt will be attempting the London to Bath & back tricycle record on Wednesday". Oh, terrific. I only got that record three months ago, and haven't even received the shield.
I got up at 4am, and was at the start near Slough to witness the bearded one begin his assault at 5am sharp. He powered into the blackness, and I returned home for some more sleep before going to work.
I have since discovered that he was over 5 minutes up at Hyde Park corner. On his return to opposite the start he had extended his lead to 9 minutes in 50 miles. After 75 miles he was 14 minutes faster than my time. By 100 miles, however, he was only 15 minutes up - and the hard work was just starting! As he approached Bath, he had slipped to 8 minutes up, and his back was starting to give him problems. Shortly after the Bath turn, he abandoned - still several minutes faster than my schedule - but his back had "gone".
Unfortunately for me, I didn't know this at the time. I sat at work nervously watching the clock, waiting for a phonecall. At about 3pm, Woody phoned to say that he had waited at Reading for 30 minutes and hadn't seen anything resembling Dave Pitt on a tricycle. This was some consolation - but until I knew for certain, I couldn't relax. Eventually, I called Mrs Pitt. She explained that DP had stopped - but couldn't understand how I didn't know already. It turned out that Dave's pocket-book hadn't got my current office number.
I returned to normal, and got on with some work.
Chapter 7 - The CC Breckland 12
During the week leading up to 22nd September, Southerly winds were predicted, and I was hoping to attempt London-York. However the forecast changed to West winds instead. Unfortunately, this was no good for me. Equally unfortunately for Mark & Steve, it meant that they didn't approach the tandem twelve record in the CCB 12.
However for fans of Pete Pickers, the lousy weather was the answer to their prayers. After the abandonment of the tandem ride, Glenn (chief cook and bottle-washer) left me a news bulletin on my ansaphone. He said it was very windy. Gethin was reported through 125 miles in 5-35, and Shay Giles was not looking very happy either.
I calculated that GB would probably have covered 100 in 4-28, and hence might be expected to cover 260 miles in total. We had to hope that he would have a margin of at least 6 miles over SG.
In the end, Gethin is reported to have covered 261 miles, and Shay 247. Assuming these provisional distances to be precise, this puts Gethin into 4th place with an average speed of 25.780 mph. Shay won't be in the top 12, but will be part of the Leo team which will probably be second in the BBAR - their average will be about 24.81 mph.
I didn't wish to tempt fate, but my calculations still left Pete in 12th place. We had to hope that the applecart was firmly anchored to the floor.
Chapter 8 - The journey home.
It was starting to get dark, and spots of rain appeared on the smoke stained windows of the cafe. Fred was wandering around trying to drum up some interest in his deadly "fry-ups". We decided that now was the time to leave, while we were still alive. I gathered the various papers and plans from the table. Suddenly I spotted the implementation date for the new hyperspace bypass - it was today!
We rushed outside and stared into the sky for any signs of the construction teams in orbit. He said that there were dozens of them parked in two long lines stretching from above our heads into the distance - bright yellow oblong shaped ships, ready to strike. I couldn't see anything unusual, but he was panicking.
He grabbed his papers, and reached for his Inter-Orbit Matter-Transmit Club Discount card. He ran to a phonebox, pressed the card into the slot and dialled the San Marino Office of the Czechoslovakian Merchant Shipping Company (or that's what it looked like). Suddenly the callbox disappeared and a modern-styled, draughtly-looking cubicle was left in it's place. He'd escaped.
I looked around for these spaceships. As I waited, more streetlights switched on. Instantly, the penny dropped (narrowly missing my head). What an idiot, thinking that the sodium lamps were offensive craft. Must've been the "Dog Roll" he ate - the excess of grease would have sent him on a trip. You won't catch me risking my life with those things - I'd rather chance a half-cooked chicken, basted with hazelnut yogurt.
Suddenly, without warning, everywhere was drenched in intense yellow light, and buildings started to disintegrate. He was right - we were being demolished! His biodegradable, photosynthetic, Reverse-Action sunshades must have seen through the darkness. I ran for the new phonebox, to dial the number he had used. It was my only hope as the ground was crumbling under my feet.
In the cubicle, the fearsome heat was melting the perspex side-panels. The metal buttons blistered my fingers as I tapped away furiously. There was no response, so I desperately hit the 'Follow On Call' button, taking the skin off my left thumb.
I finished re-keying the number, but still nothing happened. Why didn't it work for me? With a giant shudder, the kiosk was almost toppled over. The sides were being torn away. The roof started to fall in, striking me on the head. With stars in my eyes, I began to collapse. As I slumped to the floor I could just see the message which answered all my questions.
"999 Calls Only"
---
Meanwhile, a card from Andy Burnet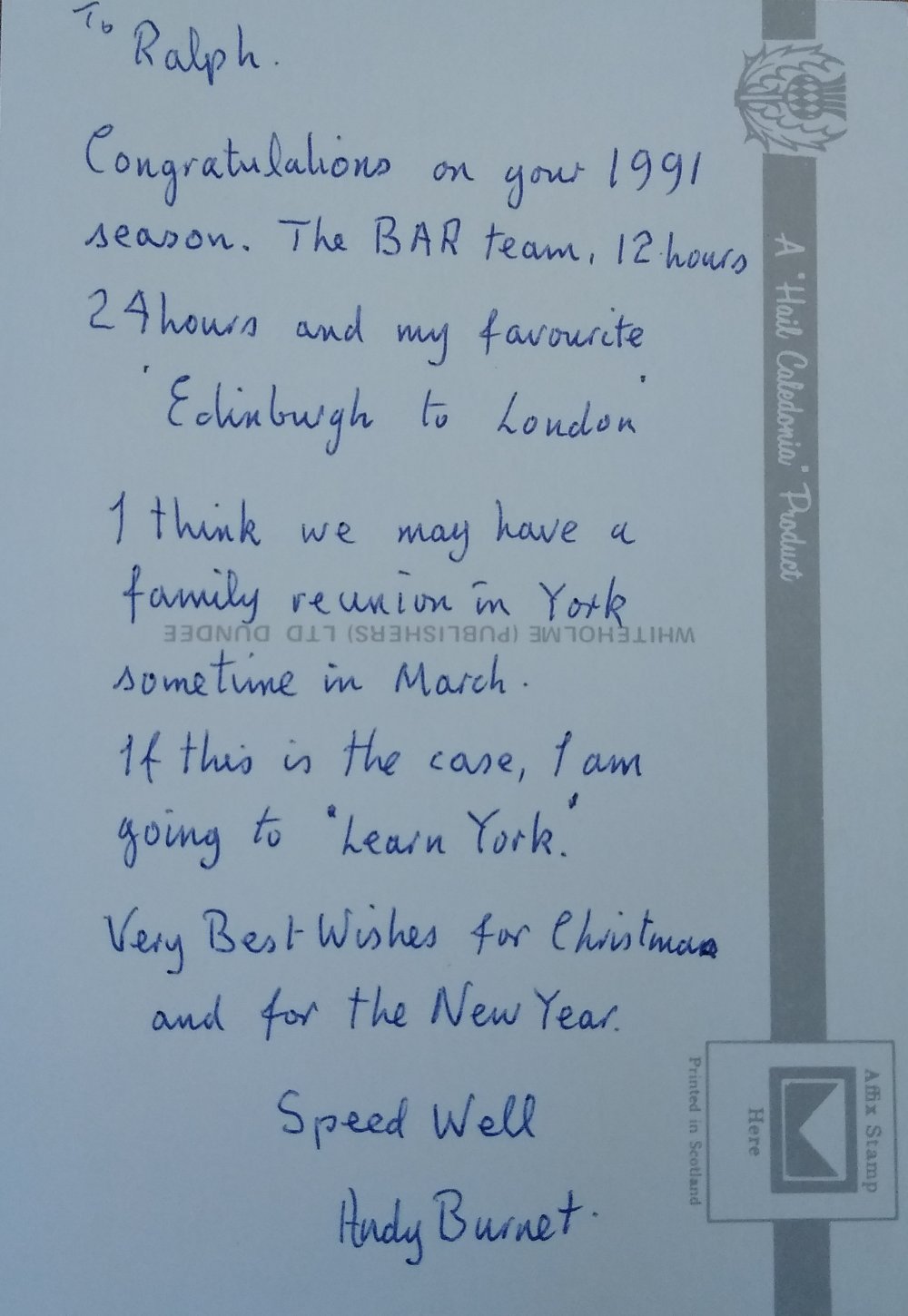 Back to Other Cycling