Running the Thames Path 100
My first 100 mile running race had been a long time coming. In 2015 I made a casual comment to Martin White – something along the lines of "I'll do the marathon this year, Comrades next year, and then I'll do a 100"
Comrades didn't happen until the 2017 'up' run. And then I had to return to Durban to do the 'down' run in 2018. But at least I had a qualifier for the 100.
And so it was in August 2019 that I entered the South Downs Way 100 which was to take place in June 2020. This race was postponed to November 2020 (giving it something of a different character!) and then eventually cancelled because of the second Covid-19 lockdown.
Luckily, before having even run the SDW100, I had already jumped in with an entry to the 2021 Thames Path 100. I had intended to 'cut my teeth' in the really quite tough SDW race, before hopefully running quite a lot quicker beside the river. But some things are difficult to control, and so it was on a wet morning at Richmond upon Thames that my 'buckle quest' actually began.
Almost all of my 'relevant training' prior to this race had been with Yvette Burton, a previous finisher of both the Centurion 'Autumn 100' and the North Downs Way 100, and so someone who has a fair idea of how to deal with such races. I'm not much of a fan of long slow training runs, but somehow I ended up running with Yvette as we did a sequence of 20+ mile efforts coupled with the inevitable recce runs over bits of the Thames Path route.
In a trick borrowed from the Comrades Marathon, there are two types of award for finishing a Centurion 100 mile race depending on whether you take more or less than 24 hours. And naturally everyone wants the sub-24 version!
We had a schedule based on our recce of the first half, which was always intended to be a race simulation. Extrapolating the recce data gave a final time of 23h 20m, which felt about right.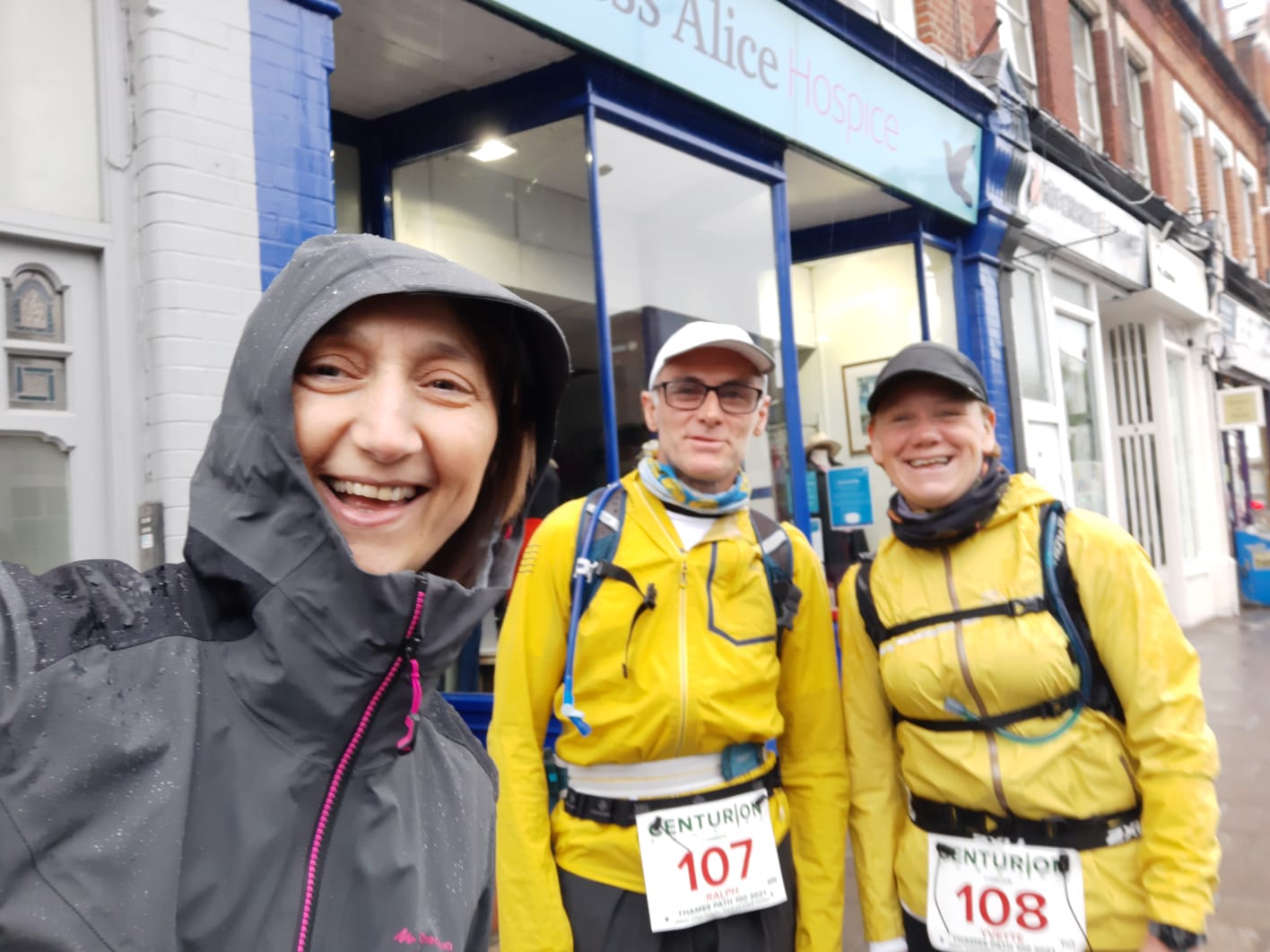 Andrea sends us to the start. Mild anxiety from me. Centurion confidence from Yvette.
On 8th May 2021 it was raining and very windy. A few days earlier the forecast had been for many hours of rain, but as we crossed the start line at 8.21am the expectation was for just one more hour of wetness.
It wasn't a cold day, so although we were wearing waterproof jackets, we were conscious that we didn't want to overheat. We soon dispensed with the jackets and concentrated on our regime of "15 minutes run, 5 minutes walk". Repeat to fade.
The walking breaks were the opportunities to eat and drink. I had my food in a pouch around my waist. As I rotated the pouch into position, I managed to rip my race number off my front. We were able to improvise a repair which lasted until the next eating break. Not a great start, but luckily we could call for help. Andrea Hendy had kindly offered to look after us over the first 50 miles – a task that began with driving us to the start and continued by needing to source some safety pins at short notice. Meanwhile I continued with my number in my pocket.
Luckily safety pins were available at the Walton Aid Station, so my ragged and ripped number was re-attached to me. By the time we saw Andrea at Staines, the first authorised "crewing point", we were still on schedule.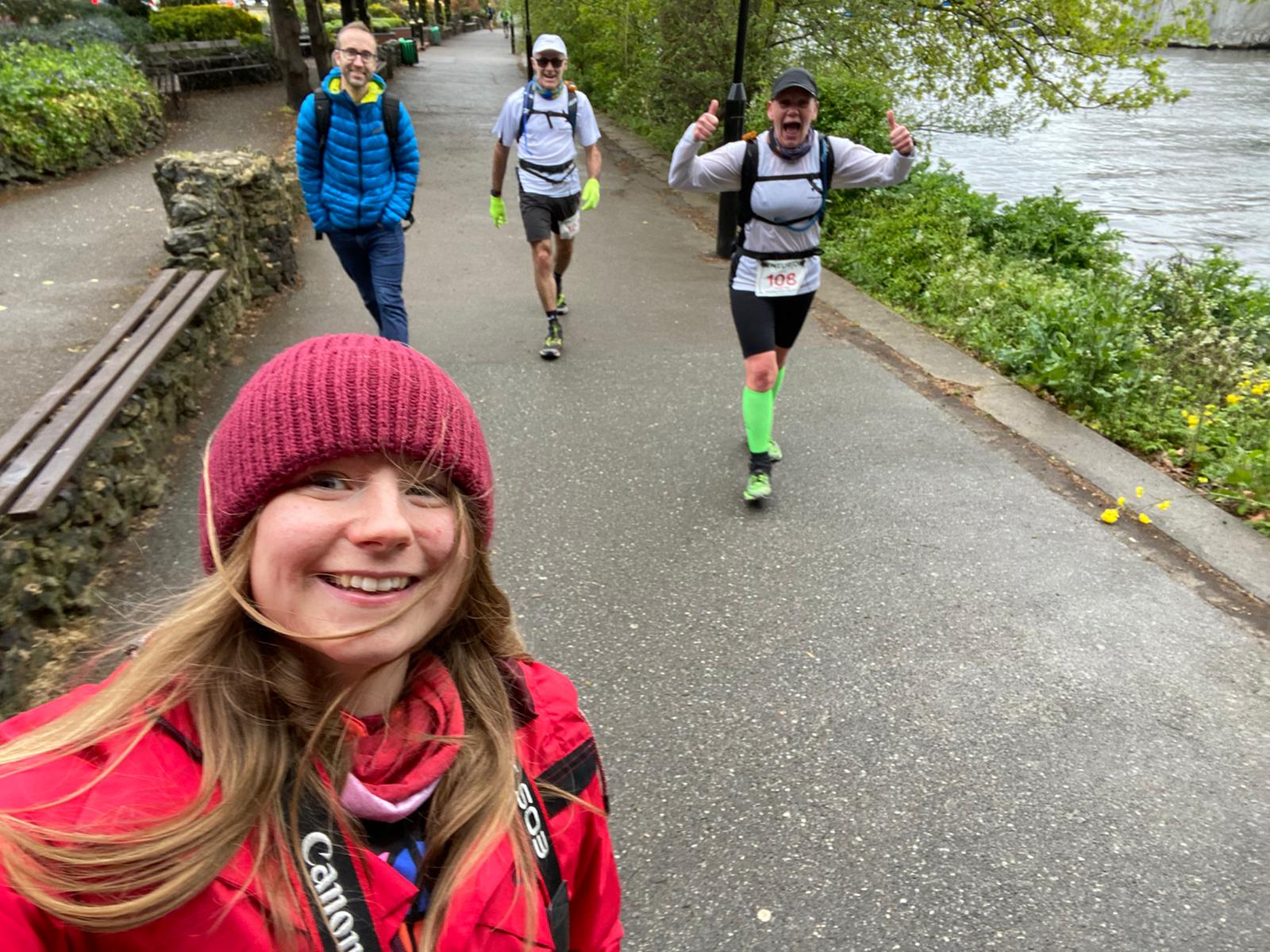 Encouragement from Olivia and Phill, just before our arrival at the Staines Crew Point
A few miles later, near Windsor, we had the first refuel point. We took on the food and drink we would need to get us to the halfway point at Henley. This was quite a shock, as we suddenly had several more kilograms to lug around.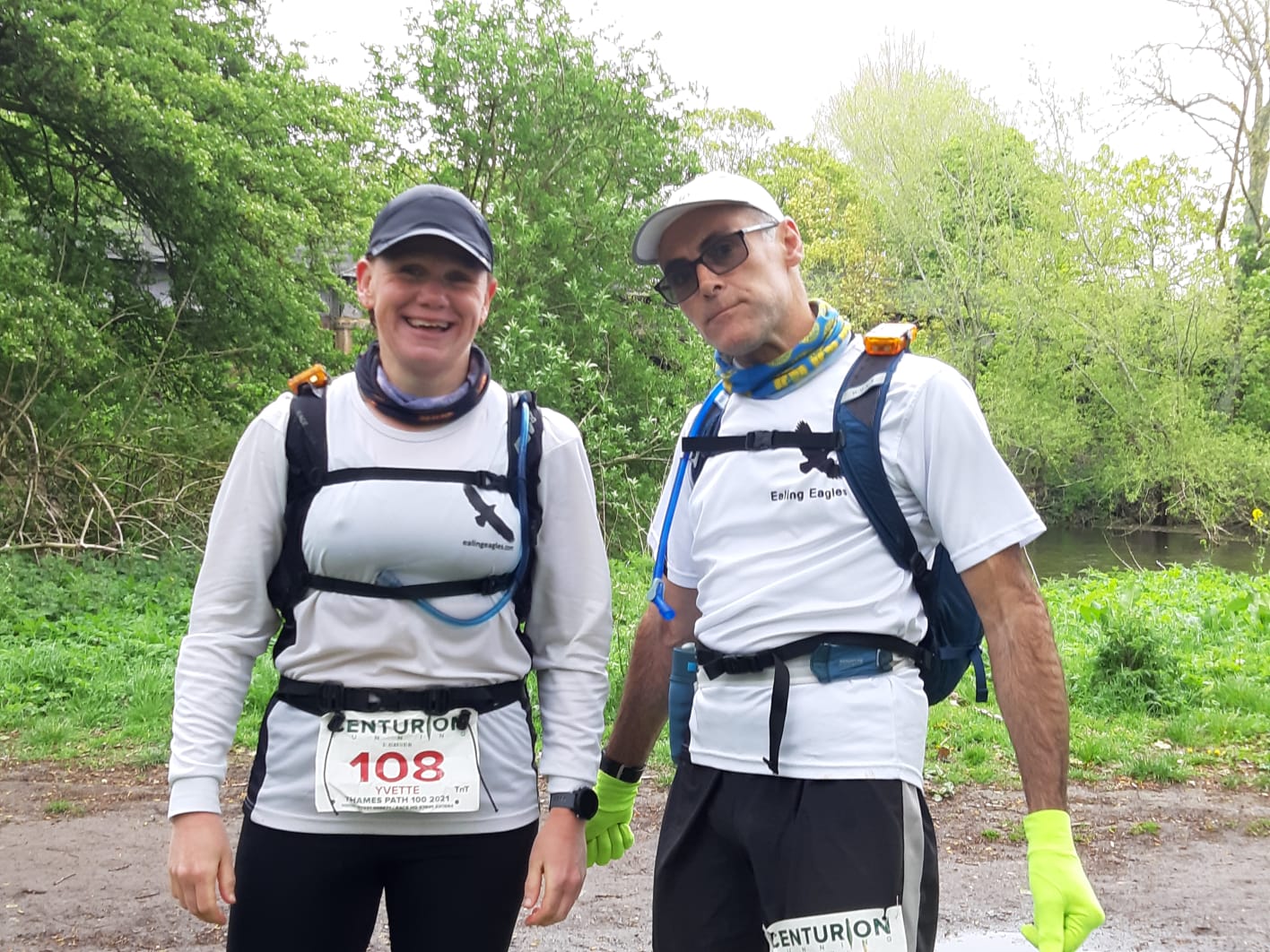 Windsor : First signs of leaning; fuelled up & ready to go again. Maidenhead, trotting past Boulters Lock.
After stocking up, we were about 5 minutes behind the plan and had surrendered 5 more minutes by Maidenhead.

At Marlow, I was starting to feel the strain. I was also aware that we were a bit behind the plan. Yvette seemed unflustered...
Going through Cookham, Bourne End and Marlow cost us a few more minutes, and when we were approaching Henley we weren't in the best of spirits. Not helping was the fact that we could see Henley from a long way off, it wasn't getting any closer, and we could tell that when we got there our mileage was going to be higher than the official distance of 51 miles.
We reached the Henley Aid Station about 10-15 minutes later than planned. Lisa and Mark were enthusiastically waiting for us, having taken over crew duties from Andrea shortly before.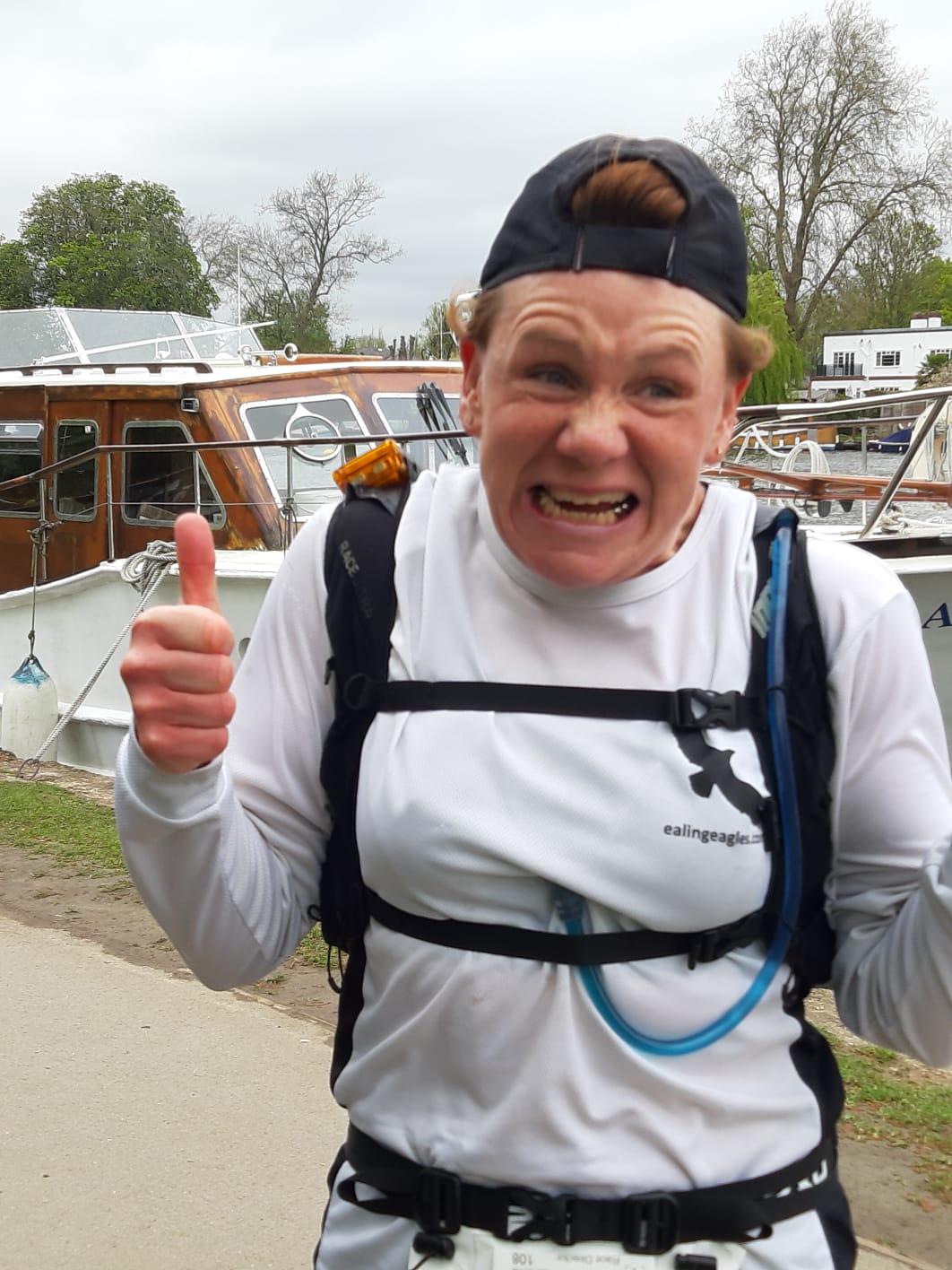 The keen crew await our triumphant arrival at Henley. Feelings of blessed relief from us. Not sure about the third pic!
Although we were showing 52 miles, it was hard to tell whether the second part would now be 48 miles (great news!) or whether it would still be 49, as per the course notes.
On the bright side, we were now joined by Henry (my child#1) and he would keep us in order for the next seven miles towards Reading. We were quite a happy and motivated trio for this section and it was no surprise to realise that we'd pulled back a few minutes of our deficit.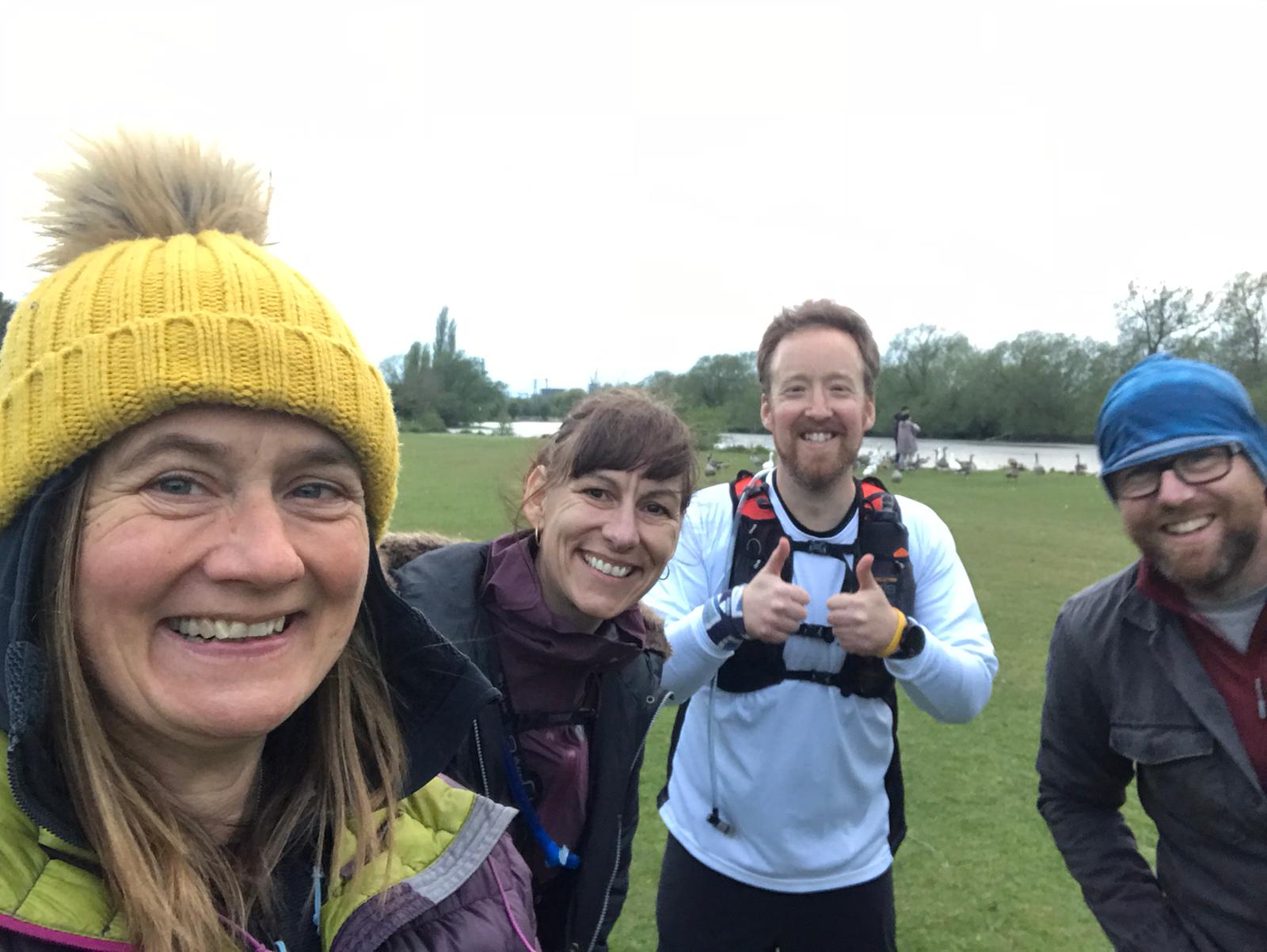 Lorraine and Nick prepare to take over pacing at Reading (flanked by Lisa and Mark). And the moment Henry hands over to Lorraine.
This was the point where Yvette and I became independent. Leaving Reading, she was to be paced by Nick Davies and I would be looked after by my wife Lorraine. After a quick change of clothes, Yvette and Nick set off. I needed to use the Aid Station facilities, and so Lorraine and I were 5 minutes behind.
I was determined not to make an effort to catch up. We had 42 miles to go, and 'having a little dig' was not something we even thought about. We jogged along comfortably and as we approached Pangbourne (67 miles) we had made up a few minutes against the schedule. I guess I was surprised to spot Nick waiting outside the Aid Station, as this meant that we'd caught up with Yvette. Suddenly now I found my tactics changing. While before I wasn't worried about being behind, it now seemed terribly important to stay ahead!
So Lorraine and I scuttled over the bridge and were quite purposeful as we climbed through Whitchurch and got back on the trail towards Goring. This stretch is a bit technical and twisty, with plenty of tree roots etc. It also felt a bit busy with lots of leap-frogging with other competitors whose run/walk strategies were out of step with ours.
We reached Goring unscathed and set off on the stretch to Wallingford and the 78 mile handover. One of the risks with running beside the river is temperatures plunging during the night, but we were fortunate in that the weather was still quite warm.
After a particularly rough stretch of mud and boulders we ran through a riverside restaurant at Moulsford and took the short detour along the road. We were making good progress and arrived in Wallingford about 15 minutes behind schedule. After visiting the Aid Station and then getting fuelled up at the Crew Point, I set off with Henry pacing again, about 25 minutes down.
That said, by this time the schedule wasn't terribly demanding if you could still trot along a bit. After the event, I can see that some of the distances for points on the schedule weren't very accurate. We had been told Clifton Hampden was 85 miles, but in real life I measured it as 86.7. Hence, we arrived there apparently 40 minutes behind schedule. However, the schedule allowed something like 20 minutes per mile at this point, and so our deficit was closer to 5 minutes.
When we arrived at the Crew Point at Culham, I was surprised to be told that my schedule was dodgy. I wasn't in any position to argue, and have to admit that it didn't feel like we would have just made up 20 minutes against the plan in the previous 4 miles. Something was screwy, and I hoped it wasn't my maths.

Roger and I set off full of optimism. Sonja wasn't impressed with the mud after Abingdon. (and neither was I, but didn't feel the need to record the grimness)
At this point I set off with Roger, for the final push to the finish. We tried to continue with the "run 15 mins, walk 5 mins" formula that I'd been following from the start, but it didn't take long to realise that I wasn't really capable of running. Whenever I tried to adopt the 'running dynamic', I would get quite a lot of pain from my lower back and core area generally.
With 10 miles remaining, we could easily have been in trouble. But I was still able to walk fairly purposefully, and we had well over 3 hours remaining before the target time of 24 hours was reached.
And so we walked. I didn't feel great about this, because I really felt I should have been doing some running at least. But there wasn't really an option. I was steadily getting less and less mobile, and simply keeping moving was my best effort. Roger did a great job of talking about anything and everything to keep my mind positive. We went through quite a lot of orienteering, cross-country, mountain biking, etc stories as we kept trudging along.
We passed the final Aid Station, and we had 2 hours to cover 5 miles. We were going to do it, but only if I could keep moving. As we passed Sandford Lock we had 3 miles and 90 minutes remaining. I was getting slower and slower, and unbelievably took over an hour for that final stretch.
Eventually I saw Lorraine up ahead, waving frantically. This was it, the final few minutes. If only I could've raised the pace. I turned off the path, I crept into the finish area, and crossed the line with a time of 23h 36m 40s.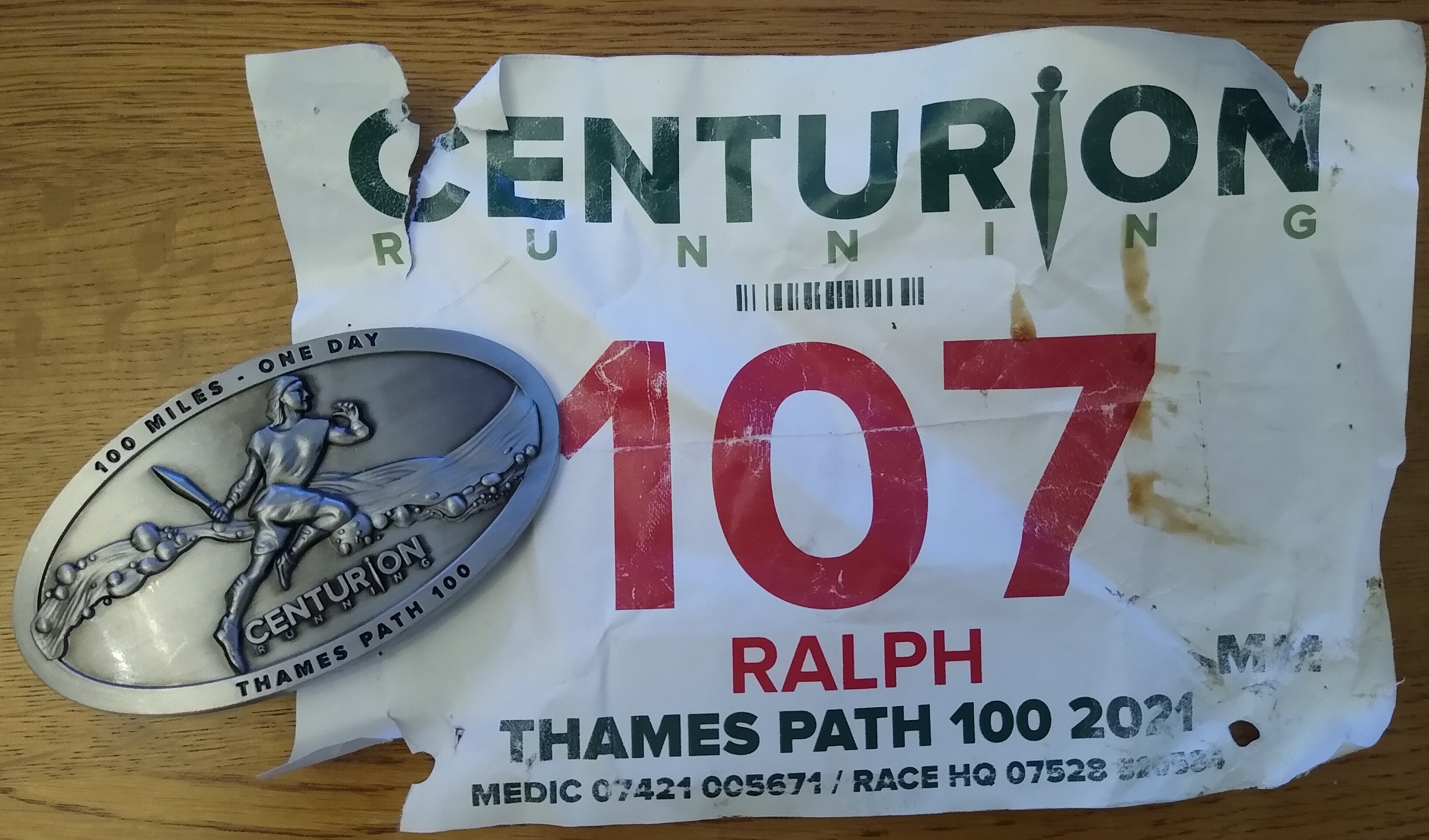 A ragged race-number, and a smart belt-buckle. Centurion just doesn't 'do' medals.
I received my "100 miles – One Day" buckle, without much awareness of what was going on. The photographer told me where to stand, told me how and where to hold the buckle. He then had to tell me to smile a bit. A pity he didn't also tell me to stand up straight.

I couldn't bring myself to buy the 'leaner' finish line photo, but I have purchased this one which was taken on Hampton Court Bridge.
I needed to sit down. We got a chair, and I slumped into it. I have vague recollections of people around me asking questions like "where does it hurt?", but I also had a clear view of someone in a white shirt thundering across the finish line. Good grief, that's Yvette. After nearly 24 hours she was just 3 minutes behind.
The last I'd heard was that she'd been suffering a bit and was 30-40 minutes behind. Nobody in the support team seemed ready for her, so it looks like that was how they saw it as well.
It would appear that while I was slowing spectacularly, she was able to "wind it up" for the finish. Looking at the data, it seems that at Sandford Lock there was still 35 minutes between us.
Then she took off, leaving her pacer Sonja to try to keep up. At the finish, everyone was oblivious to this. Elsewhere, those watching the tracker were aware of the pursuit but could only sit and stare.
For that final sector, I took over an hour while she took 30 minutes. To the casual observer, it might look that we ran 90 miles together before I pushed on ahead at the end. Not the case by a long way.

Yvette loses the game of musical chairs. L to R : Andrea, Roger, Lorraine, Henry, Mark, Lisa, Sonja.
Huge thanks go to Andrea Hendy, Lisa Emerson and Mark Fisher for driving around and looking after us. As mentioned, Henry, Lorraine and Roger Thetford were my pacers. Yvette was paced by Nick Davies and Sonja Knoll with support from Kate Ward.