6 October 1990 : 50 and 100 miles
The chosen course was the A12 from Brentwood to Kessingland, near Lowestoft. There was a short detour from the Chelmsford bypass into Chelmsford, and back to the bypass. This was necessary to fit 100 miles in without starting inside the M25, or finishing in the sea.
I had immense problems obtaining sufficient help for this ride, as everyone seemed to have commitments for part of the day. However, John Purser was happy to spend a day on the A12, and Audrey was able to be timekeeper. My brother Tim drove my car with John observing.
The day was windy, very windy, and in the right direction. This, in conjunction with quite a lot of traffic, allowed me to cover the first 8 miles at over 30 mph. The Chelmsford detour slowed me a bit, but I was still through 25 miles in 54-30, which was 3mins 30s up.
The next 25 miles were problem free (only some roadworks causing the traffic to slow a little), and I shot past Audrey at the 50 mile point in a time of 1.45.50. Yes!!! My first RRA record. I could scarcely believe it, as my adventures on the Bath Road had almost conditioned me to expect failure. Yippee!
Onward through the roadworks at Capel St Mary, to join the A45 at Ipswich. I was flying along, and supplying drinks became a serious running exercise for Tim and John. I had experienced some crosswinds on the Chelmsford bypass, but on the Orwell Bridge, I really thought I was going over the side. It was terrifying when the gale really blew, and I was relieved to rejoin the A12 and have the wind with me again.
The wind was still howling, and I passed 75 miles in 2.43.20. This meant I had over 1 hour 20 minutes for the last 25 miles, in order to beat Dave Pitt's 100 record. Despite some major roadworks on a narrow road at Farnham, near Saxmundham, I was still able to blast along.
Audrey overtook at Frostenden, and continued to find the finish.
At 98 miles I thought I had cracked, as I was forced to change down on a short climb. However, the Kessingland sign was at the top, so my spirits were quickly high again. The last mile was unbelievably fast, and I recorded 3.41.11. This took 23m 55s off Dave's record. I was ecstatic.
Immediately after finishing, I went to a convenient phone box and called Pitty. The call was made when I still had 15 minutes in hand. You can imagine how pleased he was to hear from me!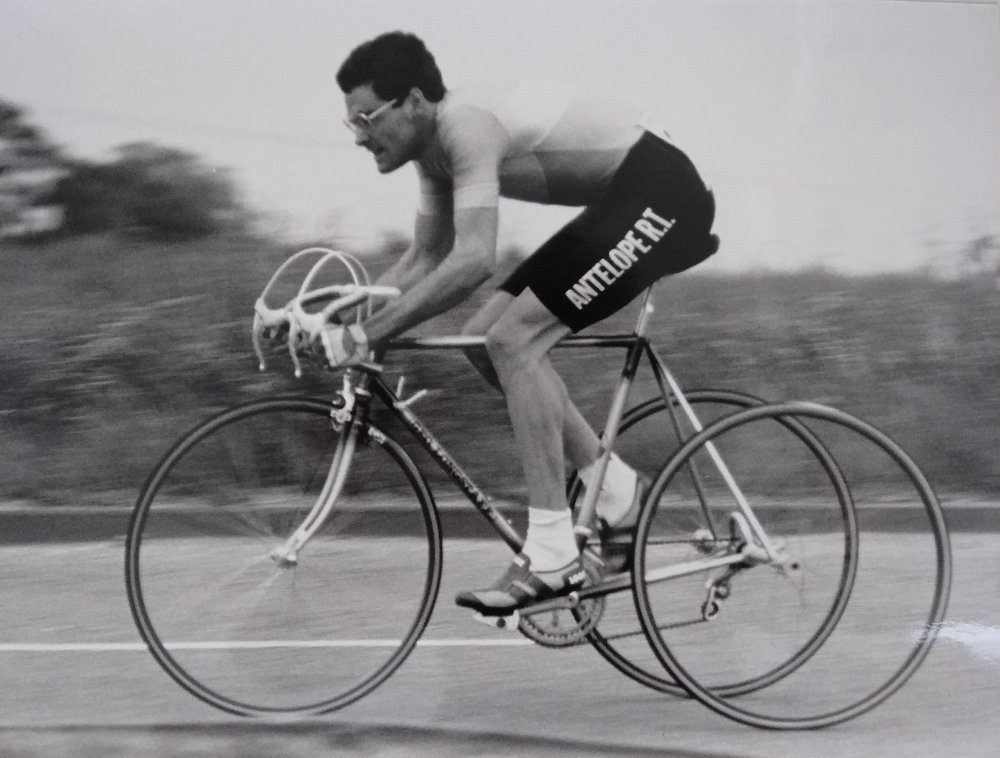 (Admitted, this was taken in a time trial. But it was on the A12, and was either in 1989 or 1990. So it's fairly representative of the big day in October 1990. I'm 99% sure I didn't have tribars for this record. I believe I bought some prior to the 1991 season. Or maybe I just didn't fit them to the tricycle until 1991. Hard to remember, although there certainly was a view for a while that the need to steer a tricycle meant that tribars probably wouldn't be safe. Until, of course, somebody tried it...)