From Prince's Street to King Edward Street
- a new Express Service, stopping at Scotch Corner and Newark
On Wednesday 17th July, I was advised that a North-West wind was expected over the North of England on Saturday. On Thursday, this forecast was confirmed. This was the weather I had been waiting for, so I set my plans in motion for the Edinburgh-London RRA trike record attempt.
I went home from work after lunch on Thursday, and started to prepare for the trip to Scotland and back. I bought large quantities of rice, bananas etc., and two loaves of bread. Sandwiches were made from 40 slices, two litres of the rice/banana mix were produced, and I mixed eight litres of isotonic drink.
I confirmed the arrangements with my helpers, timekeepers etc. in the evening. On Friday, I loaded the car and set off at 10 am for St Albans to collect Andy Burnet (Verulam CC) who was going to share the driving to Edinburgh.
The outward trip - in comfort
It's a long drive, and we finally arrived in Edinburgh at 8pm. Dave Harris (the "Edinburgh Timekeeper") had most generously invited us to stay with him and his wife, so we made our way to his house in the west of the city. My other helpers were travelling up on the train, as they had had to go to work that day. The celebrated gentlemen were Martin Purser (Charlotteville CC) and Hedley Stennett (Newark Castle CC) - both live in the Newark area.
We then received an unexpected bonus, as Mrs Harris announced that we didn't have to go out in search of food - large portions of lasagne were served. Unfortunately, Mrs Harris didn't know that Martin Purser was a vegetarian, and so had made some Lasagne for him. Fortunately for me, after finishing my meal, I was offered Martin's portion. Of course, I pretended that I couldn't possibly accept it. I did eat it in the end, as you'd expect - and very nice it was too.
We got to bed at about 11pm, setting alarms for 6:45am. After a quick shower etc. I had breakfast, and we left at 8am. In the City Centre at 8:15, there wasn't much action. I had a brief warm up to check my gears were okay, and set off at 9am.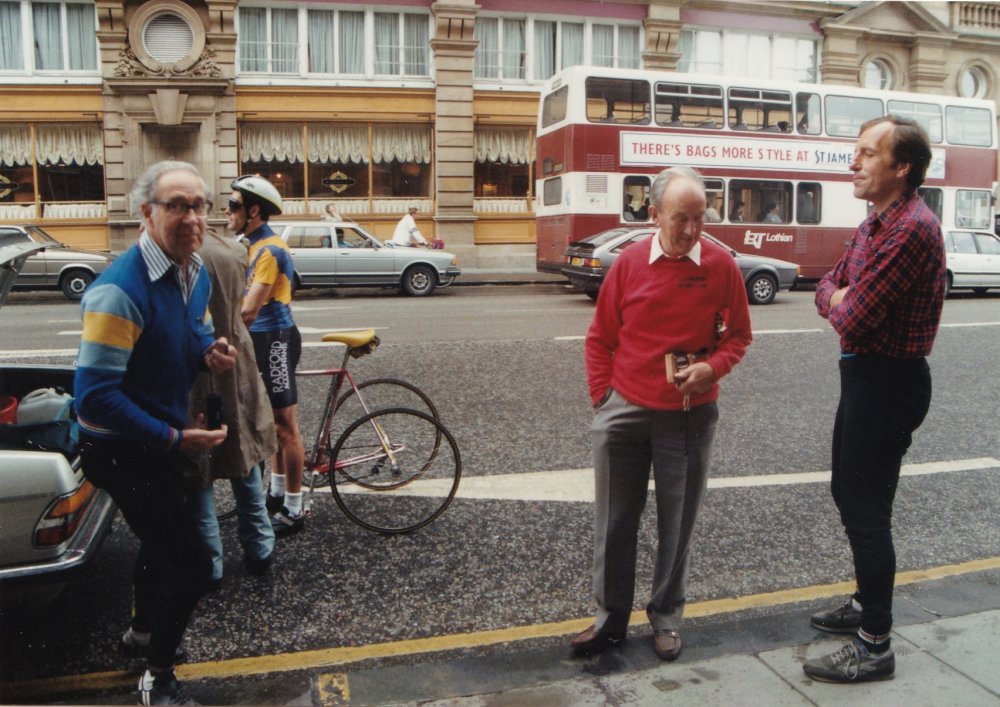 (photos by Martin Purser) left to right : Andy Burnet, Ed Zoller (obsc), Ralph, Dave Harris, Hedley Stennett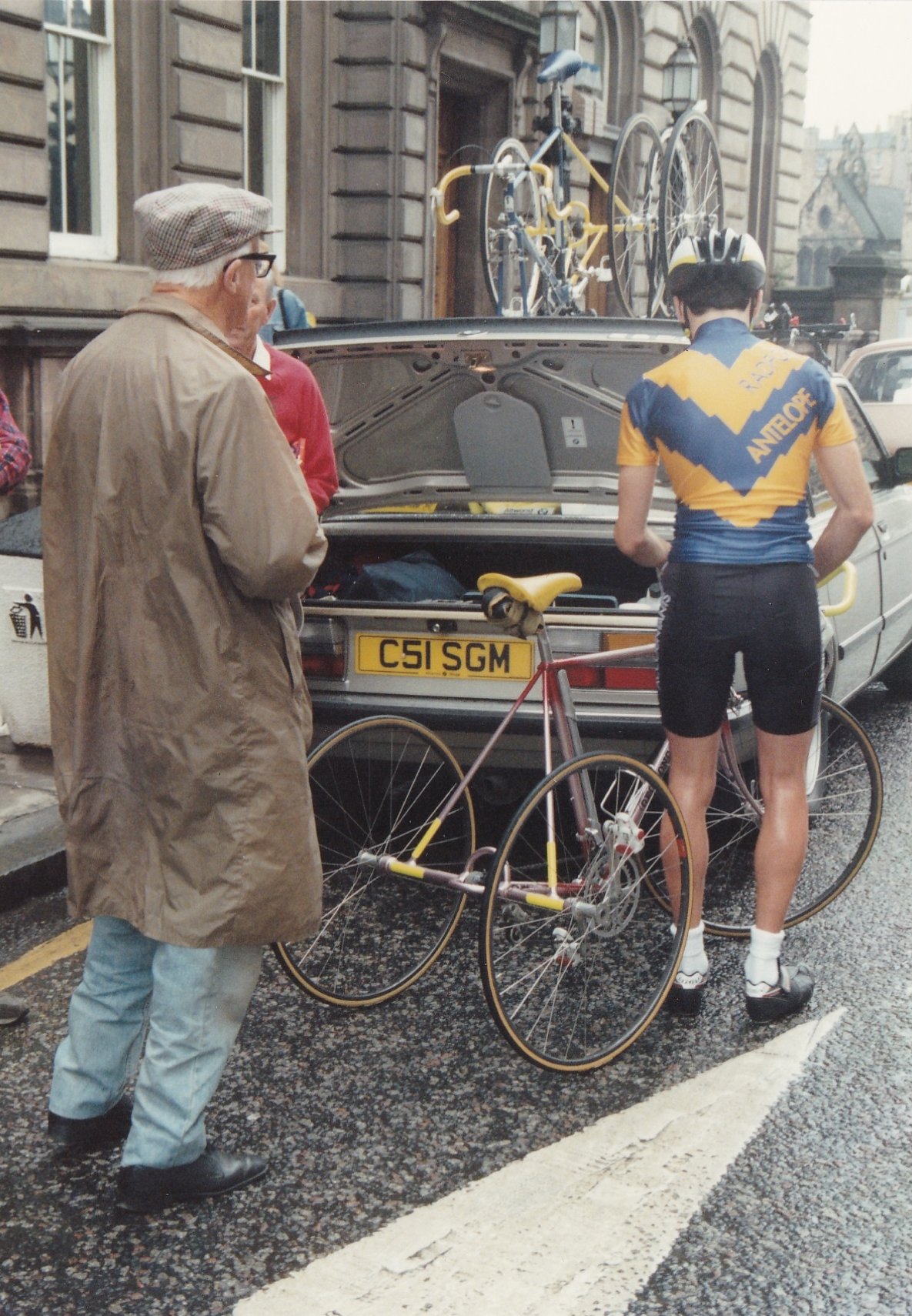 Go!
Immediately, I spotted that my speedo/computer wasn't working! I stopped after 200 yards, to try to adjust the magnetic pick-up, but with no effect. I continued with the attempt, feeling rather annoyed as I was relying on that machine to give me lots of useful information.
I was marshalled around the one dodgy junction on the exit route from Edinburgh, and after passing through Dalkeith, I suddenly decided that the problem with the computer might be the magnet on the wheel. I briefly stopped and discovered the magnet must have been slightly knocked on the journey up. Why didn't I notice that when warming up in Edinburgh?
The first timecheck was at the top of Soutra hill. I was 1 min down on schedule, but this could be explained by the stops to sort out the computer. This check was 18miles, and the computer said 9.7miles, so I had to make an 8.3 mile adjustment for rest of ride!
There then followed a fast descent, and I passed through Lauder, to Jedburgh (47m). 50 miles was reached in 2:20.
Welcome to England
The serious climbing started after Jedburgh as we approached Carter Bar, the border crossing.

(the last mile of Scotland was quite a grim one)
After an alpine-style zigzag climb, I reached the summit (58m) in 2:50. Another fast descent, and undulations to Otterburn. Lesser mortals might follow the road to Newcastle, but the real heroes turn right to follow the short route to the South. The shorter route does have disadvantages though. The 70 miles of A68 from Otterburn to Scotch Corner is varied - seemingly either steep uphill or steep downhill! It was probably the toughest ride of my life.
When descending into one of several quaint little Northumberland villages, I was travelling at 42 mph, praying that my trike would hold together! The climb out the other side seemed to go on for miles. I was fed at the top, and Martin shouted "your Mum says to Keep Going!" - we had a phone in the car to report to race HQ. There then followed a straight section of short, sharp hills with blind brows - rather like a rollercoaster. Fortunately, I managed to use the speed from each descent to take me partway up the next section. There were several more sharp climbs/descents before I reached the Tyne Valley at Corbridge.
Another screaming descent and another awesome climb - probably 10 minutes at 10 mph. 100 miles passed in 4:55. There were several more miles of undulations, before the dive down into the Derwent Valley. After crossing the river, there was another major climb, including a crawler lane (which I used!). Several false endings are part of this climb, as I progressed towards Tow Law. Unbelievably, I was still managing to average 20mph, and after two more serious climbs, Scotch Corner (the junction with A1) was reached.

(took a brief stop near Scotch Corner)
Onwards to the South
In addition to the Edinburgh-London record, I had scheduled to attempt both the 12 hour and 24 hour records in the same ride. To beat the 12 hour, I needed to average 20.7 mph. As I had managed 20 mph to Scotch Corner(140m), I had to maintain 22mph for the remaining 5 hours. This was fine as I raced past Catterick, Leeming, Dishforth & Boroughbridge. However, I then started to slow up. The reason for this became staggeringly clear when I approached some flags which were pointing straight at me! Oh NO - the wind's changed!
For nearly an hour I was only just doing 20 mph, but the wind then seemed to revert to a NW. I decided that it was worth going for the 12, so began to crank things up - I needed to do 50 miles in 2h 26m. The A1 became a motorway for 15 miles, so I had to use the A638 through Doncaster, Bawtry and Retford. I therefore had roundabouts & lights to contend with. It was a relief to rejoin A1 at Markham Moor, and I had to do 15 miles in 45 mins. Despite a climb away from M Moor, I was on course to do it.
The routine for timekeeping RRA 12hour and 24 hour attempts is different to the method used in time trials. Instead of the timekeepers taking checks before & after the exact finish time, the TK follows the rider and stops his car immediately the time expires (to mark the road). This seems a fine idea, doesn't it. However, my helpers were "having kittens" when, with just over a minute left, I entered a contraflow with lines of cones either side of a single carriageway! Miraculously, I left the roadworks section with about 10 seconds left, and so the crisis was averted as I finished on a normal stretch of road. In fact, 12 hours elapsed opposite a layby, so the attempt came to a halt at 9pm precisely.
There then followed a hand-shaking ceremony with my helpers, Tony Shardlow (who had driven over from Birmingham to time me at the 12 hour point), and Norman Bird (another RRA member who had been following for a short while). I put extra clothing on, added some lights to the trike, and had a cup of coffee. After 7 minutes, I was on my way again.
A night-time scene in Peterborough
Riding on the A1 in the dark was not quite the horrific experience that maybe I had expected. I think that the presence of the car behind me probably helped considerably, as it meant that most traffic was forced to move to the outside lane - after 12 hours riding, you're pleased they keep away!
The temperature began to drop as we approached midnight. I left the A1 at about 00:30, joining the Cambridge road for a short time. By 1 am, I was on the A1198 towards Royston, and things were feeling distinctly chilly. (Maybe I should rephrase that sentence!). This road (used because the A1 becomes a motorway before reaching London) was almost deserted, unlit, and undulating. I can't claim that it was hilly, but nevertheless there were plenty of occasions when I was out of the saddle. Eventually, I reached Royston (333m), still 15 minutes up on schedule. Unfortunately, there is then some fairly serious climbing to do as the road moves onto the East Chilterns.
As I approached London, I was dropping back on schedule. However, as I entered the metropolis, I began to feel more awake (3:30 am). I was determined to beat my schedule, and so attacked the last 10 miles with some enthusiasm.
I was expecting London to be fairly quiet at 4am, but it seemed that part of my route was a road full of nightclubs! A number of people seemed to find a racing tricyclist at 4am a most amusing spectacle! I can't imagine why. Anyhow, I managed to survive the hazards of their cars, and an inordinate number of potholes, to make the crucial turnings into Threadneedle Street, Poultry, Cheapside, and King Edward Street.
I passed the main clock at the Head Post Office at 4:27:54 am. This meant a time of 19:27:54, which beat the existing record by 1h 20m, and my schedule by 2m 6s. I made the distance 373 miles.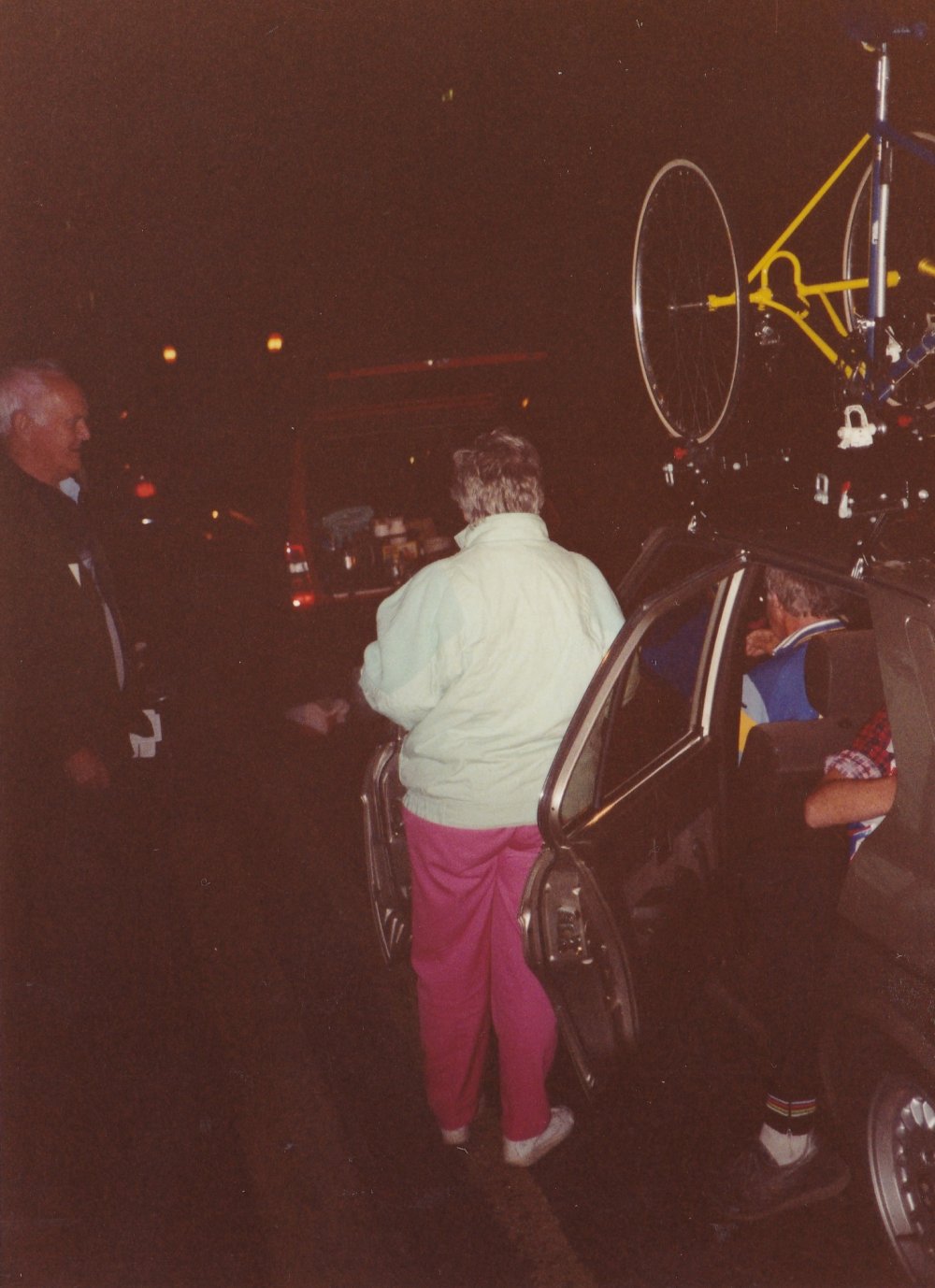 (London, timed in by George Hunton. Shelagh and Edwin Hargraves had driven across from South Wales as additional support!
Also present at 4.30am were Keith & Brenda Robins, Audrey & Roger Hughes, Arthur Lancaster & Frank Cubis)
Two down, only 4.5 hours to go
There was a round of applause from the small crowd of people who had given up their night's sleep to see me. I stopped for perhaps 30seconds, and then continued for the 24hour. After Edwin helped me negotiate some major roadworks at Holborn Viaduct, I continued to Piccadilly, through the underpass at Hyde Park Corner and onto the Bath Road (my favourite!).

(not looking very dynamic!)
With the exception of a short detour towards Staines, I followed the A4 out to Maidenhead, where I started the first of two laps of a 20 mile circuit.
I passed the old record distance with just less than an hour to go, and eventually added another 17 miles. Just short of the A330 junction at Paley Street my watch chimed for the 24th time, and the convoy stopped. Out came the paint pot, and another mark was made on the road.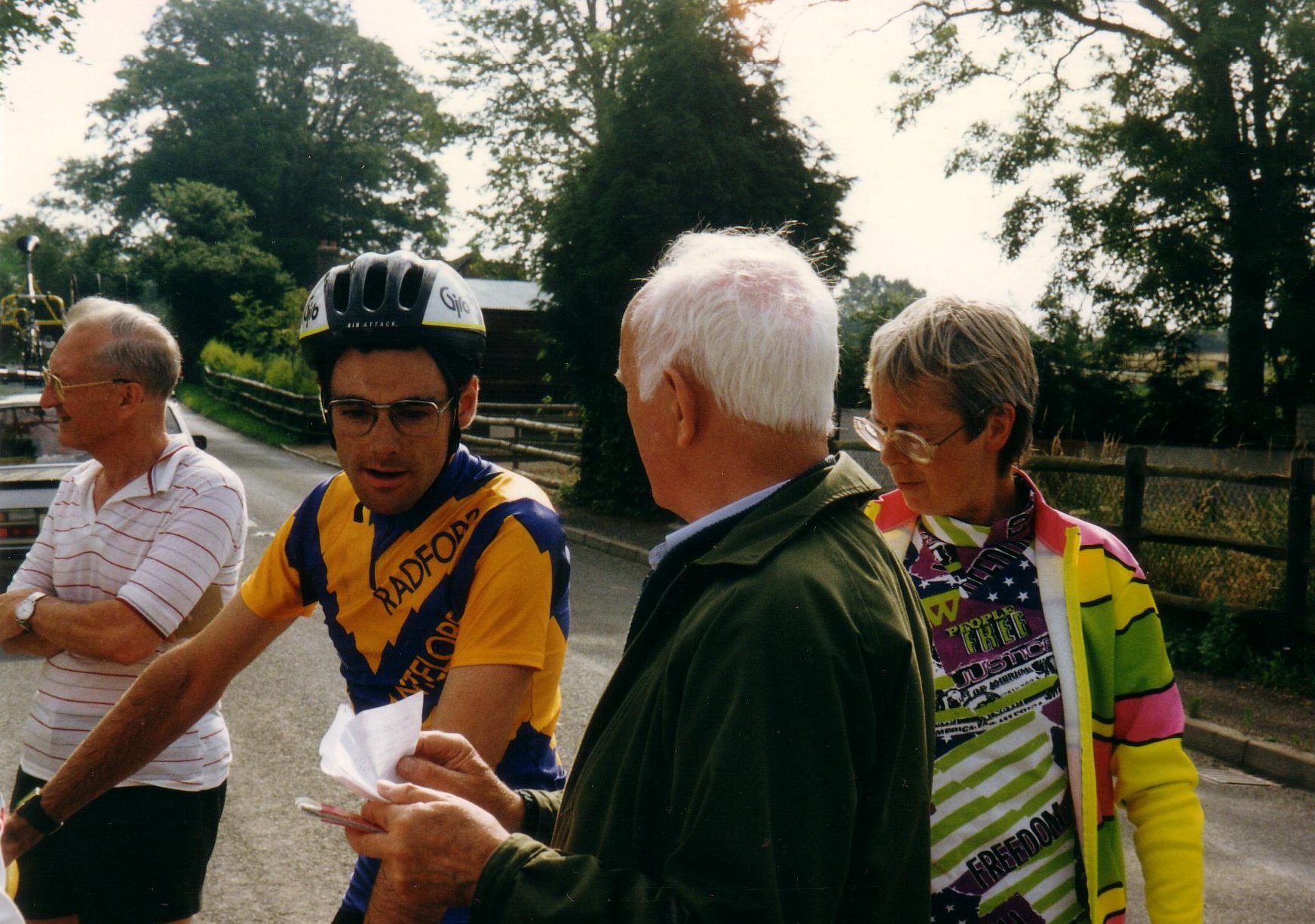 (Dave Pitt, Hedley Stennett [obsc], Edwin Hargraves, Martin Purser, me, Shelagh Hargraves) (tbc, me, George Hunton, Audrey Hughes)


(these 4 photos by John Dalton)

Timekeepers at London and for the 24hour were George Hunton and Audrey Hughes.
| | | | |
| --- | --- | --- | --- |
| Previous details | | | New Records |
| 12 hours | Stuart Jackson | 248.375m | 248.75m |
| Edinburgh - London | Pat Kenny | 20h 48m 52s | 19h 27m 54s |
| 24 hours | Pat Kenny | 431.5m | 447m |
The above attempt was a Radford Chartered Accountants production : 1991
The cast:
Mr Dadswell : Tricycle, Sunglasses and Blisters.

Mr Burnet : Chauffeur's cap.

Mr Purser : Sandwiches, Photography and Timechecks

Mr Stennett : Drinks, Rice and Telephoning.