The Prelude
It all started in November 1990, at Alan Dawson's End-of-Racing-Season party, where Pauline and Alan Strong were among the many 'distinguished' guests.
Pauline had broken the ladies' End-to-End bike record in the previous summer, and she was keen that I should have a crack at the men's trike record. The Strongs were so enthusiastic (and slightly drunk?), that they even offered their services as organisers.
I (perhaps rather recklessly) agreed to have a go in 1992. I resisted their efforts to persuade me to go in 1991, as I already had plans for Edinburgh-London.
1991 passed, with Pauline turning professional and attempting to improve her own End-to-End record. When this attempt failed (due to adverse weather in Scotland), it was announced that she was to have another try.
With this in mind, I was concerned that the offer to organise my attempt might be in jeopardy. In January 1992, however, Alan confirmed that he would still do the job.
Dave Pitt also reaffirmed that he would be keen to play a part in the attempt. I remember this occasion quite clearly as he phoned me at half-past-midnight to let me know!
Reconnaissance 1
In May 92, I travelled North to investigate the course. My companions were John Woodburn and Anne. In four days, we covered the stretch from Kidderminster to John O'Groats. John and I rode almost all of it, with Anne driving my car. Anne thoroughly enjoyed this, and told me afterwards that it was the most pleasant holiday she could remember.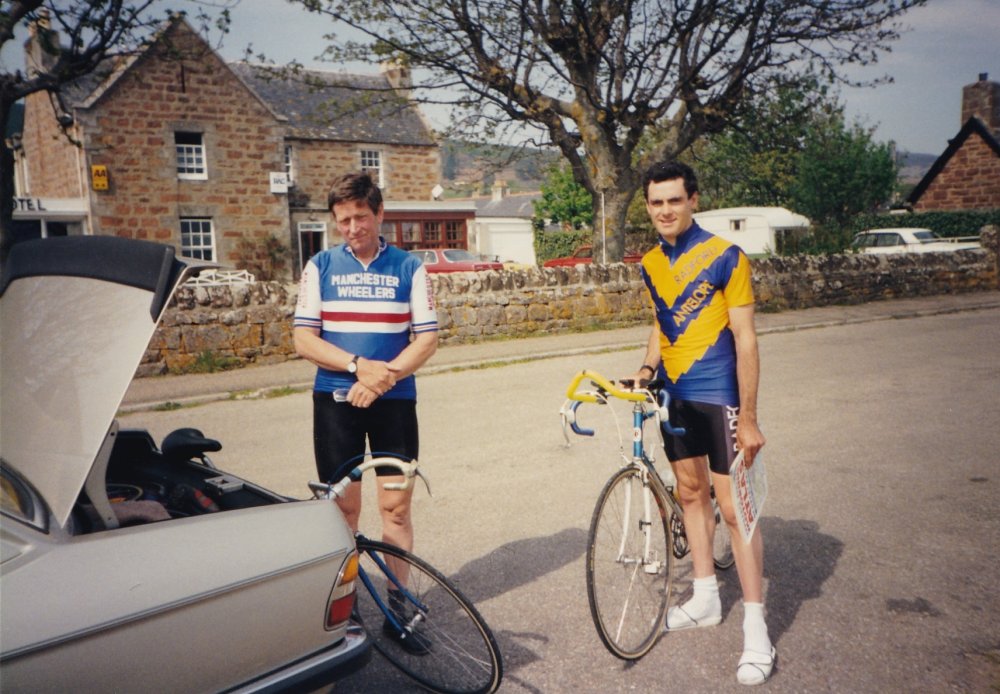 One of the high spots was a scene in a restaurant in Kingussie. The waitress made the disastrous assumption that we were a family group. She was speaking to me, and referred to Anne as "Mum". I found this most amusing. Anne didn't seem to take it in the same spirit! The waitress wasn't so chatty afterwards.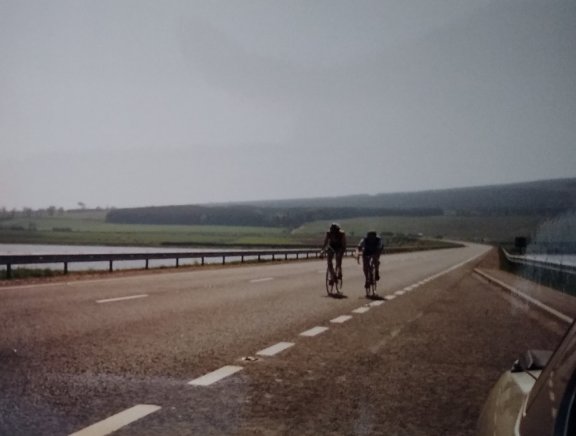 (We crossed the Dornoch Firth. I climbed Berriedale - quite easy!)
We cycled almost all the way, but, significantly perhaps, didn't bother to ride from Dunbeath to John O'Groats - because there's not much to see/learn.
As it happens, it might have been useful for me to have ridden it rather than driven it, as it would have forced me to experience the bleakness and barrenness of deepest Caithness.
Reconnaissance 2
In June, I checked out from Land's End to Bristol. I decided that the best routes through Penzance and Exeter were to avoid the bypasses. The route was definitely lumpy, but at least I would be quite fresh near the start.
Immediately following my schedule being circulated, I was advised that the Penzance decision was a bad one. In practice though, I would say that Penzance at 8:30 am on a Monday is about as busy as London at 1 am on a Sunday.
Reconnaissance 3
This was a very brief trip, by bike, to Worcester. I also checked Tewkesbury and Gloucester. This left only the stretch from Almondsbury to Gloucester as uncharted. Having raced on that road in the past, I felt the whole course was now covered.
The Time Approaches
Pauline made an attempt on her End-to-End in late June. As I saw it, with me wanting to make my attempt in late July, this would leave sufficient time for her and her back-up team to recover. However, things didn't work out like that.
Following an unfortunate accident, Pauline didn't complete her ride. Raleigh's response to this was to propose that she had yet another try. This, of course, would mean a likely clash with my date.
Alan phoned me in early July to say that if I wanted to go in July/August of this year, then he wouldn't be available to organise for me. He went on to say that he felt that nobody could reasonably be asked to put themselves through two End-to-Ends in a year anyway.
Clearly, this was a serious blow. Particularly following our (Antelope RT) abortive bid for the 24 hour team championship, I was desperate to achieve 'something' from 1992. To abandon the End-to-End project would have been a real drag.
New Arrangements
Fortunately, I had already done some 'contingency planning' in case Pauline's attempt had been delayed (in which case there would obviously have been problems with two attempts, possibly on the same day). After first considering whether I was prepared to take on the job of organising my own attempt, these plans were put into action.
Subject to the attempt being in the school holidays, Martin Purser (Charlotteville CC, but lives in Nottinghamshire) agreed to cover the Scottish part of the ride. He enlisted Hedley Stennett and Bob Fotheringham to make up a team.
John Dalton (High Wycombe CC) had recently retired from the Meteorological Office at RAF Odiham. At the time, I had thought of his retirement as being a problem, as it seemed that I had lost a valuable source of weather information. I soon realised though, that here was someone who might well be interested in being part of record attempts. This proved indeed to be the case, and so John was immediately in the England team.
Audrey Hughes (former multi- Tourist Trial champion) was also happy to be involved, and found herself scheduled to be Timekeeper and Observer for most of England. She also generously volunteered her son Roger (Manchester Wheelers, AND lives in Manchester) for help in the second half.
My brother Tim would join the attempt for the first night, and Pat Kenny (a former holder of the trike End-to-End) also agreed to Observe for this stretch.
I approached Dave Pitt, but his enthusiasm seemed to be on the wane, and he withdrew his earlier offer of help.
I realised that four people to cover a 24 hour stretch didn't leave much scope for coping with unforseen problems. However, short of using a second car from the start, I didn't see an easy way of easing burdens. Another time, maybe I would do it differently.
Frantic Preparations
I produced what must have seemed like an endless stream of documents for the teams to read, detailing everything I knew about the route, and explaining how I would like to be looked after. There were six pages of Pace Notes, a three page Game Plan (who was involved, what would they do, and where), and further notes on clothing and feeding. Attached to the Pace Notes were a number of street maps for the trips through towns such as Exeter, Bristol etc. I seemed to be spending more time at the word processor than I was spending on my bike!
As far as obtaining weather information was concerned, I arranged to receive copies of weather charts from an RAF base (not Odiham), which John would then analyse. This meant that each day for a couple of weeks I learned a large amount about which weather patterns were not suitable for End-to-Ends.
The weather seemed most frustrating. I have to admit that I found myself actually believing that the lack of a favourable forecast was in some way John's fault.
Looking Better
Eventually, however, there was a glimmer of hope on Friday 7th August. Monday or Tuesday looked possible. The excitement should have been considerable, but for the fact that hopes had been dashed several times already. I arranged for further charts to be faxed through on Saturday morning.
When these arrived, I showed them to John, and he cautiously stated that Monday looked 'not unreasonable' for a start. Well, actually Monday morning wouldn't be very good, but from Monday afternoon through to Tuesday night looked favourable. Wednesday was expected to feature light crosswinds.
This was obviously not ideal by any stretch. However, I wanted to make an attempt at the first sensible opportunity. I had previously informed Edwin (the RRA secretary) that I wanted to go on the Monday, with a view to postponing if Saturday's forecasts showed a worsening. At 11am Saturday, I phoned to confirm that Monday was ON.
Then the panic started. The day I'd been looking forward to for ages was approaching! I rushed home and phoned the rest of the team. I also had the foresight to arrange accommodation, about five miles from the start.
In the style of Dave Pitt, I then assembled my tricycles and checked they worked. The next stage was preparing food for the first 24 hours, and finally getting clothing packed up for several days away.
As a final weather check, John visited Met. Office HQ at Bracknell late on Saturday night. Once he'd talked his way past the security guard, he soon found his way to the 'central control room' - helped no doubt by meeting a forecaster who he'd worked with 40 years ago! The important result from this was that the forecast had not worsened, and in fact seemed slightly better than previously thought.
On Sunday 9th August, Audrey, John and I left for Land's End, in my heavily laden car, with virtually the entire contents of my bike-room (except the bikes, of course).
Land's End
We arrived at Tredinney Farm at about 7pm, after negotiating an unmade road more suited to tractors than overloaded family saloon cars. We ate at Wreckers Inn near Land's End, and after my second lasagne of the day we returned to the farm for a last-minute run through of what was going to happen.
This final briefing finished at 11pm, leaving seven hours before breakfast. We ate a relaxed meal, and set off for the start.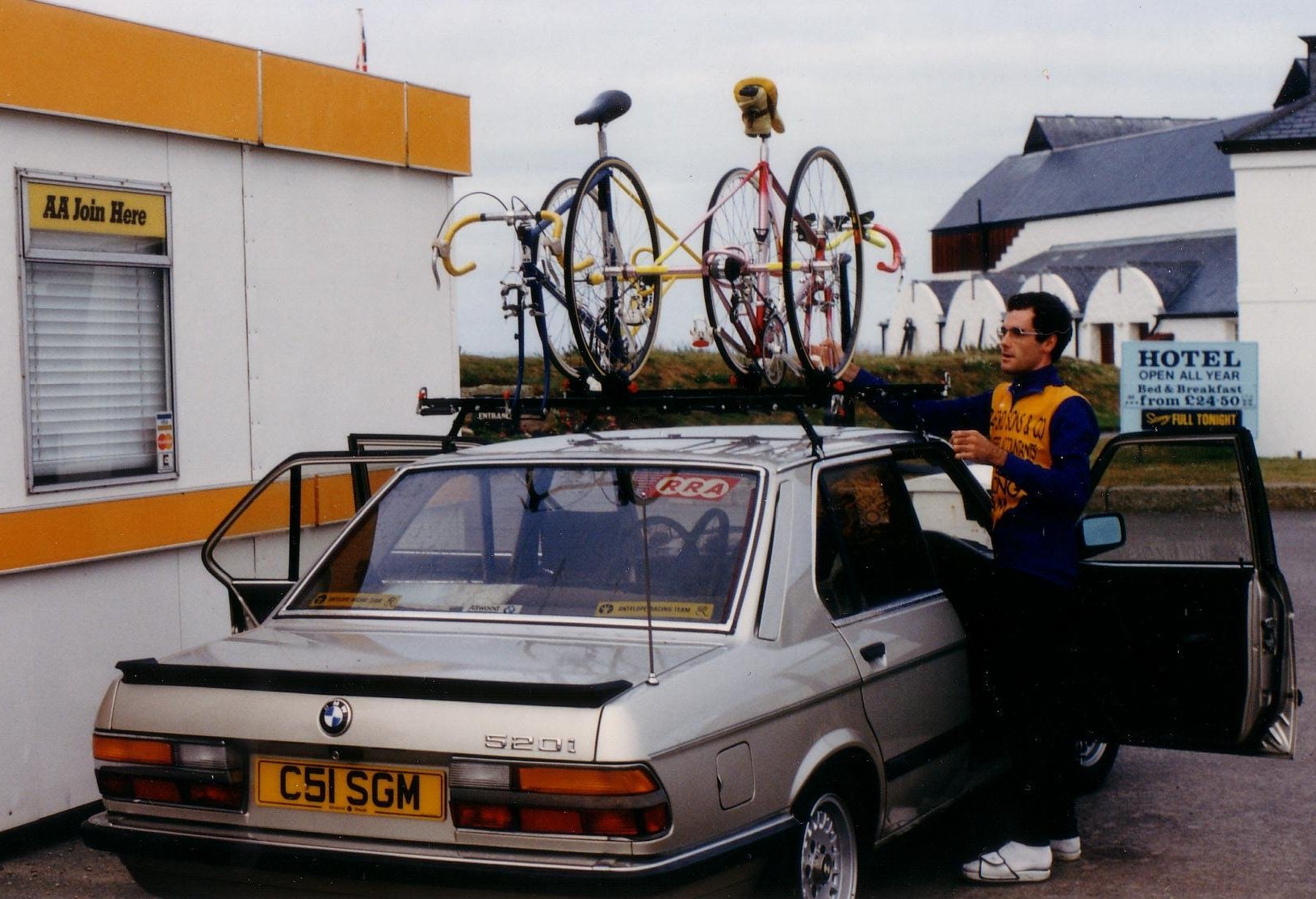 (photos by John Dalton unless marked)
The first problem to contend with was at the Land's End Hotel. A pile of luggage and a coach were totally blocking the South Door. Improvisation was called for, and so I started even closer to the cliff than I needed to. I bet Raleigh would have had the muscle to get the coach moved!
Day One
At eight o'clock, Audrey said "Go", and I was off. After picking my way through the obstructions and cobbles, I was finally clear of the hotel, and on the open road. When riding out though the way in, I remembered to start my computer. So much for precision.

(ready for the off - not even carrying a drink)
Looking back, I think the first 10 miles were the twistiest of the ride. I seemed to be constantly freewheeling around sharp bends. After a few miles, we saw the landlady from Tredinney Farm out with her camera. I waved.
Penzance, as I had predicted, was a formality, despite being probably at its busiest. The wind was now starting to become noticeable, and was definitely helpful.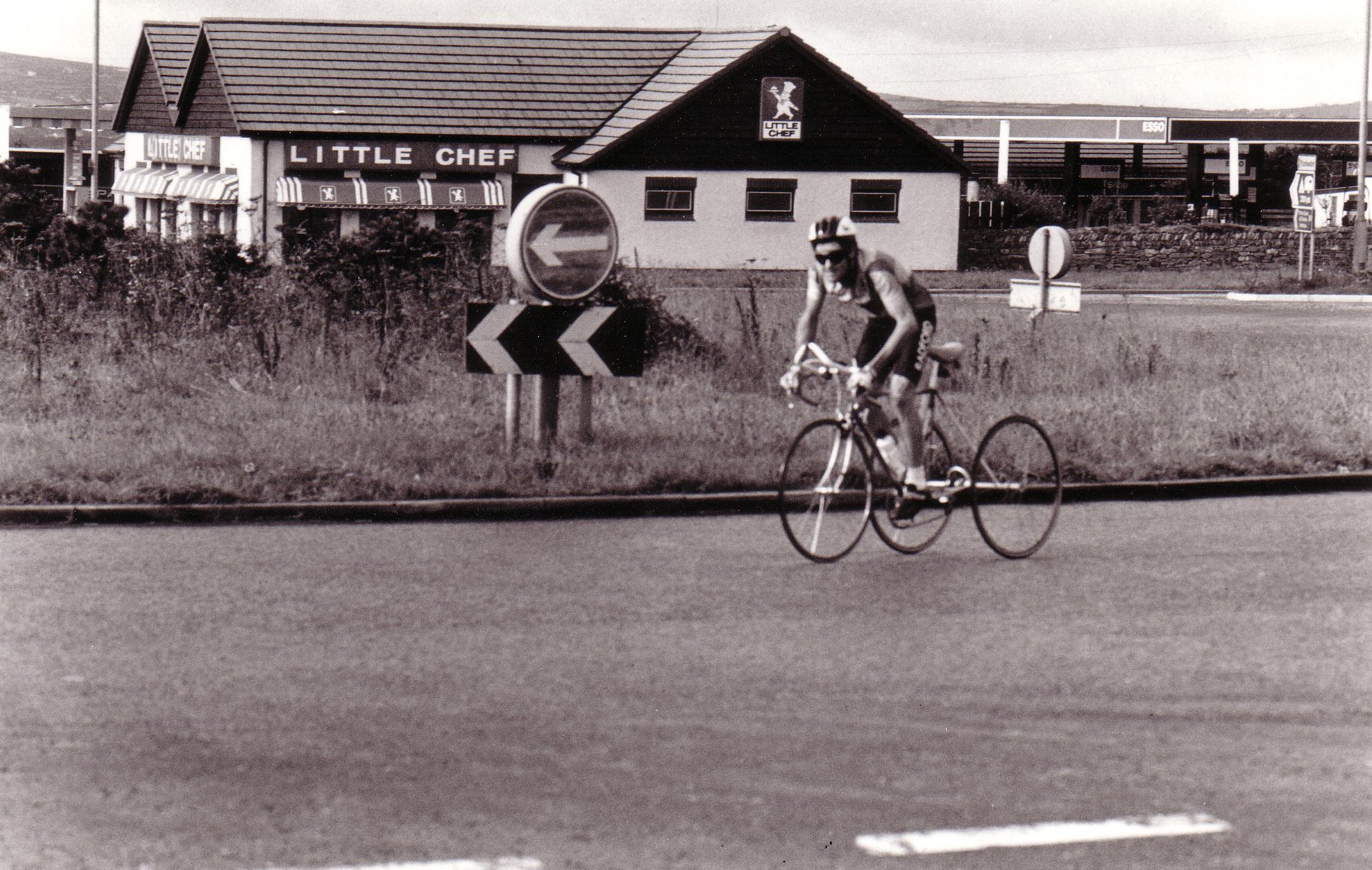 (photo Dick Abram)
Progress was routine past Redruth, through Indian Queens, and on to Bodmin. After Launceston, the A30 becomes single carriageway and the terrain becomes more awkward. However, the dual carriageway returns at Okehampton, and 100 miles was passed in 4hr 45mins (30 minutes up on schedule).
I visited Exeter at lunchtime, but got through without delay. The stretch to Cullompton was on poor roads, but conditions seemed to improve as the road swung around towards Taunton, and I joined the A38. There were then some fabulous miles past Bridgwater, where the wind seemed to be directly behind me.
Unfortunately, the terrain starts to get tough as Bristol is approached. Once over the Mendips at Churchill, there are several more vicious ascents before the final freewheel towards Bedminster.
A profusion of marshalls guided me off the A38, and along the Avon Gorge. Once under the suspension bridge, I then climbed onto the downs, (near to where I had lived as a student) to then descend to Filton and the A38 again. There was an anxious moment when a motorist decided I was holding him up (on an empty road). He overtook, cut in, then jammed his brakes on for a pedestrian crossing. I only just managed to avoid him.
200 miles elapsed after just less than 10 hours. I was still 30 minutes ahead of schedule. There now followed another terrific section of tailwind.
The road to Gloucester was also memorable for the number of excited onlookers. Over the 25 mile stretch, I guess there were people every mile. Pauline handed up a bag of seedless grapes - which were very refreshing when I eventually managed to get them out of the bag. It's a pity I can't ride the trike "no hands".
Several miles later, I spotted a crowd ahead. Seven of my work colleagues had travelled across from High Wycombe to give me a shout and a cheer.
It was great to see familiar, excited faces - they had produced some banners, and even developed a cheer-leading routine. They bypassed me several times using the M5, so I saw them on a number of occasions as far as Stafford.
Meanwhile, I negotiated Gloucester, and reached Tewkesbury at 8pm (240 miles in 12 hours). My brother Tim joined the attempt here, with a supply of complimentary hot food from the Tewkesbury 'chippy' (a pleasant surprise, as he was obviously expecting to pay for it!).
Night One
Just south of Worcester, I stopped to put extra clothes on, and to fit some lights. I followed the signed route through Worcester and on to Kidderminster. On this stretch, there was a fairly heavy shower which I found demoralising. Fortunately it was brief, and I managed to convince myself that it wasn't going to rain for the entire remainder of the ride.
At Wolverhampton, Pat Kenny joined the attempt, providing us with experience and an extra car, thus reducing the pressure on the others. I passed 300 miles in 15hr 35mins, still over 20 mins up on schedule.
When we arrived at Stafford, I was almost marshalled off course. My scheduled route was to use a pedestrianised area, rather than the inner ring road. However, local opinion was that I shouldn't do a midnight dash through the centre. I persisted and followed my route, rather disappointed at not being marshalled through.
When I approached Newcastle-under-Lyme, I began to drop off to sleep. I immediately stopped, and took a 10 minute rest in my (stationary!) car.
This break revitalised me, and I continued towards Holmes Chapel and Knutsford. By now, there was little wind, and I was losing my earlier gains on schedule. By Warrington I was 10 minutes down, but copious quantities of marshalls (at 3am) raised my spirits, and kept me on course.
I made my way through Wigan and Preston, still losing time on schedule, and arrived at Lancaster 35 minutes down. This was not a major concern, as the schedule was (theoretically) to beat the record by 4 hours. I could certainly afford to lose time, therefore, as long as it didn't get out of hand. 400 miles took 22 hours.
Day Two
As daylight returned, I felt a bit depressed. There was no wind and I seemed to be riding rather sluggishly. I told the team that I wasn't sure whether I wanted to continue, as there was still over 400 miles to go.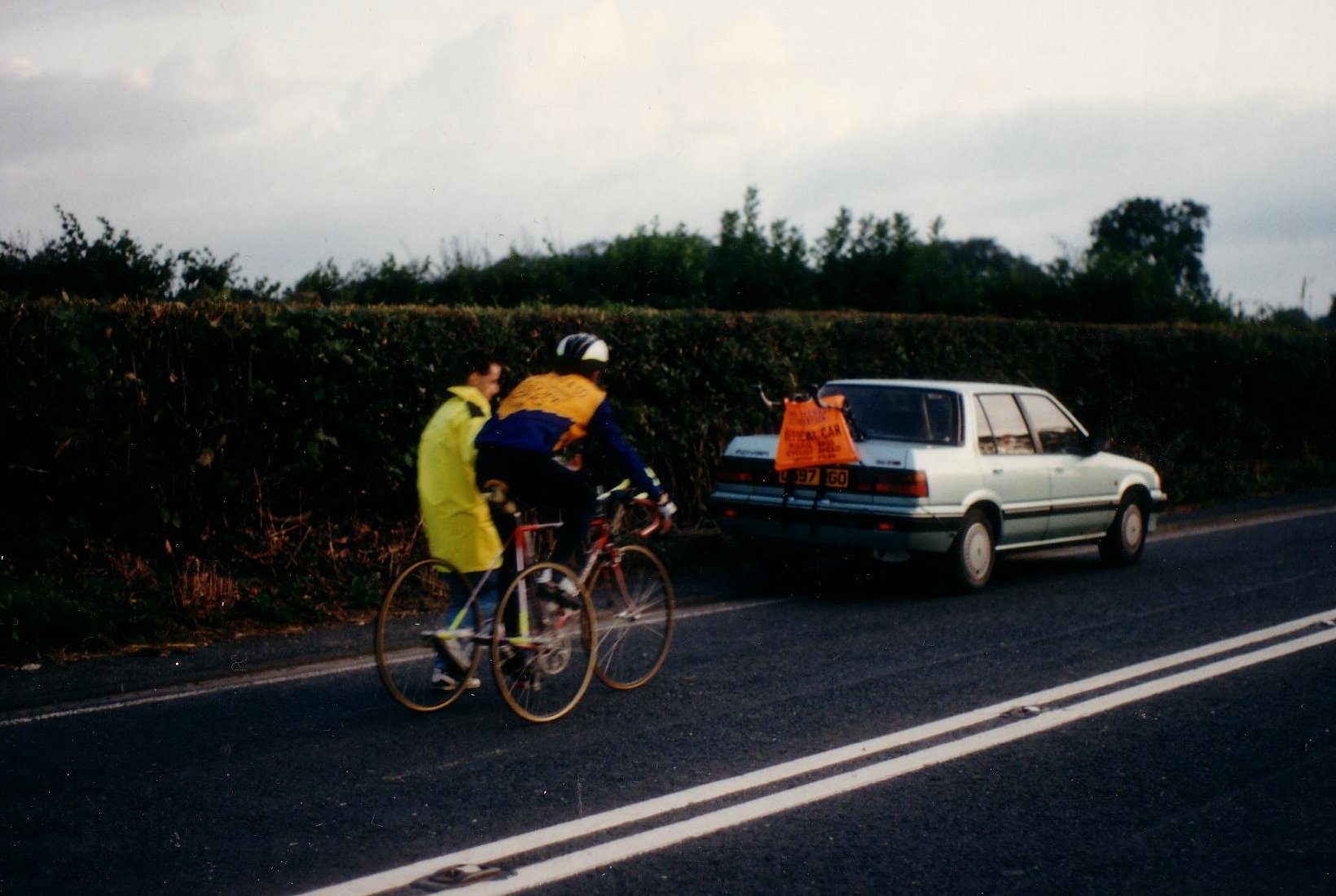 (Tim manages the bottle swap & front light removal)
Their reaction was, obviously, to shake me out of that idea. I agreed that improving my 24 hour record was now impossible, and so I should stop soon for a wash, clothes change and massage.
At Carnforth, Martin, Hedley, Bob and Roger joined in. However, I didn't exactly welcome them, as I was still in my "Slough of Despond".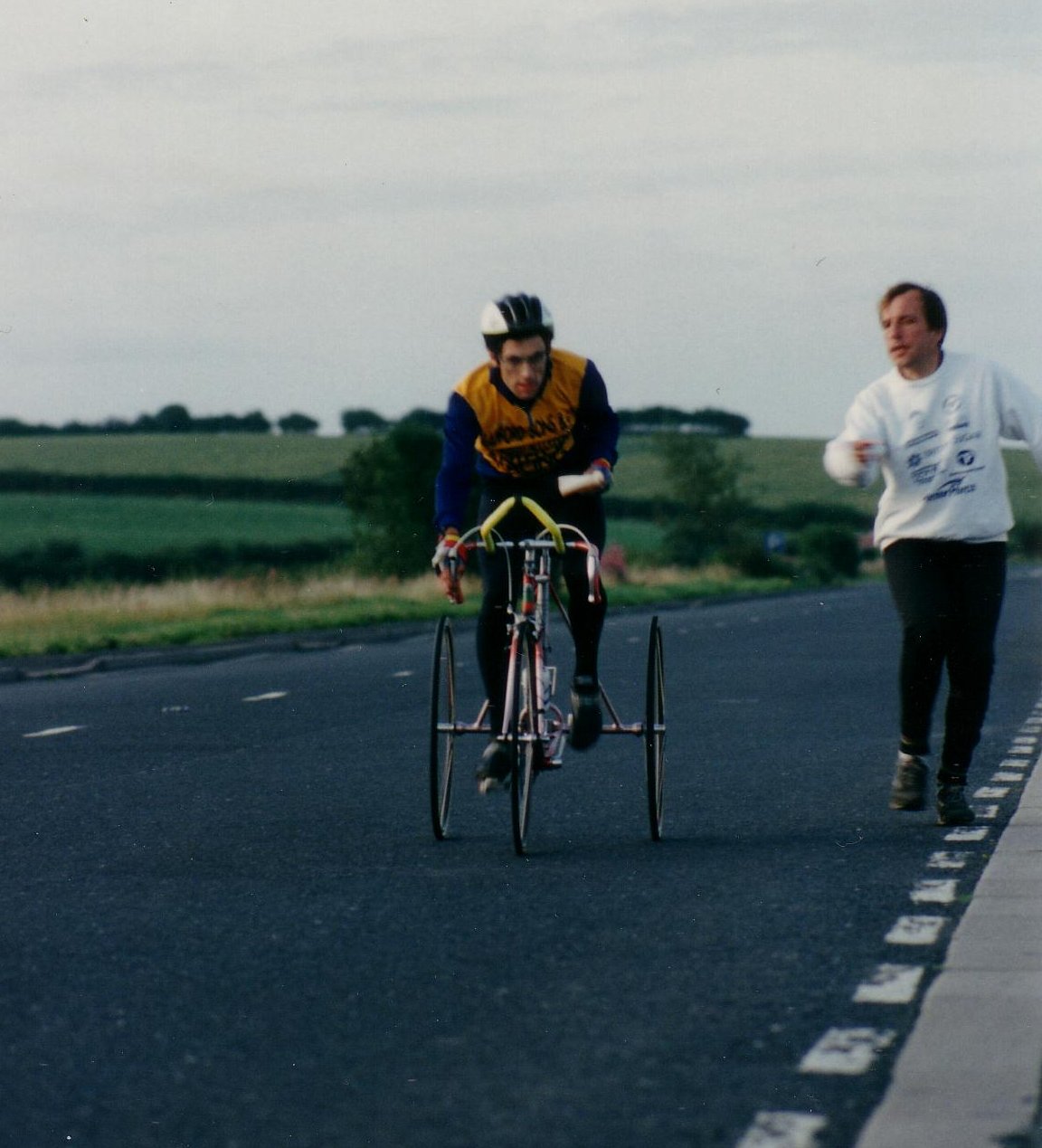 (Hedley launches that sandwich)
I stopped for the wash just short of Kendal, at about 7:15 am. After being revitalised, I set off again - this time on Tim's tricycle, with a wider range of gears (my machine had a bottom gear of 58").

(leg massage from John, pep talk from Tim)
Through Kendal, and onto Shap Fell, I completed 428 miles in the 24 hours. I used the low range of gears, to allow a fairly relaxed climb of this notorious hill. The weather was, unusually, quite pleasant at the top.
I took a feed within yards of the summit, and was just finishing the sandwich when the inner ring sheared off the chainset. How awkward!
After a brief delay, when we worked out what had happened, I was reunited with the trike which I had discarded less than an hour earlier. I set off towards Penrith, wondering what the team would do with the disabled machine.
As it turned out, the decision was made to buy a new chainset. The new arrivals set off for a bike-shop in Carlisle, while Audrey and John followed me (just for a change!). At this point, Pat and Tim returned home, likely to be a bit late for work!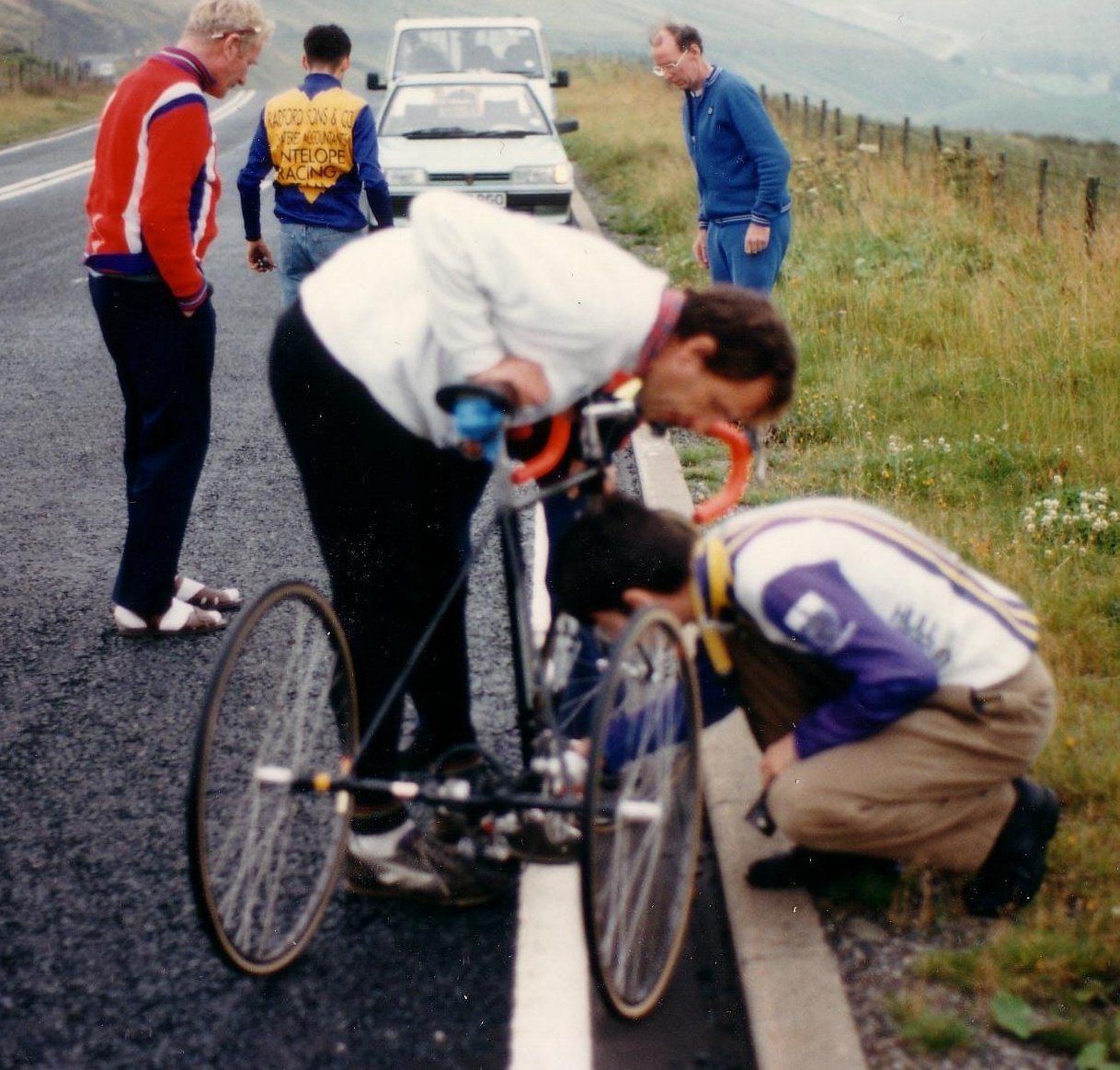 As I approached Carlisle, the weather deteriorated. I experienced heavy rain for about an hour, which included about 10 miles on the A74. The A74 is the main road for traffic leaving the M6, travelling towards Glasgow. It is therefore very busy, and currently there are extensive roadworks (including contraflows). This, in heavy rain and with an unhelpful wind, was not pleasant. 500 miles passed in 28hr 20mins.
At Beattock, I left the A74 and turned towards Edinburgh. I swapped back to Tim's trike, and bounded up the Devil's Beef Tub climb in 16th gear!
Once at the top, though, my enthusiasm was dampened as the descent was accompanied by another heavy rainstorm which flooded the road. Fortunately, this didn't last long, and sunshine had returned as I approached Edinburgh. I began to fall asleep again, so snatched another 10 minutes rest.
Along this stretch, I was musing on the job ahead. I was fairly relaxed, and decided that I would deal with the Grampians after a proper night's sleep. "Yes, that sounds like the best idea, as I've already covered quite a lot of ground." Then, of course, it hit me. I couldn't do that - the whole point is not to stop. This shook me up a bit!
I hit the Edinburgh ringroad at 4:30pm, and it was busy. After a high speed feed, I negotiated several marshalled roundabouts to join the A90 to the Forth Road Bridge.
After crossing the bridge, I picked up a large stone in one of my rear tyres, so stopped for a wheel change. This proved more traumatic than expected, as we couldn't get the wheel off. However, after no more than 5 minutes, I was on my way again.
The road to Cowdenbeath was a bit of a struggle, not helped by the return of the rain, and the road having been resurfaced & chipped earlier that day. I stopped briefly at Crossgates, confused by a sign saying to turn left for Cowdenbeath. However, that was for heavy traffic, and I carried straight on in the drizzle. Cowdenbeath is probably quite pleasant without overcast skies and enormous puddles.
John and Audrey had stopped for a break at Moffat, having been 'on duty' for 500 miles. They rejoined the rest of us on the road from Cowdenbeath to Kinross.
After another brief check on the map, we left a deserted Kinross behind and began descending Glen Farg towards Perth. This stretch of road was probably last resurfaced before it was replaced by the M90. It is now in a disgraceful state, and even though largely downhill, it was highly unpleasant on a tricycle. Finding a smooth line for three wheels was impossible.
After the sharp climb from the Bridge of Earn, I arrived at Perth, having passed the 600 mile mark in 34hr 50mins, 1hr 40mins behind schedule.
Some months before, John Woodburn had quoted to me that "Any fool can get to Perth". Rather harsh, I thought, but at least I'd passed that test.
The next target was the summit of the Pass of Drumochter, 50 miles ahead. First, though, I had to negotiate a rough stretch of A9 to Dunkeld. Once that was over, I stopped for lights and extra clothes.
Night Two
After Pitlochry it began to get dark, and by Blair Atholl it was definitely night, with the hint of a headwind. Somehow, including the stop for lights etc., I had lost more time, and was now just over two hours down.
The climb is then steady and continuous for over 15 miles. I knew that I could split it into three parts.
The first stretch is around the Blair bypass to Calvine. Then you climb for five miles to Dalnacardoch Lodge, where the dual carriageway starts. Finally, you strain your eyes for five miles watching for the sign to Dalnaspidal Lodge. When this finally appears, you know you're near the top. Of course, it's never that simple, as there's still a further two miles to go - but by that time, your enthusiasm is up & ready for the descent. I reached the summit at 11:25pm, 2hr 10 mins down.
There then followed perhaps ten miles of descent, but it wasn't steep enough to freewheel down. This was confusing, because I'd freewheeled down it in May. I seemed to be slowing dramatically whenever I stopped pedalling. I might as well have been still climbing for the effort I was putting in!
Passing Dalwhinnie, Newtonmore and Kingussie, I was feeling sleepy again, and so took another 10 minute break. The road now starts to climb, and I optimistically presumed that I was on the run-up to the Slochd summit. However, after several miles of (light) climbing, I recognised the hotels of Aviemore beside the road. What a drag....the real work hadn't even started.
If Drumochter had seemed a long time coming, then the "Slochd Summit" signs took forever. I felt good, and was climbing quite positively - I hadn't been off the big ring (48) since Cowdenbeath. However after three or four false ends I knew that the summit had got to come soon, or I would be at risk of fading. At last, it was there, and I began the freewheel to Inverness.
Well, that's the way it would be if life was simple. There are two interruptions to the downhill slope to Inverness, and the second one (nearly there!) brought me down to walking pace. 700 miles passed in 42 hours - about 2hr 10mins down on schedule, but of course still comfortably ahead of the record.
Eventually the lights of Inverness appeared, at about 3:30am. What a set of lights! I was convinced that there must have been all-night celebration going on, as everything seemed to be fully illuminated. However, when I finally reached the Kessock bridge it was clear that nothing was going on, as the only sign of life was a solitary enthusiast pointing the way for me.
I wouldn't have expected to classify the bridge as a "climb", but I was down to 8 mph before zooming away from its summit. Once on the Black Isle, there is the prospect of over 5 miles climbing.
Any traffic which may have kept me company as far as Inverness had now disappeared. Consequently, the hallucinations which had surfaced sporadically now became more intense.
I had already become accustomed to seeing people ahead with drinks, who turned into trees, signposts or lampposts as I approached. Along this stretch, though, I was hearing voices and seeing human faces on all sorts of plants, trees etc. The ultimate vision was the group of four people in the layby. As I approached, they turned into three plants, and a sack of rubbish!

(monochrome photos by Roger Hughes) (cartoons by Martin Purser)
Another quote from Mr Woodburn sprang to mind at this stage. He had said, in his sage-like way: "When you start, all you want to do is to beat the record. When you get to Inverness, you know you're going to make it - then you can start thinking about how much you'll knock off the record.". Personally, I think that a home-straight of 120 miles is something more than a formality!
Meanwhile, I was climbing towards the roundabout at Tore. I was given advance warning of the roundabout by a huge sign, saying that there was one mile to go. Several minutes later, there was another huge sign - this time it was half a mile to go. Around a bend, and there was the final approach, with another giant sign. After all that preparation, there were no cars - just a solitary marshall!
The road climbs a little further, then descends towards the Cromarty Firth, where there is a bridge across. I knew there was a bridge, and I'd been over the bridge. However, I couldn't see the bridge as I tore (ha ha) down the slope. I got worried, and I wondered what to do if the bridge wasn't there any more. I guess I was tired.
Day Three
Fortunately, the bridge did still exist. Shortly after crossing it, I took another brief rest. When I was about to continue, I was told that 15mph was my target for the final 105 miles, which would beat the record by 2hr 30 mins. That seemed reasonable, and so I pressed on.
The road to Tain is a bit boring, but I managed to keep the speedo over 15, so remaining 'on track'.
There then followed the historic moment when I did the dirty trick of crossing the new bridge over the Dornoch Firth (including an unconventional negotiation of the roundabout at its south end). Crossing this bridge effectively cut 7 miles off the total distance for the End-to-End. As it was only opened in 1991, I was the first person to use it.
It is obviously worth 30 minutes off the record, but in reality the new route misses a large climb as well. With this in mind, I had decided beforehand that I needed to take well over half an hour off the previous record, to feel that I had actually done a better ride.
When riding over the next stretch earlier in the year, Golspie had seemed quite a long time coming. However, on this occasion, perhaps with slightly better conditions, it appeared sooner than expected.

(good to see the bunting out in Golspie, although I was feeling the pressure)
Conversely, I had remembered the ride from Golspie to Helmsdale as being quite brisk and simple. After riding for two days, though, I started making heavy work of the light undulations.
Suddenly, a problem developed in my left ankle. For a while I panicked, and then tried the exercises which I remembered from my previous Achilles problem. By the time I reached Helmsdale, the pain had subsided, but there was a definite swelling.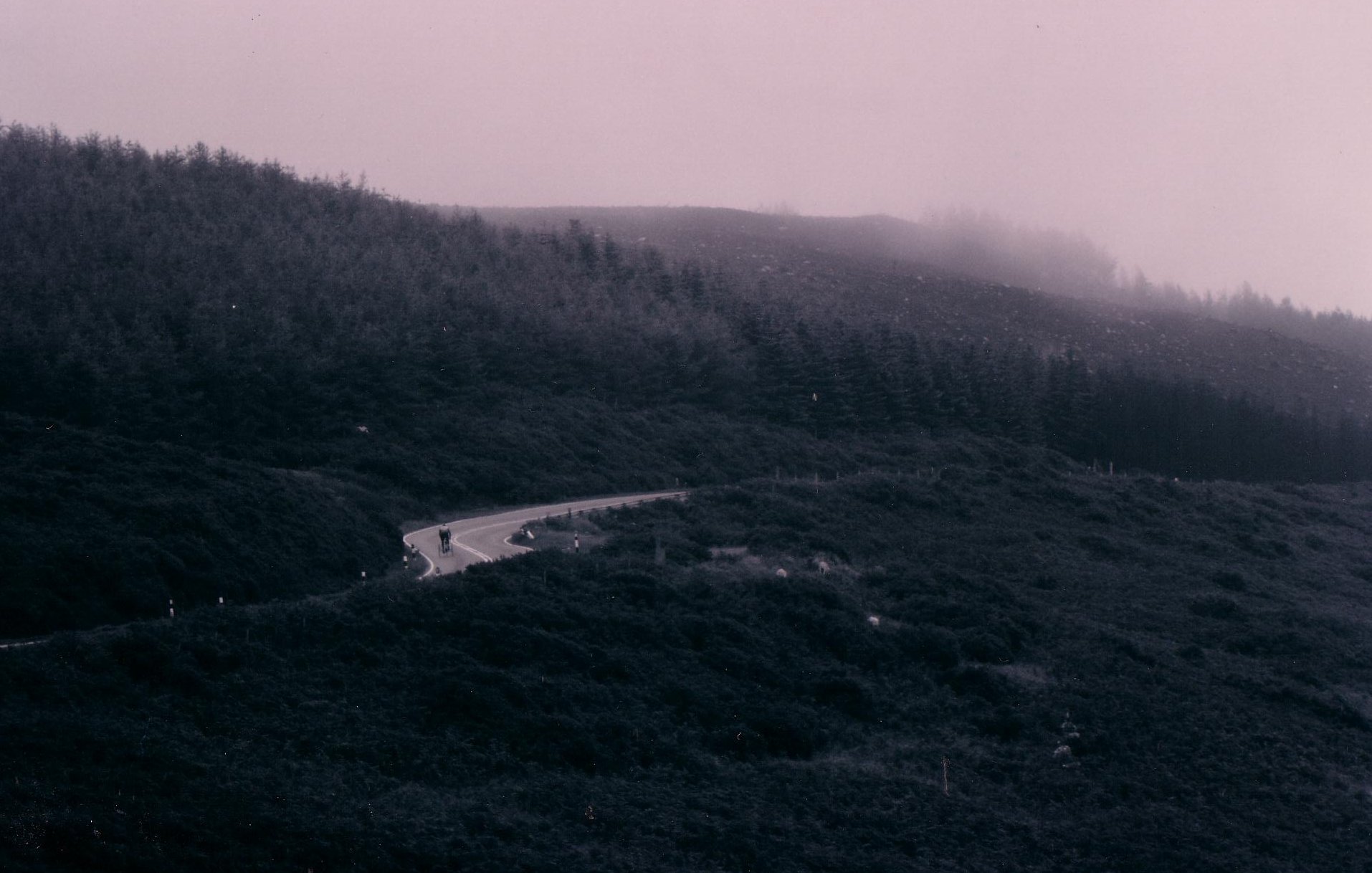 I had planned, and was looking forward to, a triumphant romp up the climbs of Helmsdale and Berriedale. However, this clearly wasn't on now, and I had to pussy-foot my way along, in case I aggravated my injury. My helpers tell me that I looked fine, but I know that I took it easy!
At the top of Helmsdale, mist closed in, and visibility fell alarmingly. I guess that I experienced the start of my delusions here. After several miles, I believed that I had been through Berriedale - but had somehow not noticed it. This idea was soon ditched, as the road suddenly dropped away and I started to accelerate.
I had forgotten that my brakes would be wet. You can imagine my alarm as I approached the escape-lane, and couldn't stop. After a short time, naturally, I was able to slow. As with Helmsdale, the climb was carefully done. I was chatting to Roger Hughes (who was running) as I went up the hill. He says this was the last sensible conversation I made until after the finish.
The Last Forty Miles - Trauma and Delusion
The weather was now pretty grim. It seems that a depression was not behaving as forecast (how inconsiderate!). Instead of keeping well out of my way, it was generously providing me with a wet easterly wind. Although the mist was now less of a problem, the rain and wind were getting to me.
I can't be sure of quite what went wrong, but my brain seemed to be playing tricks on me. I was looking out for Latheron, followed by Dunbeath. I knew to recognise Dunbeath by the bridge across the valley.
So imagine my surprise when I saw the signs for Dunbeath, but no bridge! In fact, you don't see the bridge until you're almost on it (well I didn't), and so I was left wondering what had happened to Latheron.
I remembered a sign before Latheron saying 39 miles to John O'Groats. My speedo indicated that I had passed the '39 to go' point, and so I was confused.
I decided that Latheron must still be up the road, but couldn't understand why it hadn't appeared. Eventually (it seemed), I arrived at Latheronwheel, and the promised roadsign, which actually said 38 miles to go.
As I passed 'The Bungalow' I saw someone looking out the window, and so I waved. I wonder if the connection was made between a bedraggled tricyclist, and the person who stayed there in May, promising that he would do Land's End to John O'Groats on a 'three-wheeler'.
Shortly, I became unhappy with the road I was on. Surely I've been along here before..... I decided to stop and look at the map. Hedley assured me that I was going in the right direction on the right road, and I hadn't been there before.
Unconvinced, I carried on. Lybster is a bit of a blur, but I do remember the signs for the Portland Arms Hotel. The conditions were so miserable that I decided that I couldn't still be on the record attempt. Hence, logically, I must have already finished, and I must now be dreaming (or something).
However (I was trying to be logical, remember), if I had finished, then I'm sure I would know my finish time - and I didn't know that. Also, the wind and rain were rather realistic. No, I decided that I wasn't dreaming - this was real life. Reluctantly, I pressed on.
Well, not for very long. I stopped, and demanded to know what was going on.
Why was I out on my trike, when they were all sitting in the van? I bet they're loving this - sitting in there laughing at me getting blown around and soaked. Why can't I get in the van, or why aren't they out here with me?
Martin did his best to explain. Audrey tried as well. "What have you been doing for the last two days Ralph?" "Getting the End-to-End" "Well you haven't got it yet. You have to get to John O'Groats first." Silence.
I continued for a bit further, then stopped to complain about the weather. John assured me that in a couple of miles, I'd stop climbing, and I'd get a tailwind run in to Wick. Unconvinced (again), I continued, less than quarter-heartedly.
By this time, the team were wondering what was wrong with me, and had considered the possibility of hypothermia. Fortunately, they didn't tell me.
At Wick, my brain must have recovered slightly, and I left the town still on the A9. With 17 miles left, I then started to look for the right turn towards JOG.
At a junction which was obviously not the right one, I turned around in the road, and had another look at the map. (I really can't believe this, as I knew the course perfectly before starting) I was told to look for the junction in a place called Reiss. I continued.
That right turn meant the weather became less favourable, and I began stopping quite often, without good reason. I was also sure that I was on the wrong road. My prior recollections of the Wick to JOG stretch were of peat fields and telegraph poles. There were none of either.
To add to the confusion, helpers from different cars would tell me different mileages whenever I stopped. This fuelled my paranoia about being on a wild goose chase. By this time, I had totally lost any idea of why I was cycling along this road. The words John O'Groats would have provoked no reaction.
Several times, I was implored to ride along 'just over the next hill, then you can finish'. I'm sure the guys believed that the finish was just over the next hill. However it wasn't "over the next hill". This continual promise of the will-o'-the-wisp finish enhanced my suspicions about the motives of these people around me. I seemed to be on a conveyor belt being soaked by a perpetual shower.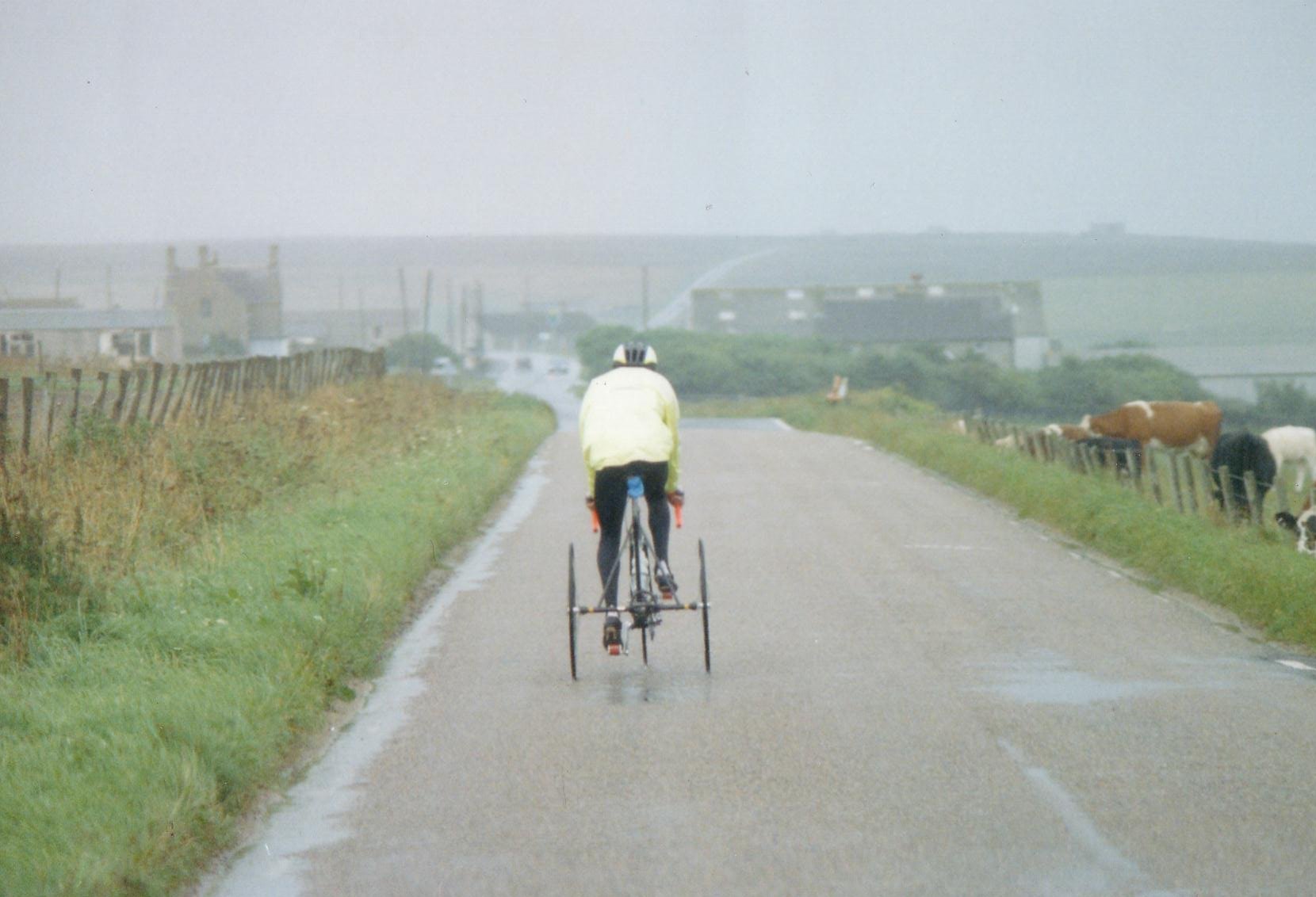 The team were having more and more trouble getting me to restart. At one point I rode into a sideroad and then into a field entrance. Martin despairingly asked me to get back on the road, and told me to carry on. I just wanted to do anything to make them let me get into the van.
At around this time, Audrey switched into scolding schoolteacher mode. She informed me that she had gone for two days without sleep to get me this far, and I was not to mess things up now!
Funny, no response from Ralph.
She told me that all I had to do was ride along this road. I asked how far I had to go. She said to continue until I saw a large hotel at the end, on the left. I didn't really understand what the fuss was about. I actually worked out that she meant the John O'Groats Hotel. I still didn't know why she wanted me to get there.
I was persuaded to carry on by Martin and Audrey running along beside me. Roger also ran, but had to take his shoes off as they were getting uncomfortable.
I think that routine happened several times, with Audrey being accompanied by any one of Martin, Hedley or Bob. Martin tells me he ran for two miles, not having slept for 30 hours - and on top of a 'twelve' ridden only days before! Clearly, Audrey must have run considerably further than this - what a star!
At one point, I was handed the mobile phone and told to speak to my Dad. Even this failed to convince me of anything - I wasn't even positive that I was talking to who they said I was!
Eventually, we saw the JOG Novelty House. Many riders might have started to burn it up at this stage. No reaction from me.
At that point, I see from photos that I passed the John O'Groats sign - I don't remember it.
John now drove ahead with Hedley, to get to the finish. It seems that I then started to go faster (it is downhill though). No sooner had Hedley stood on the finish line than I came around the final corner towards the hotel.
I was pleased to get there, as Audrey had promised that I could get in the van at the hotel. I had no conception that I had now finished the record attempt. I also had no idea of the time.
It turned out that I had taken 2 days 5 hours 29 minutes 0 seconds, and had beaten Eric Tremaine's 1982 time by 49 minutes 35 seconds.
Things flooded back to my brain as people shook my hand and congratulated me. Suddenly it all made sense. Oh dear - why oh why had I wasted all that time?
The John O'Groats Hotel
I was helped off the trike, and taken to the van to change my clothes.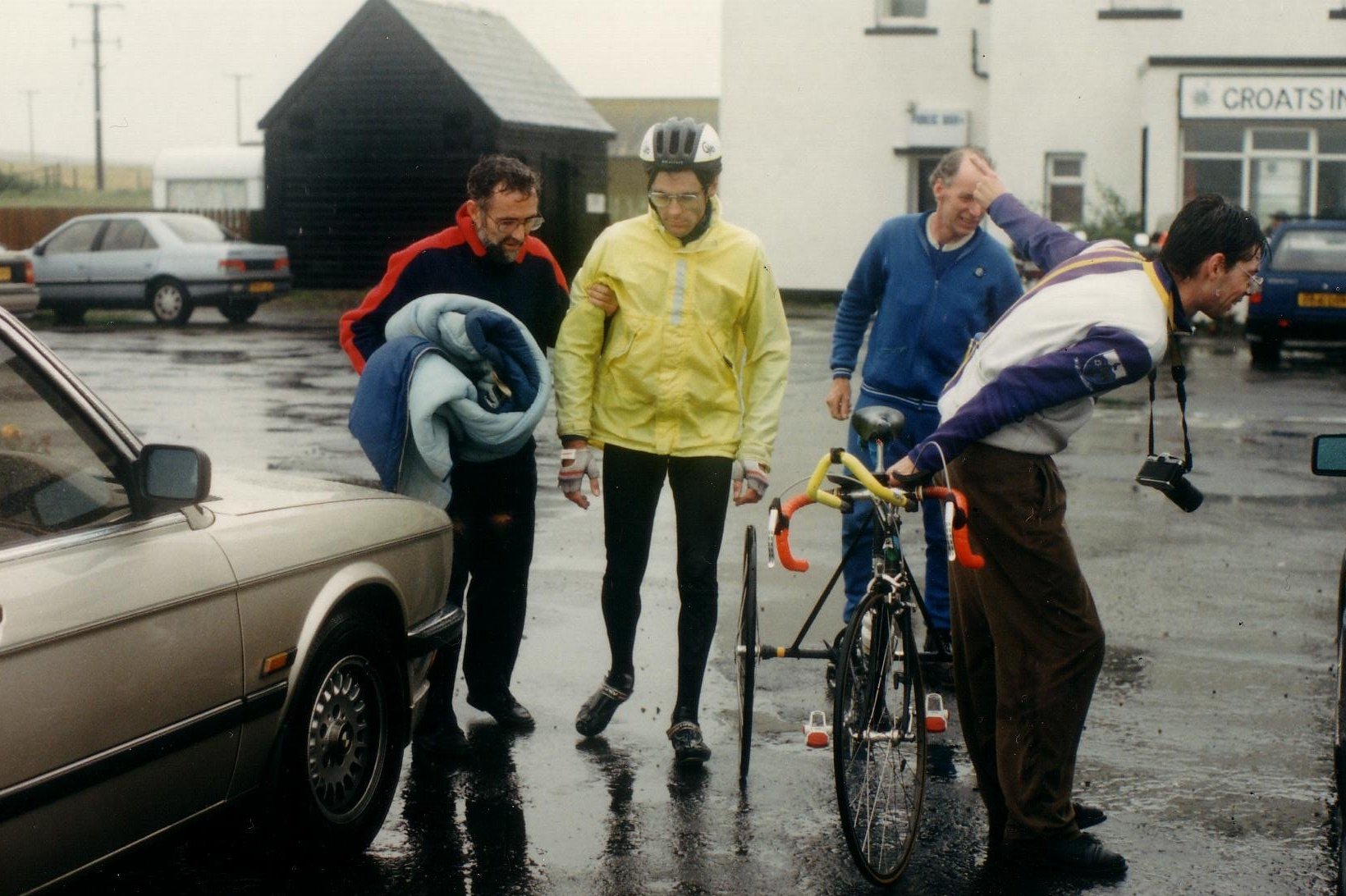 The Groats Inn was welcoming, and I was disappointed to be offered a coffee instead of a Newcastle Brown Ale. The management produced their special Visitors Book for me to sign and give a brief description of what I'd done.
We were just relaxing, slumped in the chairs. Suddenly, a lady appeared at the door, asking for a Mr Badsell. I figured that she must be looking for me. "A Mr Pitt on the phone"
Dave thus took the prize for the first person making contact to congratulate me. He also promised that there was absolutely no way that he would ever, ever, ever try the End-to-End. I await the schedules.
When I returned to the bar, Martin had a question for me. He pointed to the Pace Notes I'd written some weeks before. In describing the closing stages, I'd referred to the finish as JOG. He wondered whether he had been meant to take this literally!
Afterwards
We left JOG at about 3pm, and drove to The Portland Arms at Lybster. My principal reason for going to this hotel was a memory of an excellent meal in May. Unfortunately, the restaurant didn't open for three hours after our arrival. Food was available from the bar though, so we were able to eat.
During the evening, the hotel landlord made an unexpected, but very welcome appearance with a bottle of champagne. There was then a toast which was photographed for us by another guest.

(l to r: John Dalton, me, Roger & Audrey Hughes, Bob Fotheringham, Hedley Stennett, Martin Purser)
For some unexplained reason, I didn't feel at all sleepy. John and I finally left the bar at 11:30 pm. This meant we had gone 66 hours with less than an hour of sleep.
When I woke at 8am next morning, I found the bedroom light still on and a book slumped on the floor. Maybe I was tired after all.
After extensive reorganising of the contents of the car (the van, with Martin, Hedley & Bob had left hours before), we left the hotel at 1pm.
We took the scenic route - which it was, now the record attempt was over. After Inverness, we followed Loch Ness to Fort Augustus, and then Fort William. We then turned inland, up Glen Coe, then past Loch Lomond to Glasgow, where we stayed the night.
On Friday we drove the rest of the way home, stopping for a while at Roger's residence in the charming village of Didsbury.
Injuries
When I finished, I was aware of my left ankle, both knees, and both hands having problems. Within a day, my knees felt fine, and I could walk without problems. However, cycling (attempted 6 days afterwards) definitely aggravated my ankle, and my hands still had pins & needles in them.
Following treatment, I think I'll probably live.
Statistics
The main communications point for checkers etc was my parents' home. The numbers of telephone calls taken can be broken down as follows:
| | | | | | | | | | | | | | | |
| --- | --- | --- | --- | --- | --- | --- | --- | --- | --- | --- | --- | --- | --- | --- |
| Beforehand | | | | | | | | | | | | | | =43 |
| Day One | (8am - 8pm) | 2 | 7 | 2 | 0 | 6 | 4 | 6 | 7 | 9 | 9 | 8 | 12 | =72 |
| Night One | (8pm - 8am) | 16 | 17 | 7 | 9 | 8 | 3 | 2 | 2 | 1 | 1 | 3 | 7 | =76 |
| Day Two | (8am - 8pm) | 8 | 7 | 3 | 7 | 5 | 8 | 4 | 8 | 6 | 6 | 7 | 14 | =83 |
| Night Two | (8pm - 8am) | 3 | 9 | 8 | 6 | 0 | 0 | 1 | 1 | 2 | 0 | 1 | 8 | =39 |
| Day Three | (8am - 8pm) | 10 | 7 | 4 | 10 | 9 | 18 | 12 | 9 | 3 | 3 | 6 | 5 | =96 |
| Afterwards | | | | | | | | | | | | | | =12 |
| Total calls | | | | | | | | | | | | | | =421 |
Top callers with 10 each were Pauline Strong and Edwin Hargraves, closely followed by Pete Swinden on 9. Eric Wilkinson, Jean Luxton, John Arnold, Andy Wilkinson, Carol & Eric Tremaine and CCP Davies each called in 8 times. Dave Pitt, Alan Strong, John Pardoe, Peter Barlow and Pat Kenny deserve honorable mentions for their 7 each.
My car covered 1911 miles in six days.
Apart from the chainwheel failure, I had no mechanical problems. The only wheel change (at Forth Bridge) was precautionary, as I'd damaged the tyre (which was not a tubular). The rear Vittoria Corsa CXs, which did 500 and 770 miles respectively, seem in fine condition. The front one, which did 760 miles, wasn't even new at the start. It should still be good enough for training.
I used Longstaff two-wheel-drive trikes. England was covered (apart from Shap) on my machine, which had gears ranging from 117" to 58.5". For the second half, Tim's trike was used. This, when roadworthy, offered a top gear of about 93", and a bottom gear suitable for Ben Nevis (now THERE'S an idea....).
For sustenance, I drank Maxim (flavoured either Orange, Lemon or Blackcurrant) and I ate sandwiches. The usual rice/banana/sultana drink also seemed to crop up every few hours. I can recommend this combination for 800 miles. After that, I drank coffee and half a flask of JD's brandy.
When I finished, I had beaten Eric's time. But did I beat his ride?
I am fully aware that I covered a shorter course than he did - possibly as much as 9 miles less. If he covered 849 miles in 54-18-35, then his average speed was 15.63 mph. My ride certainly benefitted from the Dornoch Bridge, which lopped 7 miles off - maybe there were other shortenings. If my distance was 840 miles, then my speed turns out to be 15.71 mph.
So does that exonerate me from feelings of guilt? I'm not sure, because the difference was not just miles. The new route allows the rider to replace a 34 mile segment with a totally different 27 miles, which loses a large climb (the Struie). On the face of it, therefore, I had it easy. However, I contend that I found the (flat) road to Tain quite boring, and concentrating was a problem. On the day, I could probably have coped with the hill.
There remains though, obviously, the unarguable fact that I took the short route. Any course changes will inevitably blur comparability between rides and riders, and so there can always be questions of who did the best rides.
Having considered the difference in course, the question then becomes whether that is the only factor which affected the rides? Of course it isn't.
The End-to-End is a contest between riders and a vast array of obstructions. Some, like the chosen course, are known in advance. Others are partly known, like the weather and the rider's fitness. Others are totally unknown, such as how the rider will cope with missing sleep, and whether mechanical problems will occur.
In the end, the bottom line is that the person holding the record is the one who got from place to place in the shortest time. There will always be differences in rides, and so there will always be subjectivity in comparing performances. Taking any high-level analysis to extremes, the best rides were probably done in the late 1890s!
I'm certain that everyone associated with the attempt (except possibly Pat), has learned an enormous amount about End-to-Ends. With this in mind, I'm certain that I could do the ride again, better, if I had to.
I don't actually have a burning desire to do it again, but if someone trims my time in the next ten years.....