Once more around the Beef Tub Ralph Dadswell Sept 1994
Back to Rides in 1994
As I scanned the list of RRA place-to-place records, I decided that Liverpool to Edinburgh would be one of the 1994 targets.
A large section of the course is part of the End-to-End route, leaving Liverpool to Preston as my only significant uncharted waters. In 1993, I had investigated Liverpool city centre and had learned the route out to the north. This meant I was happy to put the schedule in without any further research.
I had a definite preference to do the ride in the northbound direction, but included details for the ride to be done from Edinburgh to Liverpool, just in case.
As it happened, the first opportunity that we spotted was for Thursday 15th September, from Edinburgh. It was on the Monday night that I made the decision to go, and I needed to find an Observer and some Timekeepers. During Tuesday, I obtained the services of Les Lowe, and during the evening I heard that Greta Spiers (his tandem-tricycle partner) was prepared to do the driving. Phil Heaton agreed to time me in at Liverpool even though this meant changing, at short notice of course, his arrangements for that evening.
A timekeeper for Edinburgh was much more difficult to sort out. Unfortunately, there are currently no RRA Timekeepers in the area, so I had to search the SCU list. To cut a difficult two hours short, I finally spoke to Jock Shaw at 2230. He pointed out that 36 hours was short notice, and that Thursday morning was difficult for him. Despite this, he said he would do the job. All that remained was for the RRA secretary to give him the nod of approval, and I was greatly relieved to receive a phonecall from Edwin at 2245 to say that I could go ahead.
All this telephoning meant that I had done virtually no preparations, and of course I had to travel to Edinburgh during the next day. Not ideal.
Luckily, Greta had asked for our trek north to start in the afternoon, to allow her to get some work out of the way. I had time, therefore, to prepare during Wednesday morning, and at 1430 I arrived at Wellesbourne to collect her, in pouring rain.
We then drove, in depressing weather, to Burton-upon-Trent to collect Les. A slow drive across to Stoke eventually put us on the M6 at 1730. Only 250 miles to go.
At 1945, we pulled off the M6 at Carnforth to get something to eat. Resuming about half an hour later, we persisted into the night with the car fighting a strong headwind. Considering the tricycles on the roofrack, I was reluctant to go much over 60 mph, an arrangement the car was happy to fit in with.
We reached Scotland at about 2130, and phoned Margaret Harris to tell her that we would be at least another hour before reaching her in Edinburgh. A slight underestimate, as we then discovered that the A74 was a maze of cones, contraflows and single lanes of traffic. It took 45 minutes to reach Moffat, and we still had over 50 miles left.
We arrived at Edinburgh at 2315, but I decided to check the route into the City Centre on the way to our accommodation. This was a valuable, but slow, exercise, and when we finally knocked on Margaret's door, she asked "Where HAVE you been?!".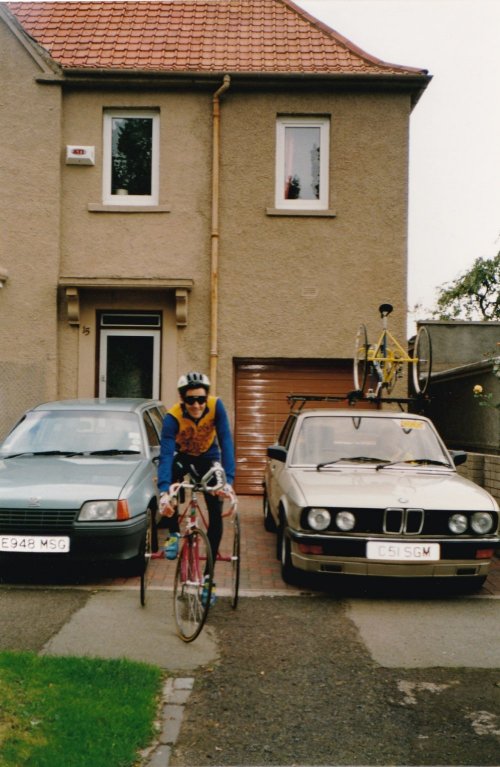 (leaving the Harris residence, bound for the start)
Despite running late throughout Wednesday, I arrived at the Head Post Office with over 30 minutes before my start time. This allowed a leisurely chat with Jack Murdoch before Jock Shaw arrived and started counting down the minutes.

(Waiting at the start. Me, Jock Shaw, Jack Murdoch, Les Lowe)
I set off on time, and made fair progress out of the city.
I had set a schedule assuming a level speed throughout the ride, and was a minute down when I reached the ring road. This was no cause for concern, as there had been quite a lot of traffic to negotiate, and I was reluctant to take risks that early in the ride.
I reached Penicuik with a 1 minute advantage over schedule, but this didn't last long, as I then suffered a mechanical problem! Part of the mechanism of my tri-bars fell apart (presumably due to excessive vibrations on those rough Scottish roads!), and I only just caught the armrest before it would have been at the mercy of the merciless traffic.
We managed an improvised repair with the help of some insulating tape, and I set off again, having lost my advantage.
After being marshalled through Leadburn, speed began to pick up. I was fairly throwing the trike along for about 10 miles, and was six minutes up at Blyth Bridge. Moving due south through Broughton I continued to make good progress, and was 12 minutes up at the Crook Inn.
I was expecting, as you would, that the climb to the Devil's Beef Tub would be difficult - even with a tailwind. However, I was riding along at about 18 mph waiting for it to get steep, ... when suddenly the "Source of the River Tweed" sign appeared, and then the "Welcome to Annandale & Eskdale" sign. Amazingly, I was at the summit without realising it!
However, the weather was doing its best to dampen my enthusiasm, as I was being rained on, and blown around. The road also turns briefly in a northerly direction near the summit, and progress was quite hazardous for a short time. However, I managed to survive the descent, and as I entered sunny Moffat 50 miles passed in 2hr 13mins.
Onto the A74, and for several miles progress was good. We were ready for cones and contraflows, but there were stretches lasting several miles where traffic was down to a single line. I was amazed, as this was a major trunk road on a weekday. Several times I moved outside the cones to let traffic past, although this made rejoining the carriageway rather hazardous .... especially for the following car!
Rather worryingly, all the signposts on these stretches were headed "A74(M)", despite the fact that the road had not actually been formally declared a motorway. There was obviously a lot to think about, but I still managed to be 28 minutes up on schedule at Ecclefechan (74 miles).
I avoided the "real" stretch of A74(M) at Gretna, and rode through the town. Unfortunately, I lost contact with my car at this point, as Greta wanted to stop for a photograph at the Blacksmith's Shop. Unfortunately, she stopped at the newly-built tourist-version of the Blacksmith's Shop, rather than the original building. Unfortunately, she and Les then missed a turning, and went off course. Had they stayed on the course, they would have seen the old Blacksmith's Shop.
Meanwhile, I was back on the A74, counting down the miles to Carlisle. At Carlisle, I made my first mistake. I followed a sign to Penrith. Of course, I wanted to go to Penrith, but I didn't want to be taken around a very attractive ring-road. I should have gone for the City Centre, but I aberred.
Soon after joining the A6, 100 miles passed in 4 hours 28 mins. This was over half an hour quicker than I had scheduled for 100 miles. It was only 25 minutes up on schedule, however, due to differences between my schedule distances and the actual distance covered.
I then began to suffer over the next 2 miles. I seemed to struggle on every climb, and the wind didn't seem to be helping me much. This was worrying, with over 100 miles to go, but I just hoped things would improve.
At Penrith, I was still 25 minutes up, but my interest in the rest of the ride was dwindling. To make matters worse, the distances quoted on roadsigns for Kendal and Lancaster were larger than I had expected (and scheduled for).
After passing Shap village, my attitude began to improve, and I was quite positive as I hauled myself up the road over Shap Fell. At the top, I was pleased to note that I was still close to 25
minutes up on schedule. I had forgotten, however, that my mileages were up the creek, and despite an enormously fast descent, I was still only 25 minutes up in Kendal. I had however covered 1.5
miles more than expected in that segment from Penrith.
The ride was now starting to become a bit more interesting again. The roads from Peniciuk to Moffat and from Carlisle to Kendal had been somewhat empty, and it was good to see people and traffic again.
I made reasonable progress past Milnthorpe and Carnforth. Traffic was quite slow in Lancaster, but I got through without mishap, and noted that my advantage over schedule was now 28 minutes. This was despite having covered another half-mile more than expected.
Progress was again quite good to Preston, and I had maintained my 28 minute margin as I approached the town.
Unfortunately I made another mistake. I guess that I must have been getting tired, but I followed the first Liverpool (A59) sign that I saw. It could have been worse, as I might have followed a Skipton (A59) sign. However, it had been my intention to follow City Centre signs, and then to leave on the Liverpool road. I suppose I must have been drunk with excitement on seeing the first sign to the finish point.
So I found myself on the western part of what serves as the Preston ringroad. I realised this after less than a mile of riding, but I didn't feel that turning back was a viable option.
With purpose-built ringroads, you do always at least feel as if you're making progress towards your objective. However, in cases such as the route I found myself following, there were plenty of major direction changes - not all of which seemed to make sense. Intuitively, (when travelling anticlockwise) you expect a series of "ahead" or "left" instructions, followed by one "right" arrow.
I overtook a cyclist, who was waiting to make a right turn into what looked like an industrial area.
I crossed a major intersection, and was pointed towards a dual carriageway road. Rejoicing, I followed this road. After half a mile, the Liverpool signs were to the left, then left again, then left again, underneath the road that had seemed so good.
My perception that I might not have taken the quickest route was confirmed at this point, when I spotted the cyclist I had seen several minutes earlier... up the road in front of me!
Luckily I had no time to waste being annoyed, I just concentrated on hitting the pedals as hard as possible. I had entered Preston believing that I had 30 miles to go. The road signs some 7 minutes later were telling me that 30 miles remained.
Mercifully, the wind was still helping me, and I concentrated on keeping the speed above 20 mph whenever I could. Dusk came and went, and I was glad that I had been persuaded to be "lit". 200 miles passed in 9 hrs 12 mins, and I set a target that I would beat 10 hours for the complete ride.
The route became slightly technical on the outskirts of Liverpool. Surprisingly, however, the place where I almost went wrong was at a place which had seemed quite simple when doing the reconnaissance. However, and it's a big however, the homework had been done based on the premise of a south-north ride. The roundabout at the end of M58 and M59 is simple going north, as you just go for A59 Ormskirk. However, when coming from Ormskirk, the route is to take the short-cut through the centre of the roundabout. My car was committed to this route, and they had to watch me veer left and go onto the roundabout, looking as if I was about to take the wrong exit (ironically, following A59 Liverpool).
Les and Greta were at the front of the queue at traffic lights in the centre of the roundabout, as they watched me ride around the outside. I went towards the A59 exit, hesitated, and then continued around to the A5036, which is where I was supposed to be.
They were greatly relieved, and I was blissfully unaware that I had even drifted away from the route.
After that, there was the left turn after the golf course, and then a couple of miles of urban dual carriageway punctuated by lights and roundabouts.
As the dualling finished, I made the left turn into Stanley Street, and then onto the A59 again for the final run in.
Under the Churchill Way South flyover there was a small crowd, and I was delighted to spot Phil Heaton amongst them. He announced that I had arrived at 7:54:29, which indicated a total time of 9:54:29. This meant an improvement of over 26 minutes on the previous record.

(Phil Heaton, bottom left, timed me in)
I had expected to do more damage than that, but I guess a combination of inaccurate measurements, navigation errors, and the weather not being as sensational as had seemed likely beforehand ...all added up to the final result.
Ken Matthews immediately steered me away from the main road where I had stopped, and we posed for a couple of photos. Les and Greta soon arrived, and there were more photographs.

(A great group shot. Me, Bob Williams, Les Lowe, John Cull, Ruth Williams, Ken Matthews, tbc, tbc)
(I'm guessing that these photos were taken by Greta, as she was always there but never caught on film)
After about half an hour of chat, we were on our way out of the city. I drove for this bit, and only caused an extra four miles to be added on the journey to the M62. Why break the habit of earlier in the day?
We had a snack at the services near Warrington, and continued the trek south. After a while, I passed the driving job back to Greta, who got us to her home at Wellesbourne - at about half past midnight! I had my third short night's sleep, and was on my way home by 9am.
On reflection, I'm pleased to have done this ride starting at the north end, as I had already raced over virtually the entire route in the other direction as part of the End to End. It was an amazing experience to scream down the south face of Shap, and the various towns en route all had a different appearance. This was, of course, somewhat of a problem as things worked out, but it nevertheless added to the fun!
This will be my tenth claim to an RRA record. I'm making my way up the list of record-breakers, but still have a long way to go to reach Monty Holbein who appears 32 times.