Here's a copy of the schedule with 'actual' timing data.
Back to Rides in 1995
(schedule to beat record by approx 1 hour)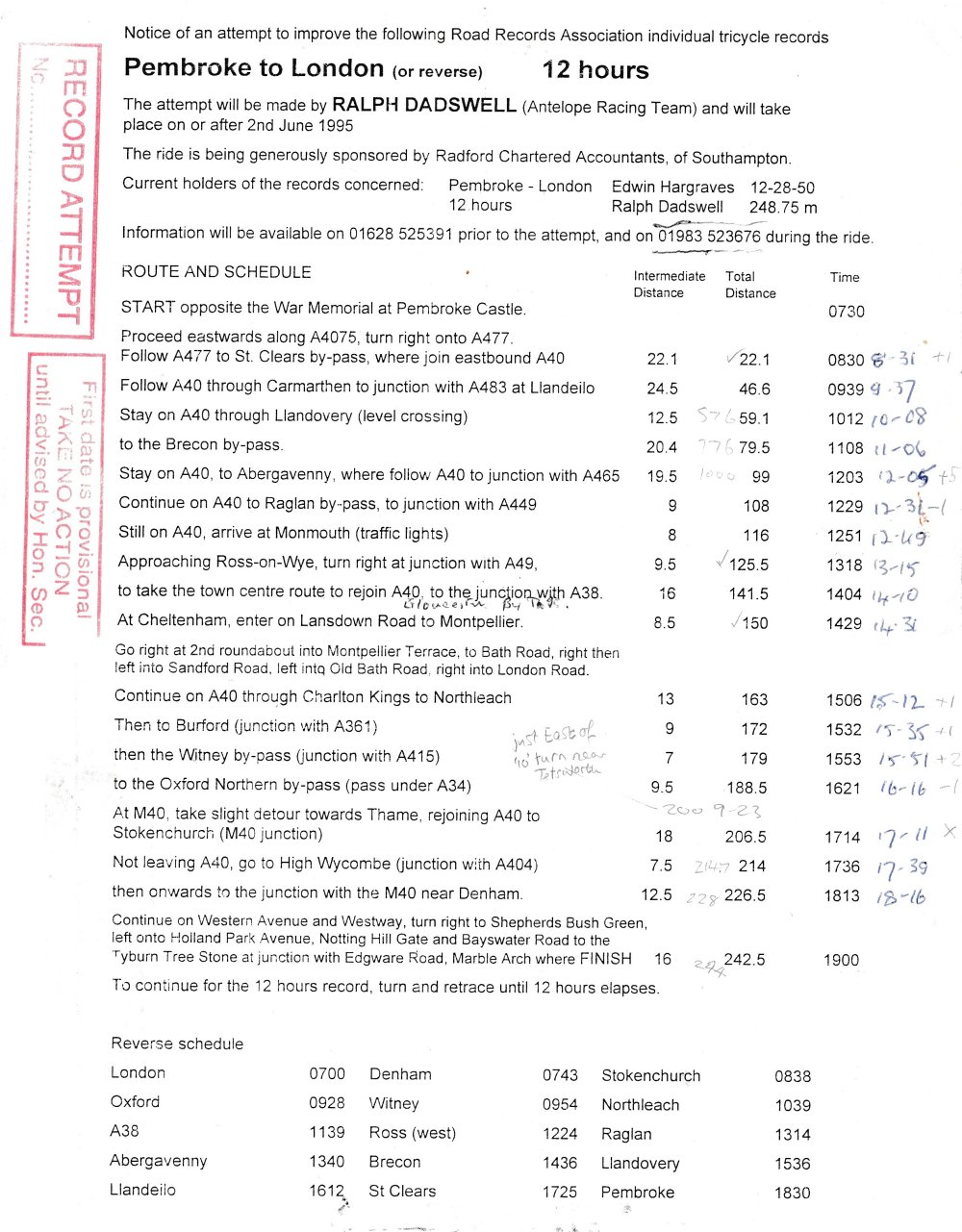 Here are the telephonist notes. I like to see these, mainly to see the interest from record-breakers of the past.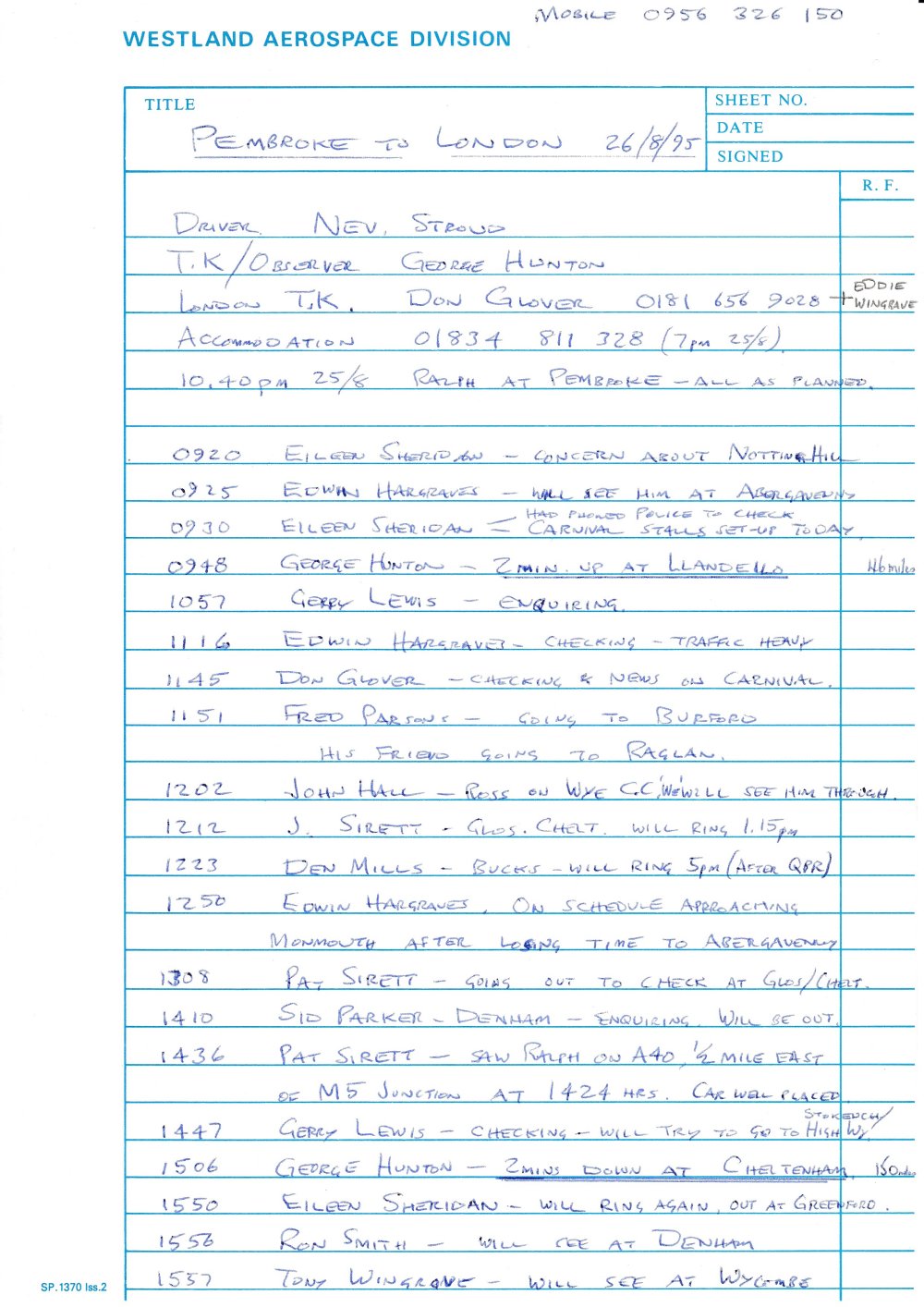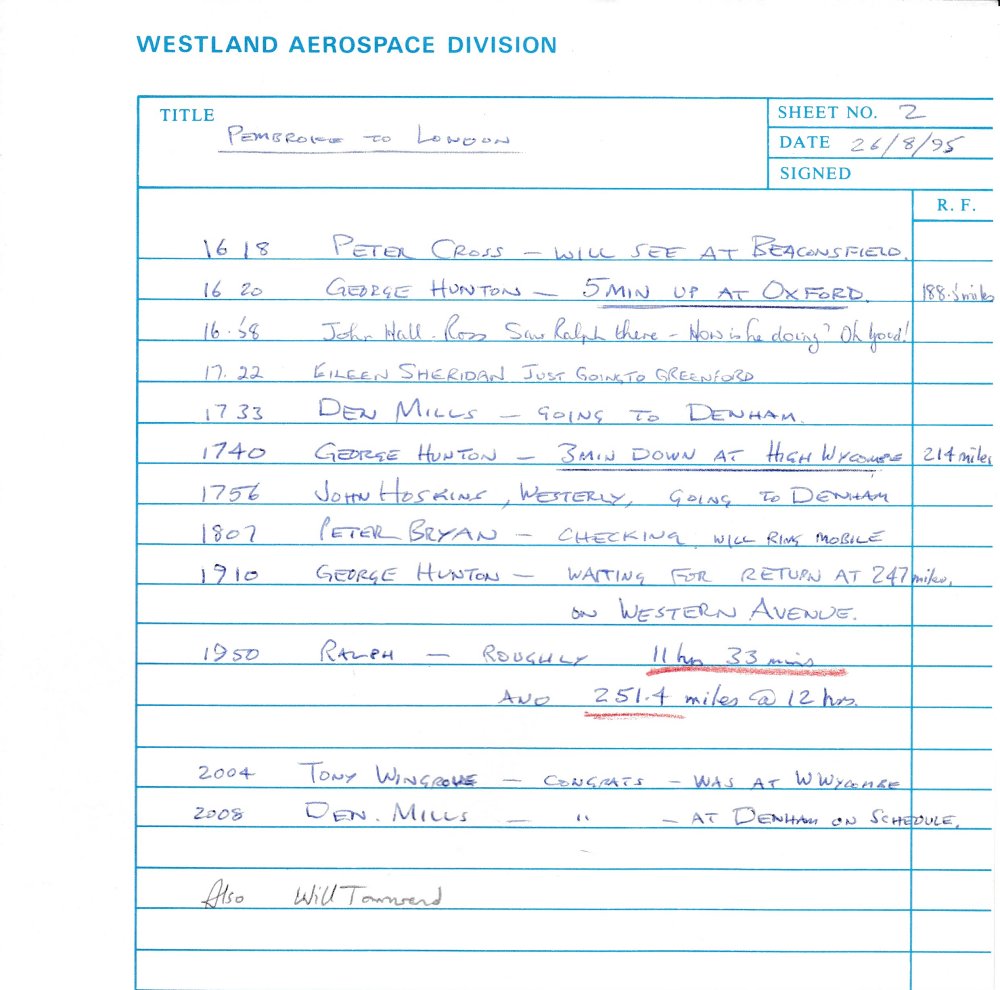 A letter from Peter Warhurst, who broke the tandem-bicycle record in 1955. He talks of the route choices and compares his tandem with that of Patston/Woodburn who took his record 21 years later.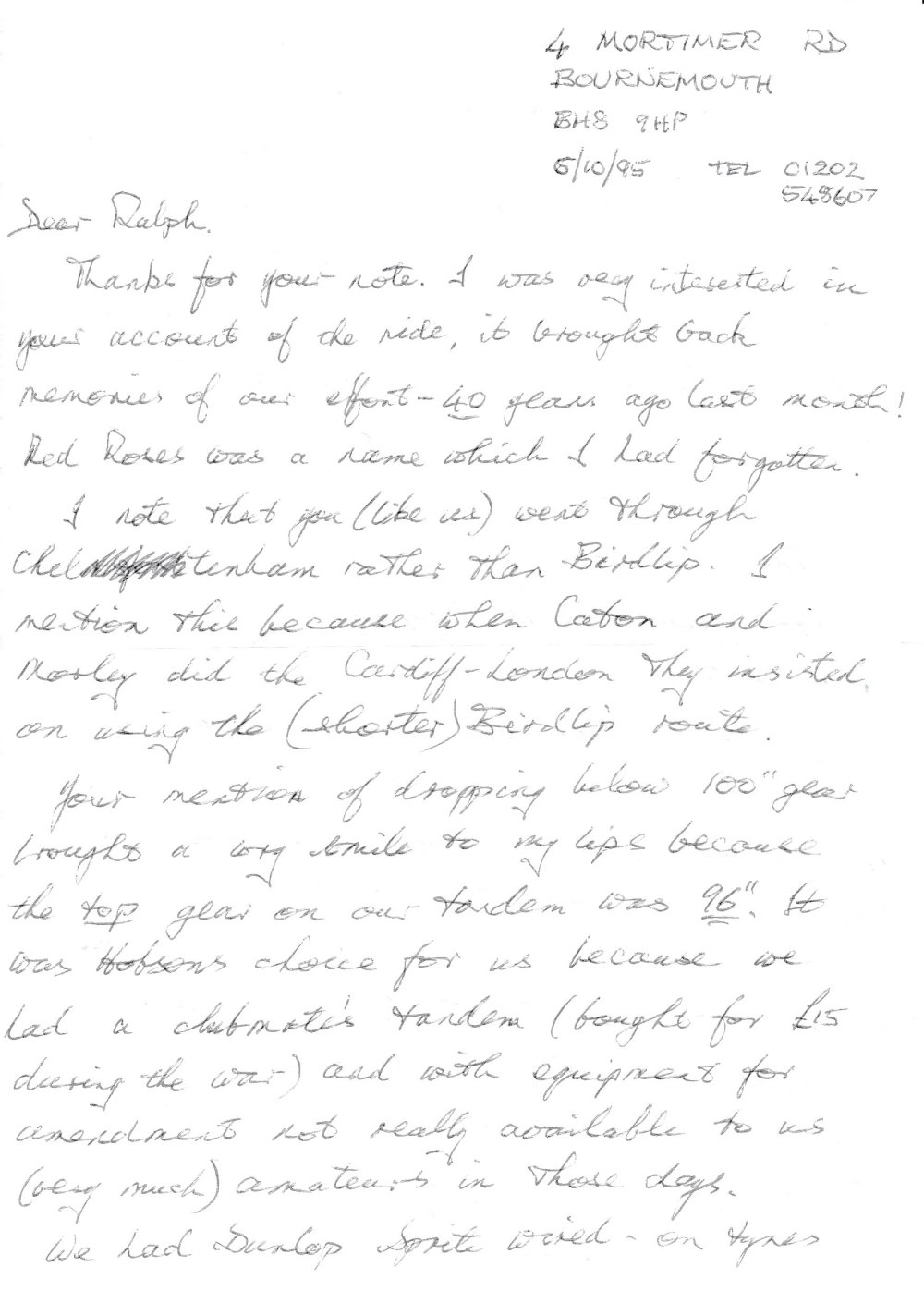 And if life was simple, that would be all that needed to be said about this ride. But actually, getting this claim passed was probably a more miserable experience than the hassle around the Liverpool-London.
When I decided to make the attempt, I rang the secretary to say "I'd like to go on Saturday". That was fine, and we went through the usual chat around who the officials would be and what weather forecast I had.
He spoke about the route, particularly the part in Wales, and he mentioned that there were quite a few new bypasses in place that would make my ride a much smoother experience than that of previous record aspirants over that route.
And that, really, was that. He didn't pass on any inside info about anything else, so the last thing I was expecting was trouble in South Wales.
When we drove along the course on our way to the start, we noticed roadworks going on between Monmouth and Raglan. The two-lane dual carriageway was coned down to one lane for a portion of that stretch. But frankly this was no big deal. The ride was going to be over 250 miles, and there were bound to be roadworks at some point.
Now we need to jump into the ride, just after 100 miles were covered. I was riding the fast concrete road from Abergavenny to Raglan - one of those relatively new stretches that had been mentioned in the little chat described above. Approaching the roundabout near Raglan, I spotted the secretary and his wife. But they weren't by the roadside offering encouragement - they were some way back from the road, at a junction that was absolutely not part of my route. I only saw strange body-language, which seemed to indicate hopelessness. I was completely baffled, and kept going. At the roundabout I stayed with the A40 and rode through the roadworks section without incident.
I thought little more of this until a couple of days after finishing. Then stories of No Cycling signs started to come my way, and I was told that cycling was prohibited through the roadworks on the A40.
I hadn't seen any signs, and neither had the two people in my following car. Apparently I was supposed to have left the A40 where the secretary was, and used the old road instead of the A40. How was I supposed to know that? He obviously knew about it, but made no effort to redirect me, or even tell me of the problem.
A couple of weeks later, I received a letter from one of the RRA scrutineers. He asked all about whether I knew of the prohibition, and whether I saw any signs. Easy to answer those ones. Along with my reply I told him that it looked like I had been set up to go the 'wrong' way.
Perhaps the committee agreed with this assessment, because they passed my claim at the next meeting. The only issue remaining was getting the 12 hour measured. We were all pretty clear that I'd beaten the previous distance, but technically my 12 hour claim had only been agreed 'subject to measurement'.
Normally, the next steps would be simple enough. The secretary would look at the territory to be measured and he would then contact several measurers and ask them to do a section each. However, he wasn't playing ball. I presume he felt that my claims should have been rejected. So he refused to ask any Wales-based measurers to do any work to help.
I don't remember if there was actually a period of stand-off, but I am aware that after a while somebody else took over the task of getting the job done. As far as I know, he just asked two people to do about 125 miles each. Awkward for them, but probably quicker than sharing the task between 5 or 6.
Mick Fountain agreed to do the western half. Mick lives in Didcot. In order to do the measuring in one day, he had to start early. He left Didcot on the 1.19am train towards Bristol. He arrived at Pembroke to begin work at 8am. He managed to cover almost 100 miles in dodgy weather before a puncture called a halt. Not sure when he got home.
I believe Alan Hodgson picked up from where Mick finished, although measuring through the prohibited area was apparently left until after the works were complete.
Many thanks to Mick and Alan for a whole load of hard work.
Back to Rides in 1995