August seemed to be destined to be a month of hot days and light winds. But then there was a chance of a cooler spell, with some west winds around the 25th. Closer inspection suggested south-west winds on 25th, with west-north-west on Saturday 26th. So, I decided to go for the Pembroke to London tricycle record on the 26th.
The record had always struck me as being a soft one, with an average speed of about 19.6 mph for the 244 miles, and indeed the previous holder had told me on numerous occasions that an hour should be taken off it.
So I needed to get some help - a timekeeper and a driver/feeder. It didn't take me long to realise that I was in trouble. I was asking people to take 2 days away from home, a Friday and Saturday, leading into a Bank Holiday weekend. After about 24 hours of despairing telephoning, I had engaged the services of George Hunton as timekeeper, but I still needed a "factotum".
I had asked everyone that I could think of, who I didn't know to be either holidaying, helping at the North Road 24 hour, or racing. As I phoned my clubmate Nev Stroud, I had resigned myself to hearing that he was going away for the weekend, or had been doing special training for a vital race on the Sunday, which he was determined to be in peak condition for. Incredibly, he said "Of course I can help. I wouldn't let you down Ralph. Where are we going? Will I need my passport?". What a guy. King of the World, in fact.
So he jumped into his Porsche, zoomed to George's house to collect him, and then jetted across to uptown Flackwell Heath.
At about 1430 on the 25th, we set off on the long trek towards the southwesternmost point of Wales. The route for the Pembroke to London record is almost exclusively on the A40. Hence we used this as our road to the start. In part, this was because it was convenient. Another reason was to show the route to Nev, who was going to be driving back. The final reason was to check for roadworks, diversions etc. The downside to using A40 is that the M4 would have been much faster.
I had arranged for us to stay about 10 miles from Pembroke, and we arrived only an hour later than expected. This is quite good by my standards, and to celebrate, we hit the pub for a pre-race feed. We were ejected from the Lounge for sitting at a reserved (but unmarked) table, and told to find somewhere to sit in the Public bar. When this was achieved, I was unable to conceal my disappointment at being told that the food served in the Public Bar was from a drastically reduced menu. Unfortunately, the landlady overheard me complaining that we had been "slung out of the other Bar", and it was as much as I could do to persuade her that we should be allowed to choose from the main menu. The soup tasted funny, though.
By a super-human effort, I avoided alcohol, and was pleased to consume a large lasagne while George struggled with a roasted bass. Nev showed that he's getting old, as he was unable to finish his curry.
Back at the "digs", we finalised our plans whilst explaining to our host family just what we were going to do. By a coincidence, we were staying with a family with several cyclists in their midst, and so there was considerable interest.

(preparing at Pembroke Castle)
Alarms were set, and by 0600 we were around the breakfast table. We set off for Pembroke and, after a short warm-up, I was ready for the 0730 start.

(the top team, ready for the off)
Off on time, and I remembered to turn left to avoid ending up on the beach at Tenby.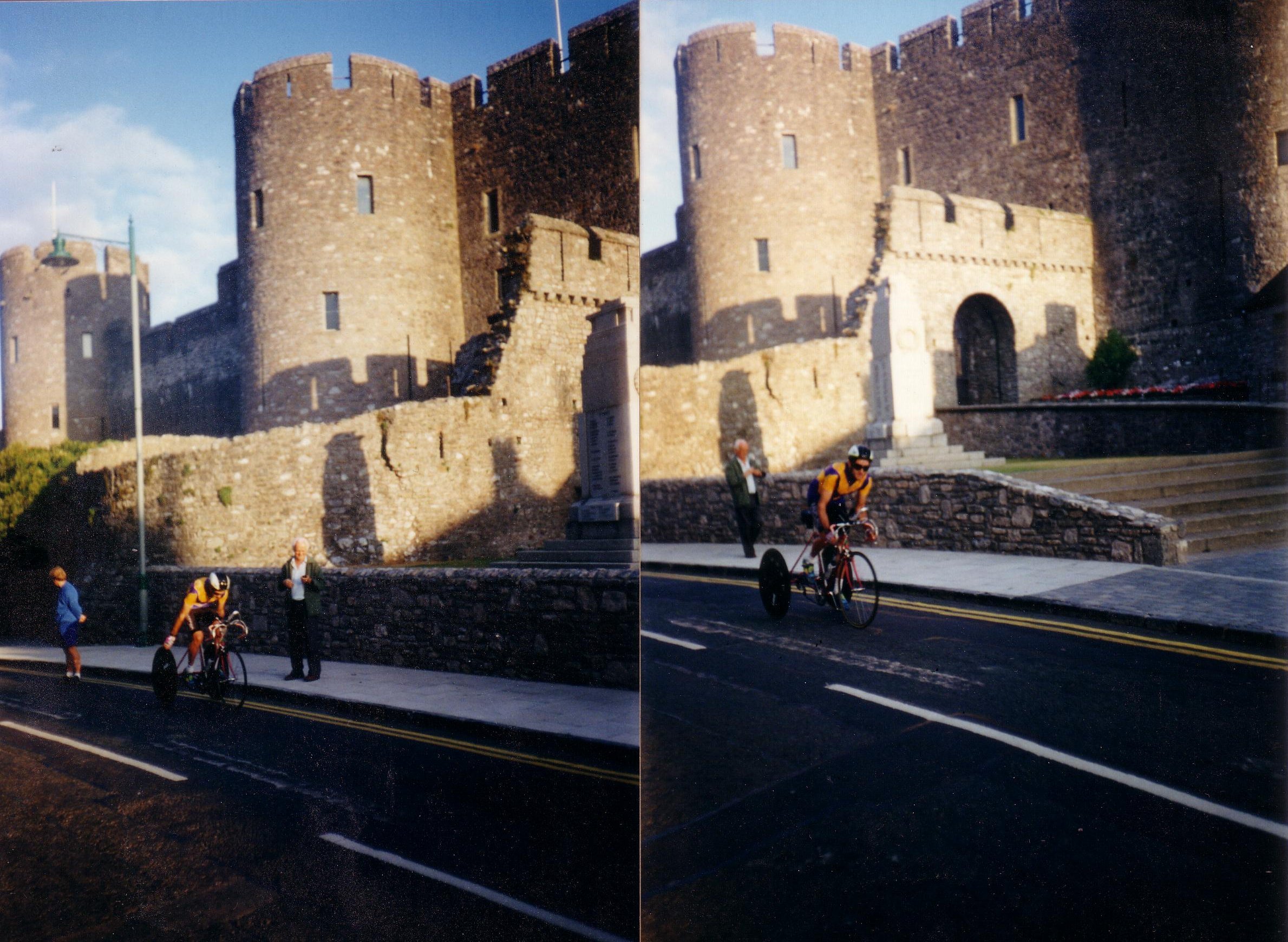 The chilly morning soon warmed, and I was close to schedule after 10 miles. Unfortunately, I seemed to have a bad couple of miles, and my speed was well down by 13 miles. Luckily, I remembered that there would be a sizeable descent before long. Red Roses couldn't come soon enough, and I gratefully accepted the three miles of fast downhill. I arrived at the St Clears checkpoint two minutes down on schedule, but quite relieved that it wasn't four minutes.
It's worth saying at this stage, that I had set my schedule to beat the previous record by about an hour. This was mainly because I felt that an 11 hr 30 minute ride was necessary to be credible. It was also because it gave me the chance to continue riding (well, retracing actually) after reaching the London terminal point, to try to set a new 12 hour record. More of that later.
I hoped that the dual carriageway run to Carmarthen would allow me to make good my deficit on schedule, but there didn't seem to be much wind, and I arrived having hardly raised the average speed. However, the run across to Llandeilo seemed quicker, and at the checkpoint on the new bypass, I was two minutes up. I suspect that the new road had quite a lot to do with this!
Onwards to Llandovery, and I was prepared that this might have featured an unfavourable wind. Fortunately, although I had made a definite direction change, I was sheltered by hills on my left, and the awkward wind only rarely had any effect. Llandovery took me by surprise, arriving about 5 minutes earlier than expected (well, I suppose that it was me, rather than the town which did the arriving, but who's being pedantic?).
Once out of the town, I faced eight miles of climbing as the road trudged across to Brecon. After about 15 minutes, you reach the helpfully named hamlet of Halfway. I had covered 64.5 miles in 3 hours at this stage, and playfully extrapolated this to mean 258 miles in the 12 hours. The road flattens before the final sharp rise in Trecastle, which was the scene of my first use of a gear below "100". Once over the top and recovered, there is a fair ride towards Brecon, and I was still ahead of schedule there.
Superficial map-reading indicates the next 20 miles to Abergavenny could be a pleasant descent as the road follows the River Usk. However, I think Slartibartfast (sorry for that name, but it's not important) must have had some influence on the design. Every time there was a village, it seemed to be perched on top of a sharp climb! And then, as I convinced myself that I had finally reached the outskirts of Abergavenny, I realised that I was only at Crickhowell.
This signalled the first blemish in my scheduling. Normally, I plan my routes painstakingly, and map-measure them as accurately as I can. However, I think that when first assessing the Pembroke to London way back in 1988, I must have been in a hurry. The route as far as the Brecon checkpoint was more than a mile shorter than I had expected, but the distance at Abergavenny was a mile over. Add this to the tougher-than-expected terrain, and it was no wonder that I lost 9 minutes against the schedule.
After easing my way through the heaving traffic of Abergavenny (100 miles), things began to look up as I made good progress to Raglan, and was ahead of schedule again at Monmouth. There are some large undulations on the road to Ross, but despite these, this was a positive stretch due to two significant events. Firstly, I passed the halfway mark, and secondly I got out of Wales!
Moving on, after nipping nimbly through Ross, my celebratory mood was wiped away by the most traumatic part of the whole day. The road to Gloucester is well surfaced. That's the positive thing to say about. It features two lengthy and demoralising climbs, and wiggles around like a trail made by an intoxicated eel. When I finally coasted down the slope towards Gloucester, I felt shot to pieces. Things were so bad that I started eating some food. This was disappointing because I had hoped to do the entire trip on the Maxim drink only.
A wave from Pat Sirett sent me on my way to Cheltenham and the climb onto the Cotswolds. On a scale of one to ten, how enthusiastic do you think I was? And how much of a fillip do roadsigns saying "London 98 miles" give you? But still, on with the job, and at Cheltenham I was surprised to find that I had dragged myself back to be a mere two minutes adrift of schedule.
However, the multi-stage ascent of the Cotswolds beckoned. I coped with the first grind, and things flattened out. I could even have convinced myself that the summit had been achieved. But I knew, however much I wished otherwise, that just when you thought it was safe to relax, the road goes up again. It did.
Is now a good time to talk again about the weather? I presume that I had had some kind of wind assistance in the Welsh part, but it wasn't anything special. When I reached the Cotswolds, I did start to notice that grass beside the road was moving about. There was a bit of wind, and it seemed to be helpful.
Once up the scarp slope, the next checkpoint was Northleach, at which point I was seven minutes behind schedule. By Burford, I was just 3 minutes behind, having been refreshed by a brief shower of rain. Onto the Witney bypass, and I was level, and then (rather excitingly) I was six minutes up as Oxford was approached.
The next segment appears on the schedule as being 18 miles long. Unfortunately, it should have read 20 miles. Even as I strolled through 200 miles in 9-23, it was yawningly obvious that I wouldn't make it to M40 Junction 5 with the six minute advantage intact. I managed to cover the next 6 flat miles to pass M40 Junction 6 with a few minutes left before my scheduled time for Junction 5. I reckon that when I measured the course, I forgot to include the climb at Aston Rowant!
A lumbering climb led to quite a fast run in to High Wycombe, and I was pleased to be only 3 minutes down at the A404 check point. The actual distance I had covered was 215 miles, compared to 214 on the schedule. I passed this information to George, to allow him to guess the final mileage at Marble Arch. More of that later, as well.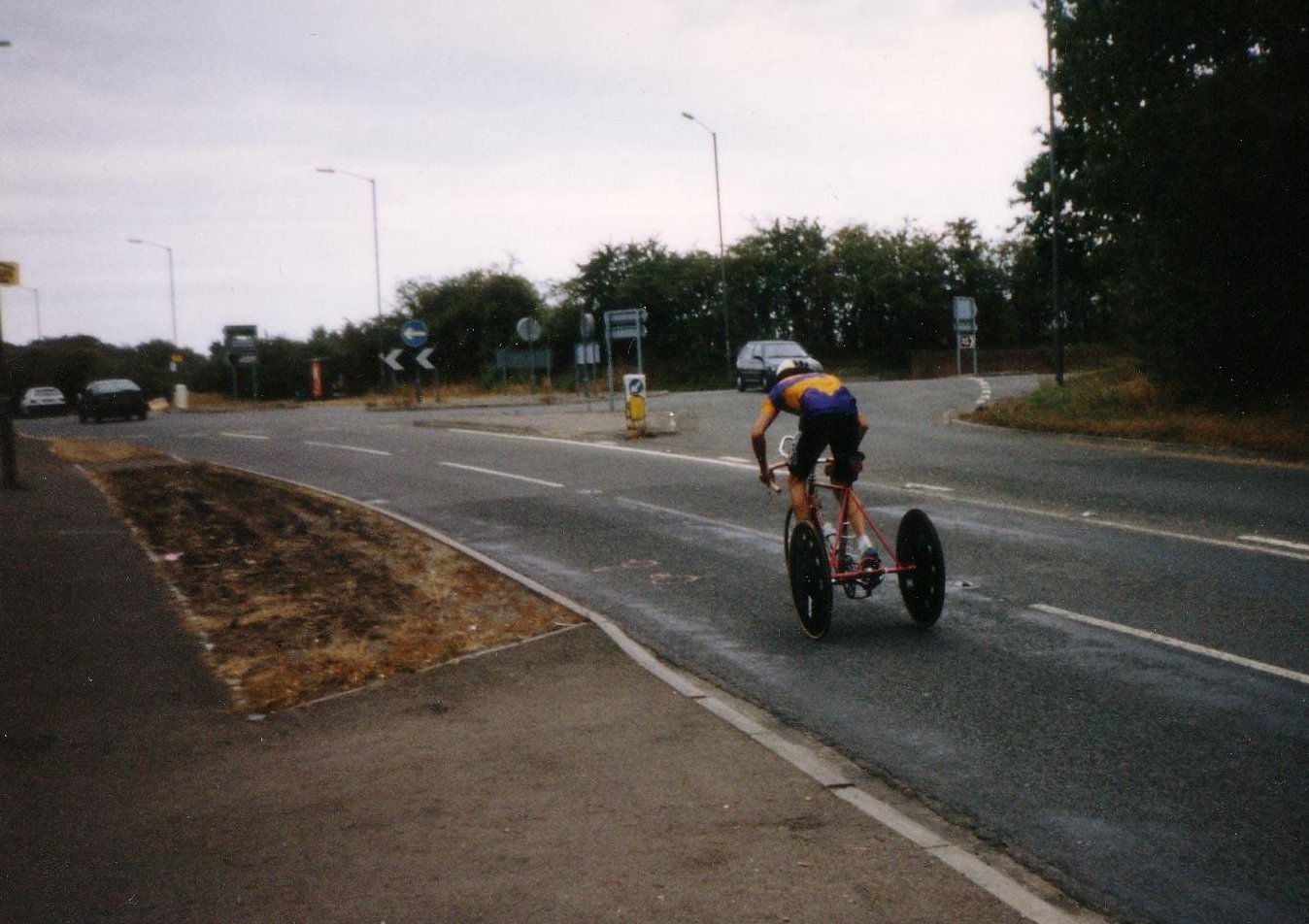 (approaching Holtspur, one of the last climbs)
From West Wycombe through to Hillingdon, there were a lot of familiar faces - too many to mention! When I passed the Denham roundabout, I was still 3 minutes down.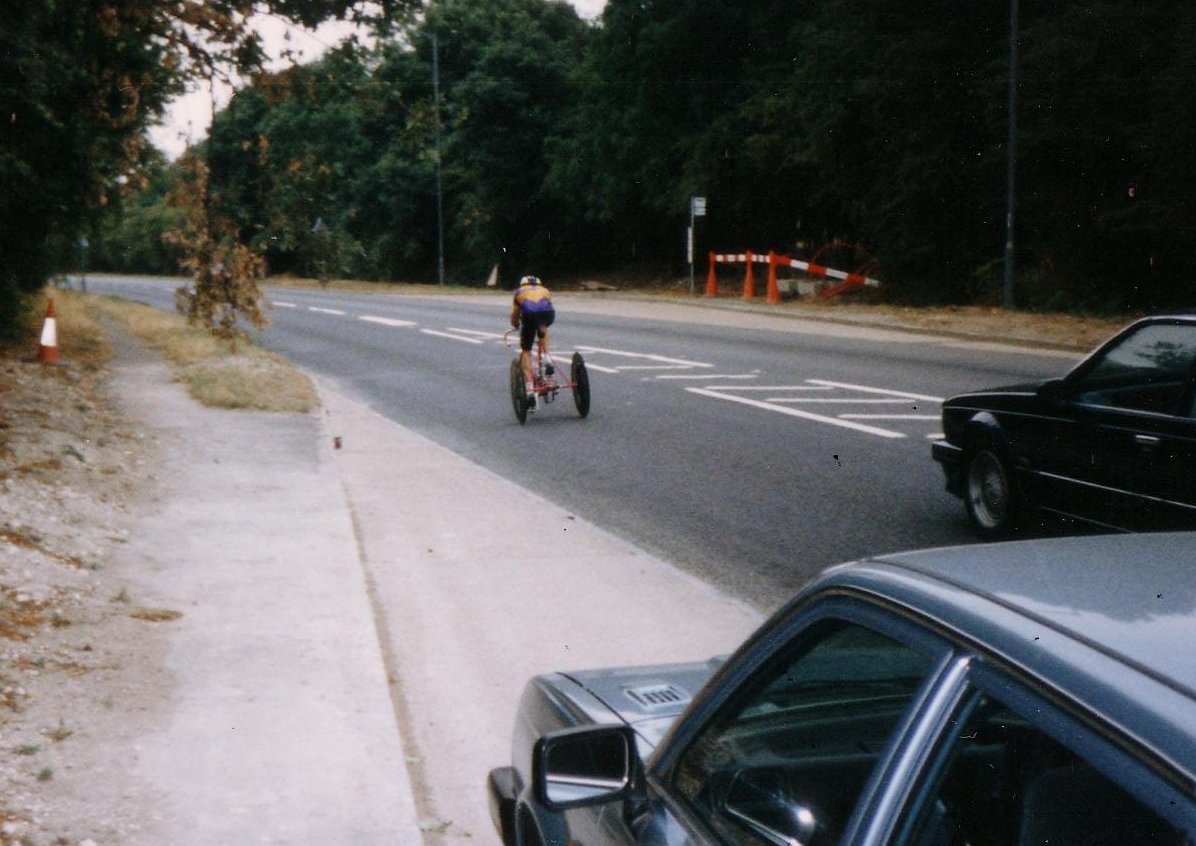 (leaving Beaconsfield, moving well)
So I joined the Western Avenue. Ever since I moved to Buckinghamshire, I've wanted the chance to race along this stretch - and here was my opportunity. With a fair wind behind me, I was roaring along. Through the underpasses and over the flyovers, my speed seemed to be 25 mph all the way.
After a while, the tunnel at the Hanger Lane underpass loomed up. This was negotiated in the glare of headlights, and was soon over. I didn't really fancy doing that again!
After Gypsy Corner, the following car pulled up. Nev shouted that they would wait there for me to go to Marble Arch and retrace. My thoughts were that I might not get back to Gypsy Corner before the 12 hours had elapsed!
Almost as soon as I realised that I was on my own, my legs felt like jelly. When I reached the junction with Wood Lane, there was a constant flow of traffic passing in front of me, so as I waited I ate some more food. A bit late, but when you feel like I felt, you'll try anything.
When I got the opportunity, I rode down to Shepherd's Bush, with less than 40 minutes to go before the 12 hours was up.
Luckily, the Notting Hill Carnival doesn't really get going until the Sunday of the August Bank Holiday weekend, so I had a "normal" run along the northern boundary of Hyde Park. When I eventually reached the Marble Arch, I was delighted to see Don Glover and Eddie Wingrave waiting for me. They shouted and waved, and I rode straight past them. Not wishing to appear ungrateful, I shouted my thanks. But I wasn't stopping, and was straight back on the Bayswater Road heading West. I had finished the place-to-place ride in 11 hours 33 minutes 58 seconds, to take almost 55 minutes off the previous record. That was just fine, except for the fact that I had aimed to slice off a clear hour. Oh, well.
Meanwhile, I picked my way back along to Shepherd's Bush - rather surprised to find myself with a tail wind. This was almost certainly due to the buildings in the area causing local conditions to be radically different to the "out in the open" situation. This opinion was confirmed when I rejoined the main A40 route at White City. I now had a substantial head wind.
I passed the old 12 hour record (248.75m), but still hadn't seen George and Nev with the car. It was only with 5 minutes to go that I passed them, and I was relieved to see them trundling along behind me again.
With 2 minutes left, I realised that I was once again approaching the junction with Hanger Lane. I wondered if I could run out the 12 hours on the sliproad up to the Gyratory system, but I soon realised that there was too much time remaining. There was no choice - I had to go through the tunnel again. With 60 seconds left, I plunged into the depths. With 30 seconds left, I reappeared. I pulled together some semblance of a sprint (although Nev may disagree!), and got myself just clear of the junction when the time expired.
With considerable relief, I stopped. The distance was 251.4 miles, adding just over 2.5 miles to my previous record set in 1991. One of the most desperate days of my life was over.
Despite a sizeable beating of the Pembroke to London record, the whole day had been a struggle to match my personal target of an 11 hour 30 minute ride. Although I had marginally missed it, I wasn't too fed up, as the distance to London had been over a mile further than I had predicted. This was the information which I had hoped to convey when I had passed through Wycombe. As it was, George presumed that my distance at Marble Arch was that written on my schedule. Using that assumption, he calculated where the old 12 hour record point would be. But of course, when I reached that point, I had travelled more than two miles extra. It was lucky indeed that I had had 6 or 7 minutes in hand.
My hectic day was not over, though. After I had been home for about an hour, I was packed back into my car, and driven to the Isle of Wight for a holiday. When I finally got into bed at 0030, I was ready to rest.