As I was preparing for an attempt on the Southern RRA's Purley to Eastbourne and back record, I took a glance at the weather charts for later in the week. Things seemed interesting for the Friday or Saturday, and looked as if they might develop into something "hairy".
That was on Monday 23rd September, with the SRRA attempt taking place on the Tuesday. On Tuesday evening, I decided against a Friday attempt on Land's End to London, but Saturday seemed quite promising.
Wednesday night saw the decision taken to go on Saturday, with the likelihood of west-south-westerly winds, persisting throughout the day, at a speed of at least 15 mph.
Thursday saw predicted conditions relax slightly, but remain fundamentally sound. John Dalton then gave his meteorological seal of approval on the Thursday evening, so we set off for the end of the world with optimism in our hearts (!).
My companions on this adventure were George Hunton, Rocco Richardson and Glenn Longland. After I had been part of Glenn's support crew on his bicycle attempt on Land's End to London, he had specifically requested to be a witness on my tricycle attempt. This was principally to "see how I coped with the big hills". Rocco and George were probably more concerned with positive aspects such as support and observation, rather than morbidly tracking the suffering of a solo cyclist against the gradients.
As we were approaching Honiton, Glenn remarked that it had been the terrain in this area that had given him the most trouble during his ride. I commented that, with favourable conditions, I could probably do the ride "on the big ring" - that is to say, without using my lower range of gears. The reaction to this arrogance was an assurance that Glenn and Rocco would be watching me very carefully, just in case I should succumb to the gradient.
We arrived at Tredinney Farm in the dark, and only made two directional errors in the farmyard before finally spotting the track leading to our overnight accommodation. Maybe it's obvious in the daylight.
At 5am we got up, and we left for Land's End at about 6am. Day was just starting to break as I left the South Door of the Land's End Hotel at 7am precisely. When I joined the A30 towards Penzance, I remembered the previous occasion on which I had pedalled away from Land's End. I was so pleased that John O'Groats was not my target this time. London, a mere 290 miles distant, is a much less daunting task. 550 miles less, to be accurate.
After a few miles, I rode through a swarm of black flies. My freshly oiled legs became peppered with corpses, but I managed to avoid any accidental ingestions (however nutritious they might have been!).
I zoomed through a sleepy Penzance (with a wave from Elaine), and witnessed the 0730 departure of the helicopter service to the Scilly Isles. Who needs an alarm clock?
After making hard work of a few light undulations, I was holding my schedule at Hayle. Along past Redruth, the story was the same. This might not sound worrying, but the schedule was to beat the record by just one minute. I really needed to get ahead.
Fortunately, I managed to get a move on during the next few miles. I chanced to note my mileage at the summit of one climb. The descent, subsequent climb, and following descent, amounted to a mile covered in 1min 46sec. The wind was certainly making its presence felt, and it felt good.
Indian Queens used to be a traffic bottle-neck, particularly at the weekend. Nowadays, there are no problems, as it has a bypass. Unfortunately, from the viewpoint of a pedal-cyclist, this alternative route takes a course over a mountain. We had noticed this when travelling to the start (much to Glenn's amusement), but as my schedule was to follow the A30, I felt obliged to use this new road.
As the summit approached, there were signs telling drivers to reduce speed. I was barely managing 10mph, and so recklessly ignored the instructions. Despite my creeping ascent, I had achieved a 3 minute advantage over schedule, and shortly went past the 2 hour point having covered 45 miles.
I managed to negotiate the varying conditions through Victoria to Bodmin, and was pleasantly surprised to have achieved the heady heights of an 8 minute lead on schedule as I climbed towards the moor.
Leaving a succession of giant valleys in my wake, progress was good, and my credit compared to schedule was up to 15 minutes by Launceston, and more than 20 minutes by Okehampton.
Things were roaring along now, with each descent a glorious 40 mph freewheel, and each climb an agonising 15 mph grind. I passed 100 miles in 4h 18m, which was a ridiculous 24 minutes up. Normally such progress raises questions about the wisdom of starting so fast. In this case though, the speed seemed natural, and I was confident that I was not overcooking my legs. Just lucky, I guess.
Despite obviously good progress being made, I was staggered to cover 26 miles in the fifth hour. This left me 32 minutes ahead at Exeter, which was really pleasing. I negotiated slow traffic as I made my way to the city centre, and (as expected) saw Jean Luxton at the Frog Street junction. I made a trouble-free exit, and passed my first sign mentioning London. 168 miles to go, thank you very much.
My impression was that there shouldn't have been much of a delay for the car getting through behind me. However, they are reported to have reached Jean more than 11 minutes later than I did, and it took until Honiton for them to actually catch me.
In the meantime, I was endeavouring to ride to schedule along a fairly consistent incline. I had been given fresh supplies just before Exeter (in anticipation of some delays), and so there were no problems with running out of food or drink. I just had to keep my head, and not develop any major mechanical trouble.
There was never any likelihood of making gains in this section, and I noticed that I was down to a 28 minute advantage as I passed Ottery St Mary. The Honiton bypass offered the chance to cover some quick miles, but I cashed that advantage in when I stopped for a natural break. My stop was made where the team had parked up to give me a drink, so this gave us a chance to briefly exchange information before I was on my way again.
It was only a few miles later that I needed assistance. Remembering my rather rash statement about not needing the low set of gears, I was hauling myself along using the high ratios only. The only disadvantage which I could notice, was that my "style" lost its smoothness on climbs. Unfortunately, the front wheel on a tricycle takes quite a lot of sideways loads when the rider is overgeared, particularly when he isn't sitting in the saddle. I broke a front-wheel spoke in exactly these circumstances, and required a wheel change. When the boys in the car finally realised I needed help (they were a long way back), we effected quite a slick exchange. I was probably stationary for less than 10 seconds.
The course so far had been almost exclusively on the A30, and most of the final 50 miles use A30; the remaining segment however, is on A303, a more modern road with friendlier gradients and graduated curves. Not that that makes it easy, just easier.
With these thoughts in my mind, I was pleased to join A303. Unfortunately, I still had some dodgy gradients and sharp bends to deal with before I could settle down.
Once settled, though, the speed could be expected to rise. Rather distressingly, I found myself riding along a flat, well made, concrete road, struggling to beat 18 mph. Having since looked at the map, I believe that the reason related to a temporary change of road direction. At the time, I could only think that the wind had veered in an alarming manner, and wouldn't be of any use for the rest of the ride. Don't panic.
Approaching Yeovil, I got some speed back. In fact, I had gained several more minutes, and was 36 minutes to the good. Had I been running a little later in the day, I would have got mixed up in the Yeovil CC 10 mile time trial. As it was, I only saw a few riders warming-up on the other carriageway. Race reports tell me that riders found it quite difficult riding into the headwind. Oh woe.
We were expecting to see Sue and Barry Hester at a specified road junction near Wincanton. As I approached, I even made a point of pedalling, despite the fact that the road was going downhill. I was disappointed not to see them, and decided that they must have been caught out by my unexpectedly good progress. I was really quite sad, as we hadn't seen anyone for miles, and I hadn't seen THEM for years!
And then I rounded a bend, and could see someone up ahead, waving a flag. It was a very excited Sue, standing in her car, hanging out of the sun-roof. Barry was there shouting something .... I think he said "Not far to go!". My enthusiasm and speed suddenly went up a couple of notches.
After passing Mere, the road becomes single carriageway and generally gets less amenable. Somehow I managed to miss my checkpoint at the A350 junction, but once through Chicklade, I had other things on my mind. The road was going up, and my speed was going down.
Climbing over the Great Ridge was excruciating, only slightly helped by a shout from Reg Randall. Fortunately, the descent was rapid, and I swept across the A36 near Deptford with a 46 minute advantage over schedule. 200 miles also passed, in 8hr 51min.
The climb out of the Wylye Valley was rather confusing. I could see that I was going uphill, but my top gear seemed perfectly adequate for a long way. It was only when the final ramp was in front of me that I even changed gear. I was sure that things should have been much tougher. Still, who's complaining?
I passed Stonehenge, and swooped down to Amesbury, expecting to see Jim Pitt. He was too late, however, and instead I received a high-speed feed as I left the roundabout. Having seen signs to Andover for the previous 50 miles, I could now start thinking about actually getting there, and hence onto familiar territory.
The A338 junction is indeed the western extremity of one of the Andover-based time trial courses. Unfortunately, as some readers will know, that particular course is not as flat as a billiard table. As soon as I passed the A338, I was climbing. I knew, of course that this was the last big-deal climb, and so could attack it with some enthusiasm. A few miles after the summit, I reached the checkpoint at Andover, and was delighted to be 53 minutes up.
That was my dizziest height, but I was still 52 minutes to the good at Popham, where I renewed my acquaintance with the A30. Thoughts now were with the chance of improving my 12 hour record. The place-to-place record could be put aside for a moment.
After a couple of dodgy moments, I was through and away from Basingstoke. At about 6pm, a group including Martyn Winter were shouting at me. I decided that evening was approaching, so ditched my sunglasses, and switched my back light on. There was also a noticeable temperature drop. Through Hook and Hartley Wintney, and I remembered Star Hill. It's not much of a hill, but I could have done without it. I took a drink at the top, and Rocco shouted that I must keep the speed up. I thought I WAS keeping the speed up. Some people are never satisfied.
As I blustered my way through Camberley, I had about 30 minutes left, and I had passed the old 12 hour record distance. There were a few more stop-start miles before I was free of traffic signals and could think about winding up a sprint. A shout from Martyn Roach reminded me not to freewheel too much, and I was soon through Bagshot, and in to the last 10 minutes of the 12 hours.
Slowly, it dawned on me that I would run out the time in the vicinity of the level crossing at Sunningdale. Would I get past the gates, or would I be caught (as others have been before) and made to wait, impotently, until the train has passed safely into the distance?
Luckily for me, I sprinted across the railway line with more than a minute to spare. The car, with George the timekeeper in, also got across, and so I just went mad until my watch chimed for the twelfth time. I stopped straight away, as we had planned.
Things then needed to happen quickly. Firstly, George was ejected from the car to deal with marking the 12 hour point. Secondly, Glenn zoomed up to where I had stopped, and lights were fitted to the tricycle. I was on my way after a couple of minutes delay. Things could have been a bit quicker, but we hadn't exactly had time to rehearse.
My on-board computer told me that I had covered 267 miles in the 12 hours, so adding 9.5 miles to the previous record, set as an extension of my London to York ride in 1995. I now had to concentrate on the remaining 23 miles to Hyde Park Corner.
I made my way past Egham, and through Staines, catching sight of Jeff Marshall waiting at an awkward junction. The next check point was the Crooked Billet junction.
As I approached, it was obvious that I would be delayed. Lights were red, and traffic was all over the place. I also spotted several policemen.
As I ground to a halt, I realised that Trevor Gilbert was talking to one of the cops, and when he saw me, immediately exclaimed "Well, here he is now!". He walked across, briefly spoke to me, and then waved me on when the cars started to move again. I thought no more of the incident, and continued.
I was 50 minutes ahead at that point, and managed to stay 50 ahead as I negotiated the Traveller's Friend roundabout, to join A4.
Having learned my lesson from previous rides along this stretch, I ignored the distance signs beside the road, and concentrated on making steady, solid progress towards the Centre.
The Chiswick roundabout was a less than relaxing experience, but I was soon moving towards the Hogarth roundabout. A clear run here (with a sprint!), and then it's the Hammersmith Flyover on the horizon.
According to some sources, this is the last hill on the Land's End to London. I would have thought that by that yardstick, the sliproad up to the finish would also qualify. Anyhow, I managed to avoid cutting my tyres on the expansion joints, and was soon onto the Cromwell Road.
Loads of hassle later, I passed the Museums, and then Harrods.
Everything looked bad as I approached Knightsbridge, but at the last moment, a gap appeared. I was over, and could see the finish.
As I hit the last 200 yards, I could also see a bus, totally blocking the road, as it tried to move from the Bus Stop, to the right hand lane.
I was trying to decide what to do, but luckily the lights changed, and the obstruction shifted.
Albert Ayton was waiting for me, and with considerable relief I crossed the line. As I dismounted, I was pleased to see my car waiting in the queue, and we were then joined by Liz Creese, who had been loitering nearby.
Rocco was outraged to hear that I wasn't "on my knees", and Glenn berated me for "freewheeling all the time", but I was fairly happy.
The new time was 13h 16m 13s, which had taken 48m 57s off Stuart Jackson's previous record.
We briskly sorted ourselves out, loaded the car up, and set off again. Glenn and I needed something to eat, and so we made a flying visit to a Pizza restaurant. Using the buffet facility, and an oft-practiced ability to throw food down the throat very quickly, we ate as much as we could in 20 minutes. No-one had stolen the tricycles from the car roof, and so we were on our way home again, still within the time of the old record!
Glenn was racing at Andover on the following morning, so he stayed with us, rather than setting off for home. He grabbed some well-earned sleep on the living room floor, before leaving at 7am. His return to the scene of at least part of the previous day's excitement was in rain-sodden rather than wind-swept conditions. He got amongst the prizes, so sitting in a car for the whole of the previous day hadn't done irrepairable harm.
A day or so later, my mind was cast back to the Crooked Billet, and to Trevor Gilbert. What were the Police up to? Why did he look so relieved to see me?
I found out why, when he telephoned me. Rather amusingly, he had been spotted acting suspiciously, waiting beside a set of traffic lights. Yes, the police were asking what he was doing. No, they weren't convinced that he was waiting for someone who had cycled from Land's End during the day. And things weren't helped when they found out that the rider was piloting a tricycle.
It seems that only my timely arrival saved him from being dragged, kicking and screaming, to spend a night in the slammer. Well, maybe. I guess we'll never know what would have happened if I had ridden along 10 minutes later.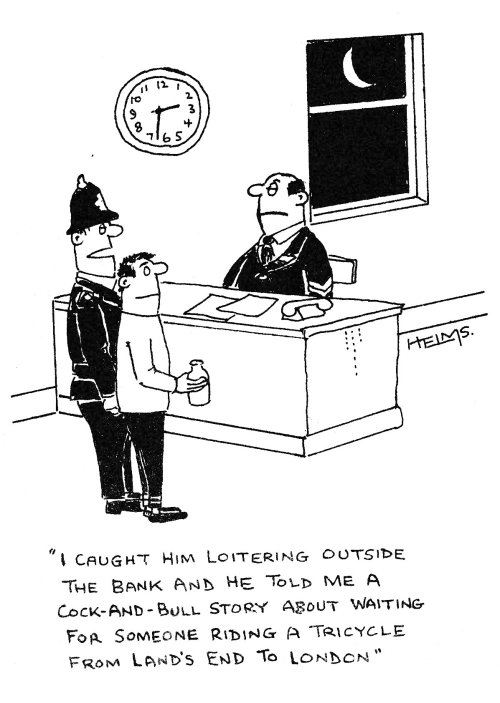 (Helms nails it) (maybe)
So that's RRA claims 18 & 19, which leave me just one short of Dave Pitt's total. I still have to wrench the Brighton & back off Mr P, and then there's the matter of Pembroke to Great Yarmouth.
But they can wait until 1997. Until then, I'll just have to regret that I didn't put money on the bet that Land's End to London could be ridden "On The Big Ring"!