The Final Scottish Adventure? Ralph Dadswell, Aug 96
In the time honoured style, after weeks of waiting, something interesting appeared on the weather charts. On 31st July, the prognosis for Monday 5th August was for south-easterly winds in the north of England.
Of course, you shouldn't get too excited when looking that far ahead, as slight changes can mean (from the record-breaking point of view) that the conditions become useless. However, the charts which arrived on each of the following two days still indicated that the York to Edinburgh tricycle record was possible for the Monday.
By Saturday I had decided to make the attempt, and needed to assemble a team. Martin Purser agreed to be in the car, and Hedley Stennett was soon confirmed as Timekeeper. After a number of phonecalls, I hadn't found a willing third person, but luckily Alison Purser stepped in to complete the team.
All we had to hope for was that the weather would remain suitable. John Dalton had cautiously approved my analysis of the charts, but pointed out a number of factors which could alter the eventual result. It was quite possible for the predicted scenario to occur somewhat earlier or later than expected, and of course something might happen to prevent it occurring at all! Fingers were crossed as the fax machine ejected Saturday evening's charts. Luckily, despite the overall picture taking a different appearance, the isobars affecting the York to Edinburgh course were suitably placed, and the all-important cold front was still placed to the west of Ireland. All systems go.
On Sunday afternoon I drove to the Purser residence just north of Newark. At 0730 on Monday, the laden BMW saloon set off for a 1000 start in York.
The tricycle record from York to Edinburgh was set in 1963 by John Arnold. In the previous couple of years, two other tricyclists had been 'teasing' the record, bringing it down in three stages from 10h 28m to 10h 4m 24s. The celebrated Mr Arnold chose his day, and took 75 minutes off to leave a revised target of 8h 48m 28s. I suspect that this time scared everyone off for quite a while. I have read a report on the ride, and it refers to the following car being unable to keep up with the rider, who was being assisted by a "howling gale". I was hoping for a favourable wind, at about 15 mph, persisting throughout the ride.
Herbert Dixon was waiting at the start, and John Wood appeared a little later. As 10am approached, they left us, to allow them to witness my progress out of the city. With 5 minutes to go, I was ready. Unfortunately, York had decided to grid-lock itself. We considered our options to delay the start, but luckily things began to move, with literally just seconds left. I set off on time, but the first mile was not quick.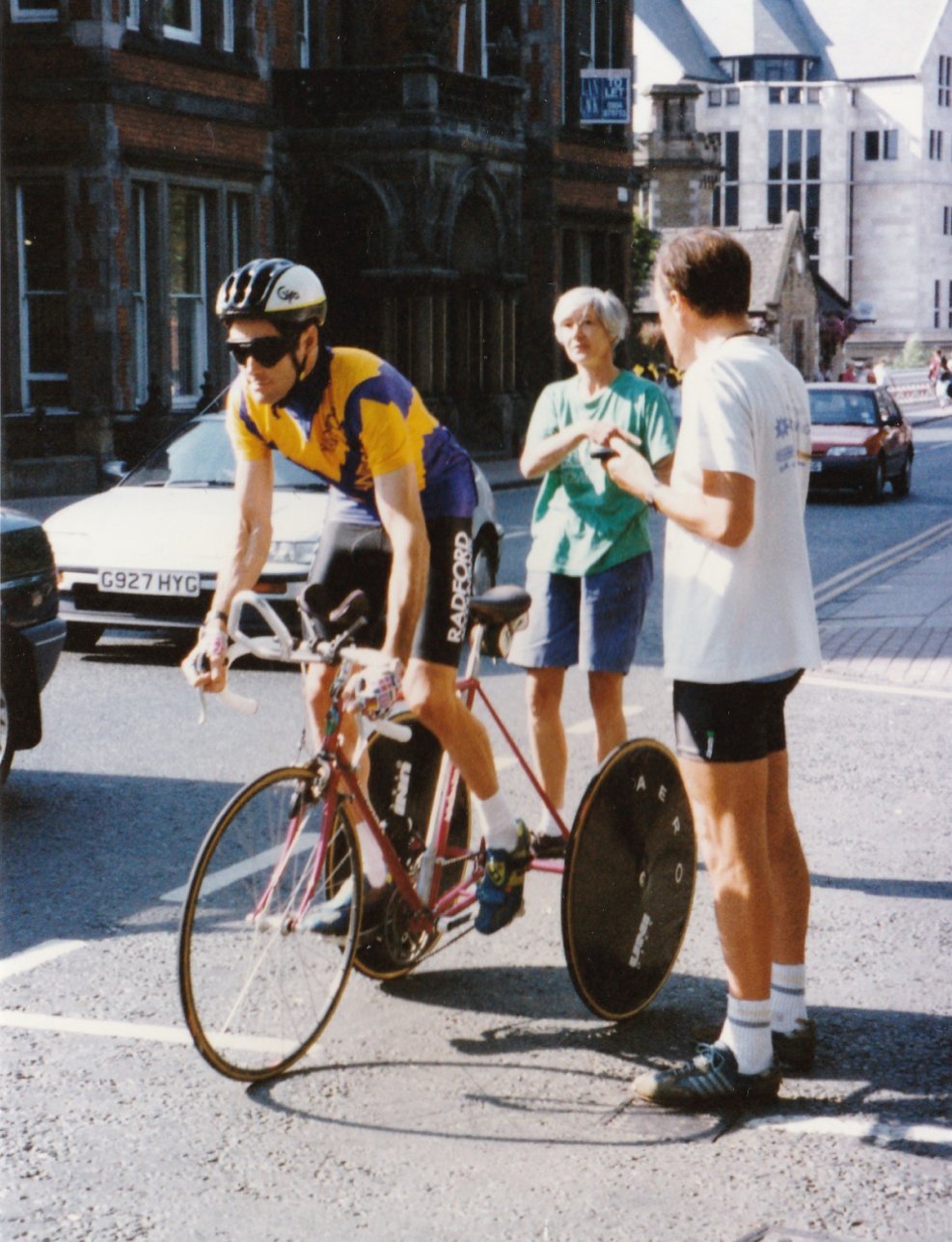 (photo Martin Purser. Hedley sets me off, Alison Purser shields from behind.)
The second mile was not without its problem either. I was happily riding along, when suddenly I felt a sharp pain on my right forearm. I looked down to see a wasp, which was probably rather pleased with itself. Brushing the insect away, I reflected that this was scarcely the ideal way to start a long ride - with an injection of poison!
Fortunately, I don't suffer badly when stung by wasps or bees, and I decided to ignore the irritation. I managed to do this for about 15 minutes, before indicating to the following car that I needed assistance. My gesticulations were sufficiently graphic for the First Aid box to be ready for me after they had overtaken and parked.
Treatment involved application of anti-inflammatory cream. This didn't seem to do an awful lot, and I've since been advised that it won't have done anything at all. However, my mind was a little more relaxed.
The terrain north of York is really flat, and my progress was good. By Thirsk, I was 4 minutes ahead of schedule, and by Darlington I was 8 minutes in front. It occurred to me that either a) I was going to demolish the record in spectacular style, or b) things were going to get horrible after I had passed the River Tyne. I suspected the latter, but tried to keep my mind positive.
Along the Durham bypass, conditions are a little undulating, and any further gains were put on hold. I overtook Dave Turner as I approached Chester-le-Street. He had been intending to act as a marshall at a strategically important point, but was about 1 minute late.
I managed to take the correct route, and thought no more about Dave. What I didn't know was in his efforts to shout instructions to me, he hadn't taken enough notice of other traffic on a roundabout. Luckily, the Ford Escort had almost stopped by the time of the collision. Luckily, Dave was able to pick himself up off the deck and wheel his tricycle to the side of the road. Unluckily, he might get a bill for his trouble.
I was still hanging onto an 8 minute advantage when I joined the A1 Newcastle Western Bypass. What a bit of road this is. Immediately the speed was up to 30 mph and adrenaline was bubbling. On one descent I overtook a Nissan Micra, and sneered in at the occupants as I eased past. "Oooh look, there goes a man on a, ...... a TRICYCLE!"
The only snag with this bit of road is that it can be split into two very distinct parts. The fast fast fast descent to the Tyne crossing, and the slow slow slow climb away from the river. Once past the nadir, the speed was transposed from 41 mph to 14 mph. This was also a section where the wind was quite unhelpful. The principal problem, however, was the large number of sliproads on and off, with very short weaving distances. Couple this with very heavy traffic, and you end up with an enormously stressful time (even worse for those in the following car, trying to protect me).
To the relief of everyone, I eventually reached the exit for Jedburgh, and was able to rejoin a peaceful road, with the wind behind me again (and I'd gained another 2 minutes).
I started seeing signs showing the distance to Edinburgh. I really should know better, but I believed them. The predicted final distance went up from 186 miles to 188, rather disappointingly. Conditions were comfortable for a while, and 100 miles was passed in 4h 22m.
At this point, I was running 14 minutes ahead of schedule, having gained 4 minutes since leaving Newcastle. This should have made me feel good, but all that really happened was that I became less and less satisfied with my scheduling. My earlier suspicions had been that things could get nasty in the last 4 hours. I was sure that my speed assumptions were flawed, and that how ever I felt, I was going to lose time in the hills. It is perhaps no coincidence that, whilst thinking about this, I was ascending the first of a series of 1000 ft obstacles.
I stopped briefly for a wash down, as the sun had been out for most of the day, leaving me a bit uncomfortable. As I stood beside the road I noticed that there was quite a good breeze which was helping me along. This was motivating as I set off again, and I started to believe that I could still get to the finish on time. There were some exciting alpine-style curves in the descent towards Otterburn. My thoughts, though, were that all these fast downhill runs were a terrible waste of all the altitude that I had fought for ages to gain. I was just over the speed limit as I entered Otterburn, and was hanging on to a 13 minute advantage as I joined A68 at Elishaw.
I was now retracing the route which I had used when I broke the Edinburgh to London record in 1991. My recollection of the next few miles was that it had been twisty and rather lumpy. This proved to be accurate, and 20 mph was a rarely seen speed. With the prospect of two major climbs before the finish, I was unhappy to be struggling on what should have been a reasonably palatable stretch.
As I took on a fresh bottle near the Catcleugh Reservoir, I had mixed emotions. On the one hand, I knew that I only had 3 miles to the Carter Bar summit. However, I also knew that the hard work was only just beginning. Once the lake is passed, the scenery disappears, and it's just you, with the road for company.
After a long time, there is a sign indicating that the viewpoint is 1 mile away. I was holding 12 mph, and so I only had another 5 minutes of leg breaking effort to go. Hours later, another sign came into view, almost. It again referred to the viewpoint, and gave the distance in yards. Due to some long grass, I couldn't see how many yards, but guessed that it had to be about 200. Imagine my disappointment to eventually see that there were 450 yards to go.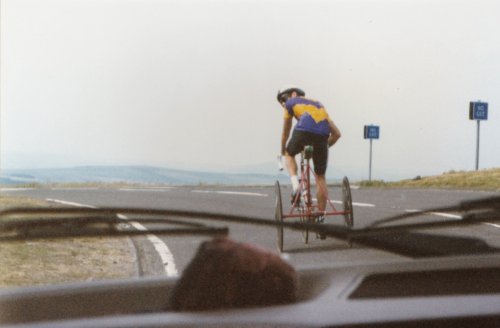 With the border in sight, I raised my speed, and tried to look anything but shot-to-pieces as I passed the crowd at the summit. The crowd continued to admire the scenery (and the sound of the piper), and totally ignored me. Oh well.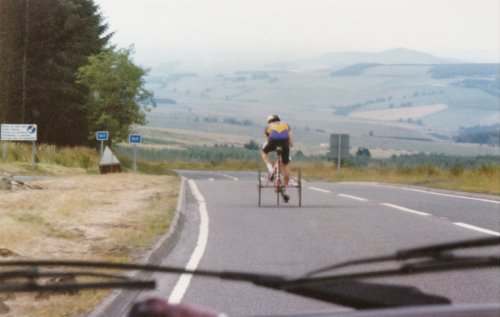 So, having fought my way up to 1370 ft, I then surrendered nearly half of that in the next two miles of thrilling descending. On the outside of one right-hand bend, there was a van parked. This meant that I was forced to take an even tighter line than normal. Had there been time, I would have said my prayers; luckily, there was no oncoming traffic.
As I approached Jedburgh, I recognised the 50 mile point from the Edinburgh-London ride. This was at a time when the roadsigns had persuaded me that there were only 49 miles left. Damn.
At Jedburgh, I had regained the time lost climbing Carter Bar. There were 47 miles left (maybe), and 2h 32m before the time ran out. Even ignoring the climb at Soutra, the remainder of the ride is on challenging terrain - particularly if you're getting tired.
I was then looking out for Earlston. There was a sign which said "Earlston 3", and then (several minutes later) there was another "Earlston 3". I checked to see that I didn't have a traction problem, but everything seemed to be fine. This might have been a slow section, but 5 minutes later, there was a sign indicating 2 miles to Earlston. When my quarry was finally reached, I had covered more than 2 more miles, and was down to an 11 minute advantage.
The only bright part about Earlston was the unexpectedly good news that there were only 33 miles to go. I was a little suspicious, as this was 2 miles fewer than I had conditioned myself to have to endure. Two miles later, though, there was a "31 miles" sign, so maybe it was right.
As I passed through Lauder, I was amazed to see that there were only 25 miles left, so this meant that from the top of Soutra I would have just 16 miles to go. Incredible.
A few miles later, I once again waved civilisation goodbye, and moved back into climbing mode. Towards the end of the giant ramp that takes you to the top of Soutra Hill, the following car went past. When the road had levelled out, I took a fresh bottle and coasted along, relieved to be still 7 minutes ahead of schedule, with lots of descending ahead of me.
But hang on a minute, I've been ripped off here .... this isn't the top after all - there's another bit! To say I was unhappy would be understating the case somewhat. However, this bonus section wasn't too bad, and I eventually passed the summit with 4 minutes to spare, over my unsympathetic schedule.
Hopefully, I could pull back some extra time in what could only be 16 miles before the finish. Oh dear, that roadsign just said 17 miles, didn't it. Maybe my original measurements were right, after all.
With a few exceptions, the run along to Pathhead was quite quick, but things weren't so good on the approach to Dalkeith. This was probably not helped by an "Edinburgh 11" sign appearing when I was confidently expecting "Edinburgh 10". When you're that close to the finish, an extra mile is a big deal.
However, some traffic disruption in Dalkeith kept me alert, and then I was into the last knockings. I was quite fortunate with lightish traffic at the Edinburgh ring road, and then just tried to sell myself before reaching Princes Street.
Even as you approach the city, the road still twists and rolls. It was a real effort to keep even to 20 mph. On cue, I passed the Commonwealth Pool, turned left, then right, and was on the final run in.
With the record all but in the bag, I cautiously made my way through the unpredictable city-centre traffic. I wound up the speed for the final uninterrupted section over the North Bridge, and prepared for the finish.
Hedley was there (having previously been whisked ahead in Bill Nimmo's car), and I approached him at maximum speed.
With a few yards to go, I then gave some thought to how much space there was available for slowing down after the finish point. About 10 feet, before you hit Princes Street.
I can't remember another occasion when I've passed the timekeeper with my brakes on. However, the lights were red, and there were vehicles crossing the junction. I stopped in time, but it was exciting!
The official time was 8h 39m 43s, which is 8m 45s faster than John Arnold.
Within a couple of minutes Martin and Alison arrived with my car, and there was soon an excited throng of people around me.
The most excited was a German tourist, who had great difficulty in understanding why anyone would want to pilot a tricycle, let alone to do so for 300 kilometres. Not content with a few minutes of chattiness from me, he insisted on continuing to ask strange questions and offer his curious opinions. This was despite my rather obvious efforts to clean myself up and get some different clothes on. Eventually, he moved on, but only as far as Alison. She humoured him for a fair while longer, and I was left with a combination of feelings of amusement and guilt.
When I phoned HQ to tell Mum and Dad the result, I had been beaten to it by the efficient Carole Dietman. She had made her fifth call of the day, and was probably saying goodbye as I was dialling. I had first seen Carole just before Dalkeith, and we had exchanged beaming smiles. I don't think I could have managed that if I'd been struggling up a hill!
With all the gear in or on my car, our day wasn't finished yet. I had made the offer of arranging overnight accommodation somewhere on the road to the South. However, Martin and Alison had reasons for wanting to get back to Newark in one go. I am pleased to announce that I wasn't expected to play a part in this insane idea, except to fill the car with fuel.
Martin started the 230 mile epic journey, by driving to Berwick, where we had a food stop. At this point, Alison took the wheel for the remaining 180 miles. She had deliberately taken a low-key role during the attempt, to be ready for this challenging task. Let me state clearly that it's not something I would ask anyone to do!
At 1am, we reached our destination in slumbering Grassthorpe, and were greeted by a sleepy Pippa. By 2am I put down the book of Helms cartoons, and nodded off.
Later that day, I polished off the final 130 miles home, broken up only by a stop at McDonald's in Wyboston. Aren't cheeseburgers the food of the Gods?
.
The margin over the previous, 33 year-old, record was not giant. However, it seems as though John Arnold had a very good day, perhaps in the same league as David Duffield's day for the London to York ride. With this in mind, and the likelihood that 90% of the course will have been on the same roads, I'm fairly happy with my time.
This ride means I've completed the set of all five record routes linking London with Edinburgh - via Liverpool and York, and of course directly.
As I write this, it seems that I won't fit in a "Brighton & back" this year, but there's still a chance for Land's End to London. If it comes off, it would be record number eighteen. Watch out, Mr Pitt!