A sequence of Regional RRA rides, part 1
Back to rides in 1997
It looks to me as though Gerry Lewis and I must've decided that our 'A-race' for the year would be the Icknield RC (Luton Wheelers) 12 hour. In order to be best prepared for the experience, we planned a couple of low-key record attempts for the spring.
The first of these was one on the list of the curiously named "North & West Home Counties RRA". Other regional organisations used names like Southern, Western, Welsh, Northern etc, but this one didn't get the memo.
Most of the N&W HC RRA routes have something London related at one end, and somewhere west or north-west of London as the other end. But there was one odd one.
Our chosen record route was Winchester to Wantage and back. This might seem an obscure route to have on the list, but there was some logic. It's all down to King Alfred the Great. He was born in Wantage, and he died in Winchester. And in each location there is a statue in his memory. The turning points for this record are these statues.
Enough of that. We chose to start just south of Newbury on the old A34. We went north, taking us along what will presumably have been an early version of a Newbury bypass and after a short section on the A4 we turned north again on a fairly minor road towards Wantage.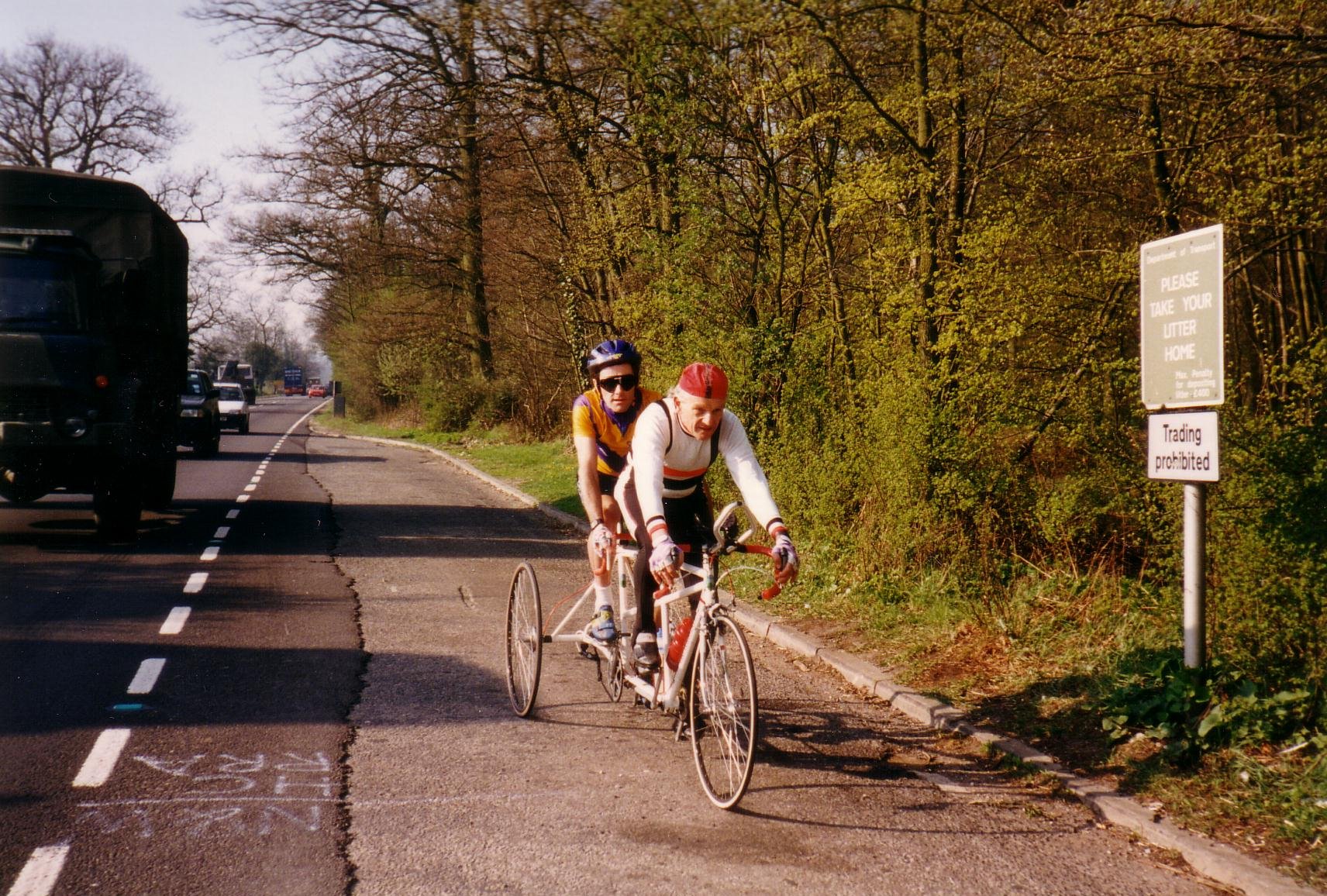 (the start/finish point)
You're climbing steadily but fairly easily until a few miles south of Wantage. Then you descend Chain Hill, which is really fast in places. A couple of junctions to negotiate & then you're in the Market Place, looking out for the statue
But once you're around the turn you then have Chain Hill to think about. Quite a lot of work, split into three big efforts with respites between them.
But then it's relatively easy to get back to Newbury and then return, with a bit of climbing, to pass the start point. The ride to Winchester is then mostly on the A34. No disruption, but some big sweeping rises and falls.
Approaching Winchester you jump across to the Roman Road that comes in from Andover, to take you to the inner ring road. Inconveniently, the statue is on the South-East side & you're approaching from the North-West so there's a bit of traffic dodging to do.
But the statue is fairly easy to see when the time comes, and then you just have to get back to Newbury.
I think we were a bit faster than we'd expected for this trip, which was encouraging - although only against an arbitrary schedule!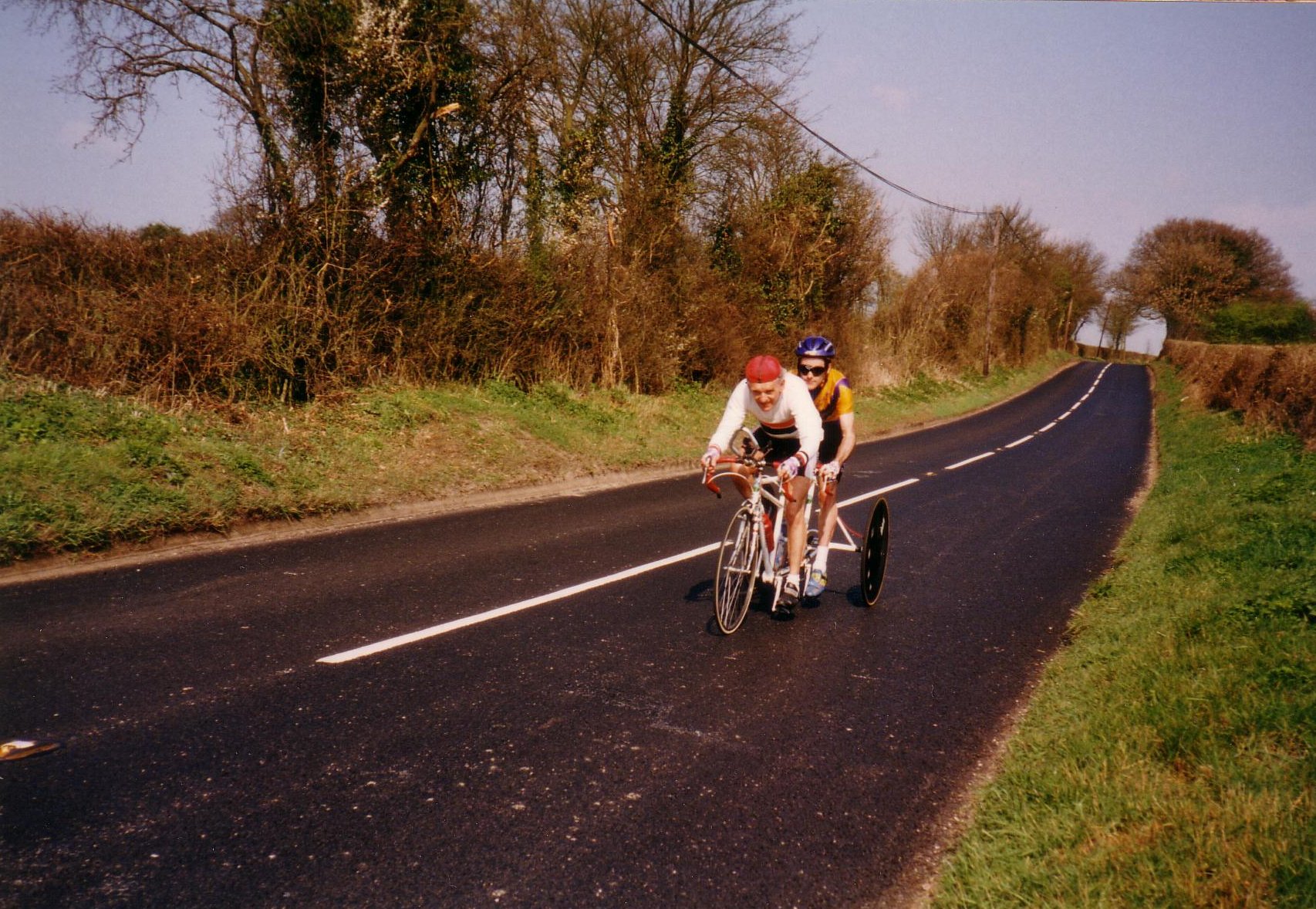 ---
Next on my list (20 days later) was a solo effort on London to Southampton and back.
We identified that the Level Crossing in Sunningdale had potential to cause significant delays for this one, so the start was set within sight of the gates. I have recollections of struggling to find a streetlit area for us to get ready for the ride. We couldn't really park up on the A30, but everywhere else was pitch dark in Sunningdale at 0430.
I can't be sure who was on this attempt. George Hunton timed the finish, but it's possible that Trevor Gilbert timed the start and maybe was the Official Observer. I'd guess that Gerry Lewis might have driven the car.
Anyhow, I set off at 0500 and got past the gates without incident. I presume I made satisfactory progress to the London turn at Hyde Park Corner. In these days we were allowed to turn around the end of the central reservation and avoid travelling around the actual roundabout. (In more recent years the RRA have required record aspirants to either follow the course of the roundabout or cut across the centre underneath the statue/archway)
I'd expect that either Keith Robins or Eddie Mundy will have witnessed the turn point.
Ideally I would have had a rising headwind for the run down to Southampton, but I think the wind was pretty light.
I had chosen to cut through the very centre of Winchester, as this seemed likely to be easier than going around the inner ring. Chris Davies, who was out on the course as a checker, commented that I was probably the first cyclist to race along Parchment Street!
It was a bit tricky, but I was through and out onto another reasonably complex bit of navigation past Shawford, Otterbourne, through Chandler's Ford and back onto the A33. After a couple of miles it was again quite tricky but eventually I passed the Bar Gate turning point. I believe Glenn Longland was my witness there, and Matt Parton was a mile or so north.
As mentioned, it would have been handy if there had been a decent SW wind in place, because I still had 55 miles left to get back to Sunningdale.
It would be fair to say that there were points in those final hours where I struggled. I was getting tired. When I again saw Glenn near Micheldever, I felt like I was dragging the tricycle along behind me. Mercifully it wasn't all like that and eventually I was past Basingstoke, Hook, Camberley and Bagshot.
As I approached the finish, it was apparent that the idea of an independent timekeeper at the finish was a good one. I had to overtake quite a few cars on my approach to the finish point. This wasn't because I was fast - it was because the crossing gates were down.
George Hunton was there to clock my arrival and another tough 8 hours of riding were done.
Back to rides in 1997