It was one of those ideas that I'd picked up several years back. And then Marina Bloom said, "yeah, I'm up for that". So in went the schedules, and we waited for a southerly wind.
The plan was to set off from London on the tandem tricycle, call in at York, push on to Edinburgh, and then turn back to the south again. If it all worked out, we could set five new RRA records.
With the schedules in place, we then waited for suitable weather. Marina rode the Sussex CA 12 hour on 12th August, and declared herself to be ready for the "Edinburgh trip" any time after the 18th. And the weather charts looked good for the 21st.
At 0530 we set off from my home in High Wycombe, collected Frank Cubis from Greenford, and made our way towards the centre of London for the start, scheduled for 0630. Frank was our Observer for the first section, with Mike Bloom in charge of driving and feeding.
The start is just south of Smithfield market, which hadn't been a problem in previous years. However, it was heaving with white vans as we drove in, and we were finally parked with less than 10 minutes to go. Frank dashed off to the start, to tell the timekeeper that we had arrived, and might be late. We were indeed late, and Albert Ayton eventually despatched us at 0632.
Our first concern was getting past the market. Luckily, we avoided any collisions and made our escape towards Islington. We saw a fair amount of traffic and waited patiently for a few junctions to clear. Once along Archway Road, we reached our first checkpoint five minutes down on our schedule. A little later, we were again delayed at "Tally Ho", and our arrival at the Hadley Highstone saw our deficit at seven minutes. Undeterred, we pressed on through Potters Bar and Hatfield to the next check near Welwyn, where we were still stuck at seven minutes down.

(photos by Brian Edrupt)
The records we were going for were actually standards set a few years ago by the Road Records Association. When they started to recognise Tandem Tricycle rides done by "mixed" crews, they determined standards that had to be beaten in order to warrant record certificates being awarded. These standards were based on any existing records for other types of cycle. The standard for "London to York", our first objective, was a fairly mild 11 hours for the 204 miles. Our schedule was to get to York in 9 hours 30 minutes.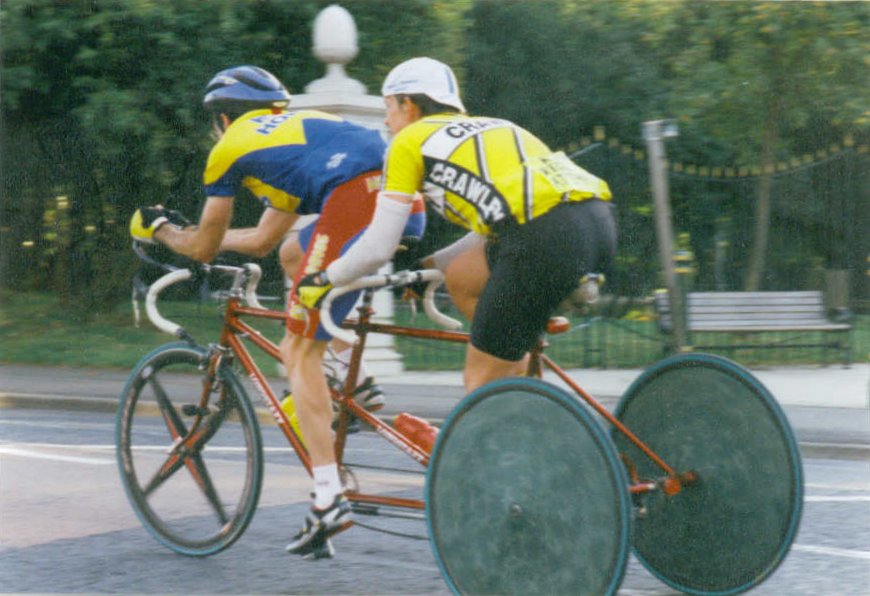 We made our way over Digswell Hill to Old Welwyn, and onto the road to Hitchin. Marina was unhappy that there didn't seem to be much in the way of wind, and what was there didn't seem to be very helpful. I was sure that things would develop favourably, and tried to reassure her that we were still in the early part of the ride, and that we weren't in trouble. When we were past Biggleswade, we joined the A1 with a reduced deficit of five minutes.
It was obvious that this would soon be wiped out, as our speed was soon far in excess of that scheduled for. Then we hit the traffic queues at Buckden. We probably created a bit of a delay in the contra-flow section, but it was only a few miles before Alconbury, where we were level with the schedule.
There then followed a slightly tiresome section comprising old-A1 and detours. Unfortunately, there is a section of A1(M) beside Peterborough, and the non-motorway route uses roads that add at least four miles. We shadowed the new road for a while, and then set off towards Peterborough, before eventually making our way back to our friend the Great North Road. Once returned to the trunk road, we were happier, but progress was not as smart as it had been before. However, the cartographically inclined amongst you will spot that a pure south wind would be less than optimal when you're making your way past Stamford, and so I actually found our difficulty slightly reassuring.
At the Stamford check, we were still level with schedule. But things soon got quicker. We were through 100 miles in 4hours 30 mins, which meant that the second 50 miles had taken 10 fewer minutes than the first. With the wind directly behind us, we hit the Grantham check with an exciting 10 minute cushion.
Onwards past Newark we were still making fine progress. Hedley Stennett joined the team in the car at this stage. He was with us for the rest of the ride, both Observing and Timing.
At the next checkpoint, Markham Moor, we were 22 minutes ahead of the plan. I was a bit concerned that we might be trying too hard, considering the whole of the ride ahead of us. However, a quick check established that neither of us felt that we were trying particularly hard, so we continued as before.
Another dozen miles, and we hit the A1(M) at Blyth. So we turned off to Bawtry, and were in the last 50 miles of the trip to York. At Bawtry we were 28 minutes up.
Along the almost deserted roads through Finningley, Hatfield Woodhouse (where we were kept waiting by a quite unexpected flow of cars) and Thorne, we managed to squeeze another two minutes out of the schedule by Selby.
At this point, the following car went ahead to be sure of Hedley being in place to time us at the York terminal point. This is not an ideal arrangement, as it left us vulnerable if we had had problems. However, I had made tremendous efforts to get a timekeeper in York, without success.
We were still riding swiftly when we passed the 200 mile point in 8 hours 43mins. We were soon making our way into York, hoping for a smooth run through the centre. Fortunately, this was how things turned out, as there was only one point where we had to come to a halt. We even managed the final right turn without trauma, courtesy of convenient traffic lights. This last corner involves a dismount, a push, and a remount (to avoid a lengthy roundabout). Extraordinarily, it was as if the traffic was being held up just to allow our manoeuvre.
We then arrived at the Museum Garden Gates for Hedley to clock us with a time of 8 hours 56 minutes 4 seconds. Inside the standard by over 2 hours, which is fine.
We then waited a few seconds for Hedley to authorise us to continue on the second phase of our journey. Within five minutes, we were out of the city and thinking about Edinburgh.
Having made a bit of an effort to get to York before 9 hours (because Marina had wanted to!), we could now sit back a little, as the rest of the journey was more of an endurance exercise than anything else. We had 3 hours to cover 35 miles to beat the 12 hour standard, so that was no problem. The standard for London to Edinburgh is 22 hours 30 minutes, so we had 13 hours 30 mins left on that one. The most challenging target was the York to Edinburgh standard of 10 hours 45 minutes. If we had started "fresh" at York, then this would be no problem at all, but we had already been out there for 204 miles. Could we do it? I was fairly confident, but there was only one way to find out .....
We maintained a 30 minute advantage past Easingwold to Thirsk, and on to Northallerton. Level Crossing gates then caused us to stop for a short period – which we took as a chance for a natural break. Revitalised, we were 34 minutes up at Darlington.
That's the last of the really flat stuff, and we started to use the gears a bit more as we progressed towards Durham. We had covered just over 265 miles when the 12 hours was used up – by chance just after a long fast descent!
The earliest signs of tiredness were on show as I made a mess of using the short cut at Chester-le-Street, but we got there eventually. Shortly, we could see the "Angel of the North" as we rejoined the A1 at Birtley.
I had remembered the Newcastle bypass as a very sharp descent followed soon by an awful climb. This time the fast bit wasn't particularly wild, but the climb seemed much less traumatic than expected. It could easily be that the wind was still assisting us up the hill. One way or the other, we still had more than 30 minutes in hand over the schedule.
The schedule for arrival at Edinburgh had been almost arbitrarily decided. However, it now had some real significance, as it could be used to measure whether or not we could beat the standard for York to Edinburgh. I worked out that if we were to achieve that objective, then we could afford to be just over one minute down when we reached Edinburgh.
Just prior to the 300 mile point, we stopped near Morpeth to change clothes, and put extra layers on. We also fitted lights to the tandem as it would soon be getting dark. At the next checkpoint, we were just under 20 minutes ahead of schedule.
We were soon onto the A697, a road which I had never travelled on before. We were to use it for nearly 70 miles across to the A68 junction just south of Soutra.
John Leiper joined the ride at this point, to do the driving through the night. Mike Bloom could then get some rest, having done all the driving up to that point. Hedley was still the Observer.
There are a few hefty valleys on the way to Wooler, and sometimes we could see several miles of climbing ahead of us. We managed, but it didn't seem very fast.
At Wooler, we were 19 minutes up, and the story was similar at Coldstream. The picture for this whole section was a seemingly endless sequence of short drags, each one taking us slightly higher than the last one. Then we would hand it back in one short sharp descent, only to restart the cycle again.
At Greenlaw, we had slipped to 15 minutes, but the nightmare section was the next one, where we arrived at the A68 just 4 minutes to the good.
So we had 22 miles left, and 1 hour 22 minutes. We had a major climb in front of us, and we'd got 372 miles on the clock. And it was the middle of the night. I didn't think we had a chance, and approached the hill with a view to just "getting it over with". It was a slow, hard climb, but the second part of it was much easier than I'd remembered, and we were soon on our way down again.
There's no doubt that we were going fast, but the climbing had been agonizing. So it was with some caution that I accepted Hedley's message that we should still try a "sprint" for the York – Edinburgh record. Fortunately, there is a lot of downhill through Pathhead to Dalkeith, and we were quite optimistic as we crossed the Edinburgh Ring Road.
The key question was that of exactly how far we had to go. I decided on five miles, and determined that we could get there in time. No sooner had I done this, than we passed a sign saying six miles to the centre.
However, we couldn't really waste time worrying about that sort of thing. We were just going flat out, watching out for roadsigns and traffic. There wasn't much of either!
Eventually, we reached the left and right turns which put us into the final straight. We had 2 minutes 45 seconds left, but I couldn't remember how far we had to go!
We thundered along, particularly over the cobbles, and suddenly we were on North Bridge, and there was Jeff Hunter waiting for us at the Finish. As we coasted over the line (and made an immediate right turn), I looked at my watch. We had made it, by 40 seconds. Overall we had covered the 396 miles to Edinburgh in 19 hours 40 minutes 40 seconds, having left York 10 hours 44 minutes 20 seconds earlier.
As we started our homeward trip along the A1, I couldn't believe our luck. So many things had worked well in the previous few miles. We hadn't had to stop at any junctions, and there hadn't been any drunks in the road. We had previously been warned that we were visiting during the Festival period, and that pubs were open until 2am. It was 2:10 am when we finished!
Within a couple of miles, the following car was driven past, and we were soon sitting beside the road with hot drinks in hand. This was the point that I first met John Leiper, who had been driving my car for the previous 100 miles. I also spoke to Jeff Hunter, our local timekeeper.
In the days leading up to the attempt, I had been told that cycling was banned on the Edinburgh City Bypass. I couldn't see how this affected me, as our route didn't use the City Bypass.
As we were now about to leave the city and set off along the A1, I was pleased to hear things confirmed that "the A1 will be fine". So we rode off, following signs marked "A1 Berwick upon Tweed". Can't go wrong.
Within a couple of miles, we were on the dual carriageway, looking forward to a dull but simple ride out to the east. And then we saw the signs saying that cycling was banned in half a mile, and that prohibited traffic must leave at the next exit.
What do you do? A quick check with Hedley, and we set off along the alternative route. This took us into Musselburgh, then along the old A1 through Tranent and then to Haddington. [So how come we were told that the A1 was okay? It seems that the old A1 was thought to be still signed as A1, and we were expected to follow those signs.]
After Haddington, we stopped for a coffee (and a look at the map). We plodded along past Dunbar and the checkpoint at Cove before stopping again.
We tried to get 10 minutes sleep, but I don't think that either of us dropped off, due to Mike making an amazing amount of noise rearranging the contents of the boot!
By this time, the mileage was over 430, we had about 90 minutes left, and we were starting to see some daylight on the North Sea. Then I changed gear, and the chain became jammed. Unfortunately, we tried to pedal it out again. That method is either an instant success, or a disaster. We had to stop. We all had a go at removing it, getting hands covered in dirt in the process. Eventually I fixed the problem by loosening each of the chainwheel bolts, to allow the chain to be lifted out. After 10 minutes of struggling, we were on our way again.
The picture was now a little less rosy. We had just over an hour remaining, and a mileage of 435. I decided to concentrate on reaching 445 (which would have been 30 miles in excess of the minimum standard set).
This whole section was very pleasant, with pleasing terrain and well made roads. Add that to the view of a calm North Sea, and this could almost become a recommendation that tourists should use the A1. I'm sure you could do worse. When 445 miles was reached, I looked at my watch, expecting to find about 10 minutes left. Actually, we had 25 minutes remaining, so we now aimed for 450, which would be my originally scheduled distance.
We managed 450 miles with 4 minutes remaining, allowing us to nip smartly across the English border before collapsing in a heap about a mile short of Berwick.
Before long we were in the car travelling to Bowsden, the home of John and Joyce Leiper. Some weeks back, they had offered us the chance to drop in for a shower and breakfast before our long trip south. It was an offer which was much appreciated, although I didn't actually get any breakfast.
When we made our way inside, I laid myself down on the carpet. I vaguely remember hearing Marina make her way upstairs to have a bath. I vaguely remember her return, and everybody leaving the room to have some breakfast. And I remember people walking back in, saying "he's still laying on the floor".
Eventually, I got up and managed to take a shower. I then had another lie down – this time on a bed. As you will gather, I wasn't really up for doing much – I'm surprised that I didn't pass out in the shower.
We left at about 10 am, with Mike Bloom having his second 350 mile drive ahead of him, on consecutive days. Unsurprisingly, we made several stops. Fuel and food near Newcastle, sleep at Scotch Corner, drop Hedley off at Newark, and then food again at the Ram Jam Inn.
We reached High Wycombe at 8pm, and Marina & Mike got back to Crawley just after dark. Obviously we were all very tired, but still delighted to have accomplished the feat of five RRA records in one ride.
Earlier in the year, Marina had finished a record attempt and immediately asked "When's the next one?". I didn't hear her say that after the finish this time, but I'm sure she'll be in touch soon.
Ralph August 2001