An Educational Experience June 2005
Mrs Bloom looked across to me and said "Mr Dadswell, I feel the need for intellectual stimulation." I hesitated momentarily, and then replied "A First Class idea Mrs Bloom. What says we take the Long Barrow from Oxford to Cambridge and back in the High Summer?". And so it was decided that on 26th June 2005, a small group of people should gather together at a point between those unspoiled cities ... and at 8am precisely, one of those number should say "go!".
We chose to base our ride at Buckingham, starting and finishing near the Tesco supermarket on the southern bypass. No pressure, but we knew that if we finished well inside 8 hours, then we should be able to get cleaned up and changed before the cafe shut. My first guess was that the route would be about 140 miles, and so I was a little disappointed to discover (when devising the schedule) that it was actually 160 miles. There was no existing record in our category, so (again) we could only judge what a fair ride would be by considering the times recorded on other machines. The fastest ride on the books was 7h 30m, and so I scheduled for us to match that.
It's 23 miles to Oxford from Buckingham, and we soon had the tandem tricycle running comfortably ahead of schedule. At Bicester we were 5 minutes up, and this had increased to a 10 minute advantage as we approached Oxford after a few very quick miles on the A34. Suddenly I was trying to remember what time I'd agreed with Alan Deadman, for him to be in place to witness us at St John's College, Oxford.

(photos at Oxford by Alan Deadman)
Fortunately, he was ready for us as we coasted around him, and so we were safely witnessed at the first extremity of the ride - 11 minutes up. We were just inside one hour at 25 miles.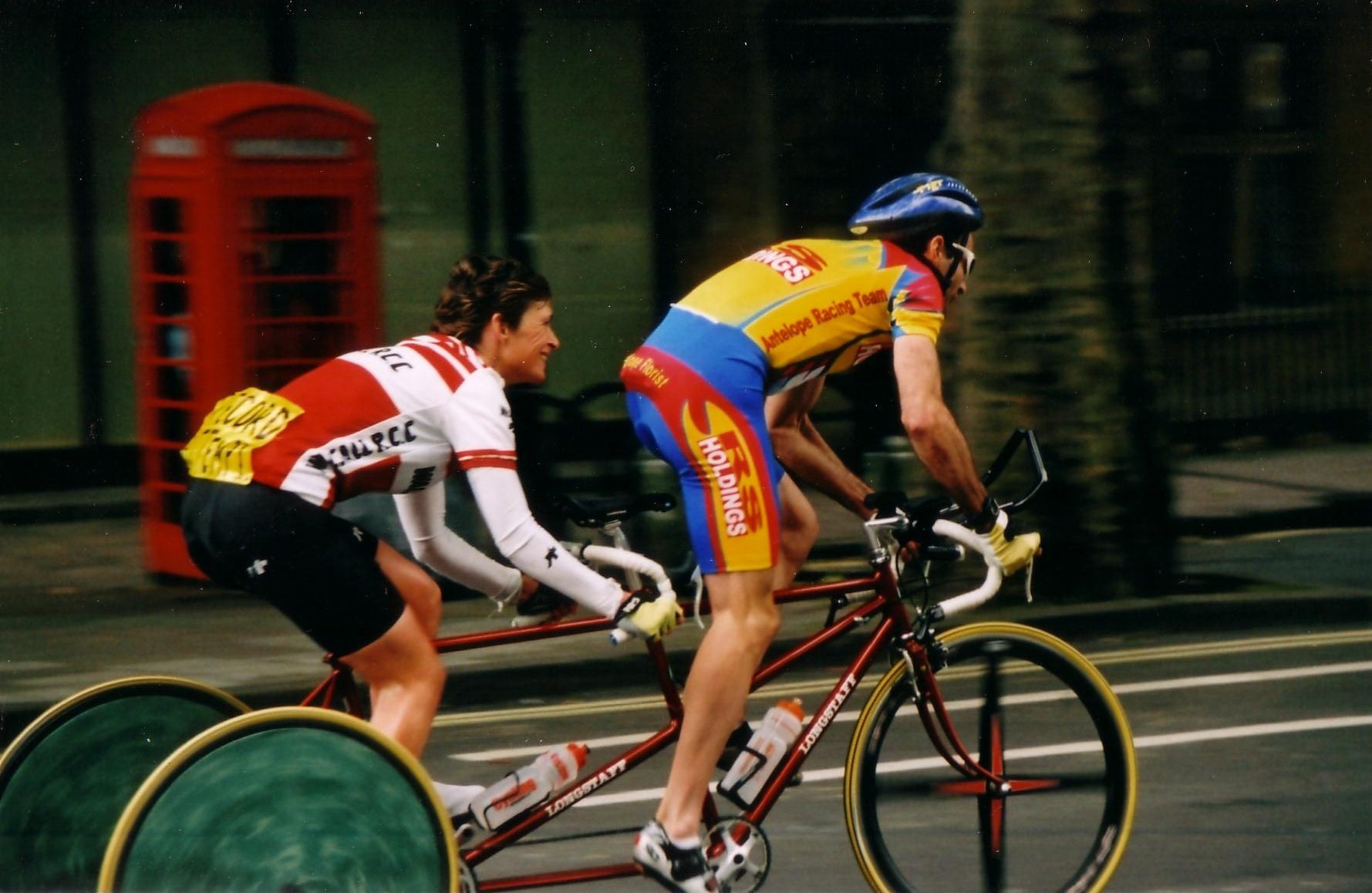 We had been a bit alarmed to make such good progress, and were expecting to discover a serious headwind as soon as we left the leafy boulevards of Oxford. Surprisingly, however, it wasn't too bad. How long would we hold onto an 11 minute advantage? We actually crept up to 12 minutes approaching Bicester, but were back to 11 once through the town. As we approached Buckingham, we then did a few slower miles, as my wife had called in asking us to stop as one of our children was ill. But just as we were about to leave the course and abandon .... she changed her mind, and we received instructions to continue !
I was somewhat confused by this sudden change of heart, and took almost an hour to really get my head into the ride again. This must've made things difficult for Marina ! As we left the interminable sequence of Milton Keynes roundabouts behind, we then had a few rough miles before turning towards Bedford. The weather was still against us, but our advantage over the schedule crept up a little, and as we crossed the A1, we were ten minutes up again. We held on for the remaining 20 miles to the eastern turn, and at 1240 we were picking our way through the little junctions and cobbled streets that adjoin St Johns College, Cambridge.
At the required point, we were witnessed by Alan Turner as we spun around in the middle of the road in front of the college gates, and with some feeling of relief we were into the final 55 mile section of our journey. And the wind direction? As we left the town, there were some flags which were really not pointing the right way for us. So we ignored them, mumbling something like "oh, it's local geography distorting the air flows ....".
Once out onto the open roads again, we were running along quite nicely. The sun was shining, and we added to our advantage at each checkpoint. By the end of the Bedford bypass we had 25 miles to go, and were 16 minutes up. It seemed likely, therefore, that we would beat 7h 15m. But there was still work to do, and we had been out there for over 6 hours. We struggled to the M1 junction, and despite riding well across the Milton Keynes section, the vast total of roundabouts seemed to be forever causing us to lose speed and then drag ourselves back. With 10 miles to go, we had a 17 minute cushion.
The closing section includes a fairly lumpy few miles as the route crosses Whaddon Chase. We were (or at least I was) tiring a little, and our speed was suffering. But then, as if by magic, the terrain suddenly became friendly, and we were doing 30 mph. In the space of a minute, we went from "let's get it over with", to "hey, we could beat 7h 10m !". We sprinted and sprinted and sprinted.
We crossed the line in 7h 10m 2s. Gnashing and grinding of teeth. But hey, it was faster than we'd expected to go, and there had also been a section where we'd only really been running on one engine, so perhaps it was a good result after all.
We had finished comfortably ahead of the 4pm deadline, and so adjourned to the luxurious surroundings of the Tesco cafe for a fry-up. The officials, who were Den Mills and Bob O'Dell, sorted out the paperwork and we were soon making our various ways home. The next significant event on my cycling calendar is the Mersey Roads 24 hour, where I will ride the tandem-tricycle with Dave Johnson. Marina will be riding alongside her Walsall team mates, hoping to once again take the team prize. Who knows what the day will yield ....
Ralph Dadswell July 2005