<![if !supportLists]> · <![endif]> Sport
10th October 2008
'It has become an obsession'
By Alan Feldberg
<![if !vml]>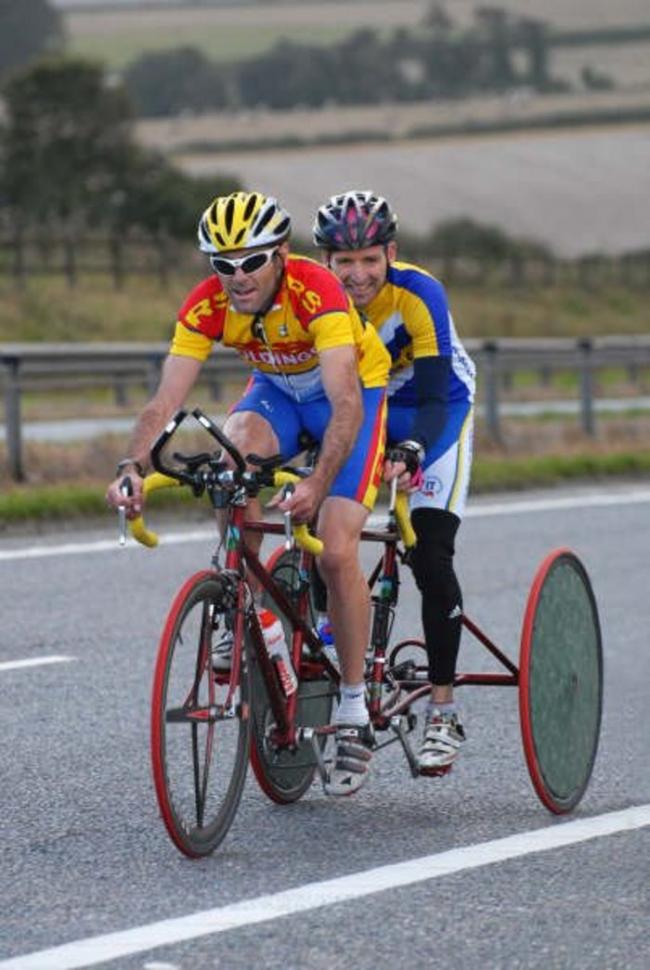 <![endif]>
Ralph Dadswell and Paul Mace
A LONGWICK rider is on a personal quest to hold almost every cycling record in the country.
Ralph Dadswell has broken 36 national road records since 1989, many of them his own, and after setting two more last Wednesday the 44-year-old now holds 27.
He said: "It has become a bit of an obsession to get as many as I can. The longest record is the 1,000-mile race. I've started it a few times but am convincing myself it's not going to happen."
Dadswell is a tandem tricycle specialist, a two-man bicycle with two rear wheels. Last week he joined up with High Wycombe's Paul Mace to shatter the Lands End to London Tandem Tricycle record by 41 minutes, setting a new 12-hour distance record (262.5 miles) in the process.
The duo were set to go in September. Calm conditions scuppered their plans then, but last Wednesday a westerly wind at their backs gave them every chance and although the hilly terrain coming out of Cornwall took its toll early on in their bid and they fell 12 minutes behind schedule, a blistering last quarter turned it all round.
They eventually finished in 13 hours, 37 minutes and 35 seconds to smash the record of 14 hours, 18 minutes and 16 seconds set by S Jackson and H Hargraves back in 1979.
Dadswell said: "I've submitted the paperwork to the National Road Records Association for a shot at the York to Edinburgh record later this year, but I'm still recovering from Lands End to London so it might not happen just yet."
Meanwhile, Mace's story is almost as incredible.
After travelling more than 600 miles to reach the start line, and then spending 13 hours in the saddle, he celebrated his record-breaking ride by rushing north again in time to resume his RAF duties at 7.30 the next morning.
The 36-year-old has been posted to Alnwick in Northumberland, and as soon as he'd pedalled himself into the record books he hurried to Liverpool Street Station just in time to board a train taking him 320 miles back to base.
He finally clocked in at 2.30am, just five hours before duty called.