Land's End to London (and 12 hours) with Paul Mace
Back to 2008-2009
So, what's the terrain like for this ride?
Nearly a year ago, Paul Mace had put his hand up and volunteered to do some rides on the tandem tricycle. The moment was part-way through the High Wycombe Cycling Club's Annual Dinner. I had just, as part of a cross-toast, asked for volunteers to replace Dave Johnson as the man-on-the-back. After 10 years and 8 national records, Dave had decided to take a break from tandems, and so I needed to find someone else.
To be fair, the toast was a bit of a set-up, as we'd already spoken on the subject, emphasising the qualities needed. "I need to find someone who's good on the hills, and can turn out a useful distance over 12 hours. My first thought," I told Paul, "was to talk to you." He looked a little uneasy, but I continued, "I figured that you would definitely be able to help me", I paused, "because you're bound to know someone like that."
Luckily, he didn't understand the joke, and so the deal was done. We would do a few races to get him familiar with the riding position and to sort out the techniques for cornering etc, and then we'd go for a record. I think we did six races, with the fastest being 20-55 for 10 miles, and the longest being a 1.54.31 for 50 miles.
During August, I submitted schedules for us to make an attempt on the Road Records Association "Land's End to London" route, including the option of a 12 hour record en-route, if we were fast enough. The 290-mile place-to-place ride had been set 30 years earlier, under difficult circumstances, as one of the riders had been ill before and during the ride. Add to this, the fact that substantial sections of the course have been improved over the years, and you arrive at a record that was certainly looking beatable. The twelve hour record was over 50 years old, but also had complications. It had been set during a Land's End to John o'Groats ride, but by two riders at the top of their form, and who by all accounts were riding flat-out. Our route could easily be as hilly as theirs.
But back to 2008, we had a fairly windy and blustery August, followed by a calm warm September. We were looking out for strong west winds for Land's End to London, and so had a frustrating wait until eventually something interesting cropped up for Wednesday 1st October.
On the Sunday prior to the attempt, Paul rode the Three Peaks cyclo-cross, fortunately emerging unscathed. Once we had each arranged a couple of days off work, we had to get some organising done. There was one further complication, in that during September Paul's work had seen him transferred from High Wycombe to a new location – Alnwick, Northumberland. So, he was on the train to the south on Monday evening, arriving at Princes Risborough station at 11pm.
We had a cup of tea before turning in. In casual conversation, Paul provided a priceless moment when he asked "What's the terrain like for this ride? It's not hilly, is it?". I had difficulty controlling my mirth. I was sure that we'd discussed this before. "Yes, it's very hilly, almost all the way. Sorry – I thought you knew…". Ooops.
Just before noon on Tuesday, we left for Land's End. Our support crew on this occasion was Audrey Hughes, acting as timekeeper for the start and as our Official Observer, and Scott Paterson, who would look after the driving. Despite some dodgy weather, we made quite good time travelling to the south-west, and arrived at Trendrennen Farm at 7pm. I decided that then was the most suitable time to pump up all the tyres – who wants to be doing that at 6.30am in the dark & wet at Land's End ? We then had a meal & retired to bed.
Paul slept soundly. I laid awake, listening to the weather. Howling wind and teeming rain. That was the stuff we were supposed to be out in, but "unfortunately" the weather system had arrived a few hours early, and we were likely to have less rain, but a less advantageous wind direction.
After an excellent breakfast, we arrived at Land's End just after 6am.

(Audrey & Scott, suitably wrapped up)
As we did our preparations, it was dry but very windy. Very windy. But would it be from the correct direction?

(photo by Scott Paterson)
We set off at 7am, and it quickly became clear that this ride wasn't going to be boring and routine. Within a mile we had to swerve to avoid a double-decker bus bound for Land's End (huh?), and the wind was doing its best to blow us off the road. We had debris to negotiate, and speed bumps in the villages. It was a great relief to reach Penzance, and a delight to see Elaine Hancock waving us onwards.

(photo by Dick Abram, roadside checker)
For the first few check-points, we were running 2 minutes behind our schedule, but despite having to take care to stay upright on some of the descents, we managed to draw level by the time we reached Bodmin.
I should say now that the schedule was to beat the record by an hour, and so being slightly behind was no problem. However, I tried to keep that sort of thinking out of my mind when we were riding.
After Bodmin, you have Bodmin Moor. Without doubt, the road used to be tougher than it is now. But it still features two major climbs, and we were solidly ensconced within the lower section of available gears. We also made a brief stop, which would add to the reasons for us running a deficit of 5 minutes as we reached Launceston.
However, we managed fair progress past Okehampton, and pulled back all that time on the run down to Exeter, arriving 3 minutes to the good. Exeter, however, gave us a few delays, and these were further compounded by the drive chain popping off as we left the town. So we found ourselves running a bit behind again, and reached the next check needing to find 5 minutes.
Unfortunately, we then had to deal with quite a tough section. The next check was high in the Blackdown Hills, and we had a torrid time getting there. The road was narrow, rough, and cambered. We eventually joined the A303 with an 11 minute debt. Admittedly, we were at the top of a hill, and the schedule hadn't bothered to consider terrain. But that sort of knowledge wasn't very reassuring.
Even the fact that we had passed the halfway point didn't do much for the spirits. We had seen "London 166" as we left Exeter, and now we had just 145 miles to go. Great.
The villages in this area are doubtless very pleasant, but they were also challenging, and what we really wanted was a bit of flat road. Eventually we got some, and at Ilchester, we were just 9 minutes down. We maintained that past Wincanton, but then we lost a bit as we approached West Knoyle, where we hit 13 minutes to the bad.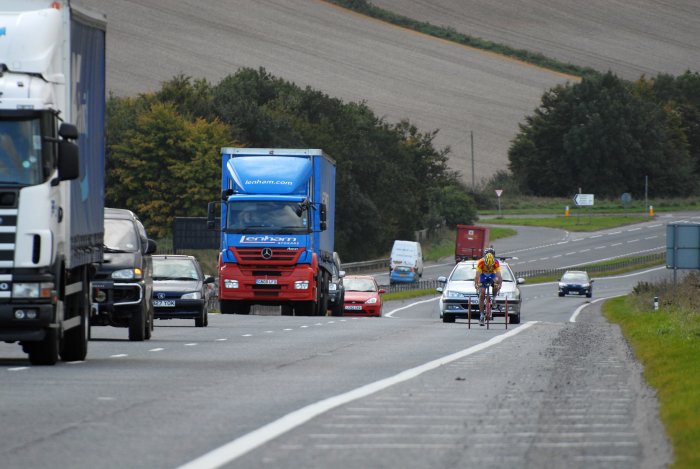 (photos by Noeline Smith)
But that was as serious as it got, because despite some pretty big obstacles on the way, we were hanging on to 11 minutes when we we reached the A338. Then things really started to get faster. We positively nipped up the next climb, and after riding what's known as the "Andover 10" we were just 5 minutes down, followed by another really quick section taking us to the M3 junction near Popham, where we were actually back level with the schedule. Amazing, although we certainly had some scary moments on the way. The traffic didn't seem to think we would be travelling as fast as we were.
Another brief stop, and then we were concentrating on the 12 hour record. This had looked rather remote a few hours earlier, but of course we were now just wondering how much we could add to it. There had been a plan to stop for clothes and lights at about 6pm, but I decided that we would wait until after the 12 hours were up at 7pm. Perhaps I should have stuck with the earlier plan…
As we approached the old 12 hour distance, a car containing Ron Osborne and Brian Rogers joined the ride, to act as timekeepers for our 12 hour point. It's a bit of a blur to me, but I'm advised that the time ran out at Church Road in Bagshot, which the schedule suggested would give a distance of 262.6 miles.
Immediately after that, we stopped for lights and extra clothes. This was when I realised that I was in a bit of a state. While Paul had kept his legs & arms covered throughout the ride, I had been in shirt & shorts, without even any gloves. Without realising it, I had become quite cold in the previous hour. I had to be helped into my extra clothing, and each finger had to be guided into my gloves….
About 10 minutes passed before we set off once again. The Hounslow & District Wheelers were out in force. Jeff Marshall & Ron Richardson had been in Bagshot; we saw Martyn Roach & Norman Howson shortly afterwards, and after we'd crossed through Staines, Trevor Gilbert checked us through the Crooked Billet interchange and on towards Hounslow.
We spotted Syd Parker just before we joined the A4 for the final 10 miles of darkness, traffic lights, and sudden lane changes. Chiswick roundabout was quieter than expected, and Paul 'Wobbly' Wheeler sent us on our way for the final 7 miles.
I enjoyed those last few miles, with the sudden swerves, the heart-stopping moments, and the sprints for the lights. We had a good run through past the Museums, Harrods etc. Finally, we zoomed up to pass Frank Cubis at Hyde Park Corner after 13h 37m 35s, a 40 minute improvement. And then, we could relax.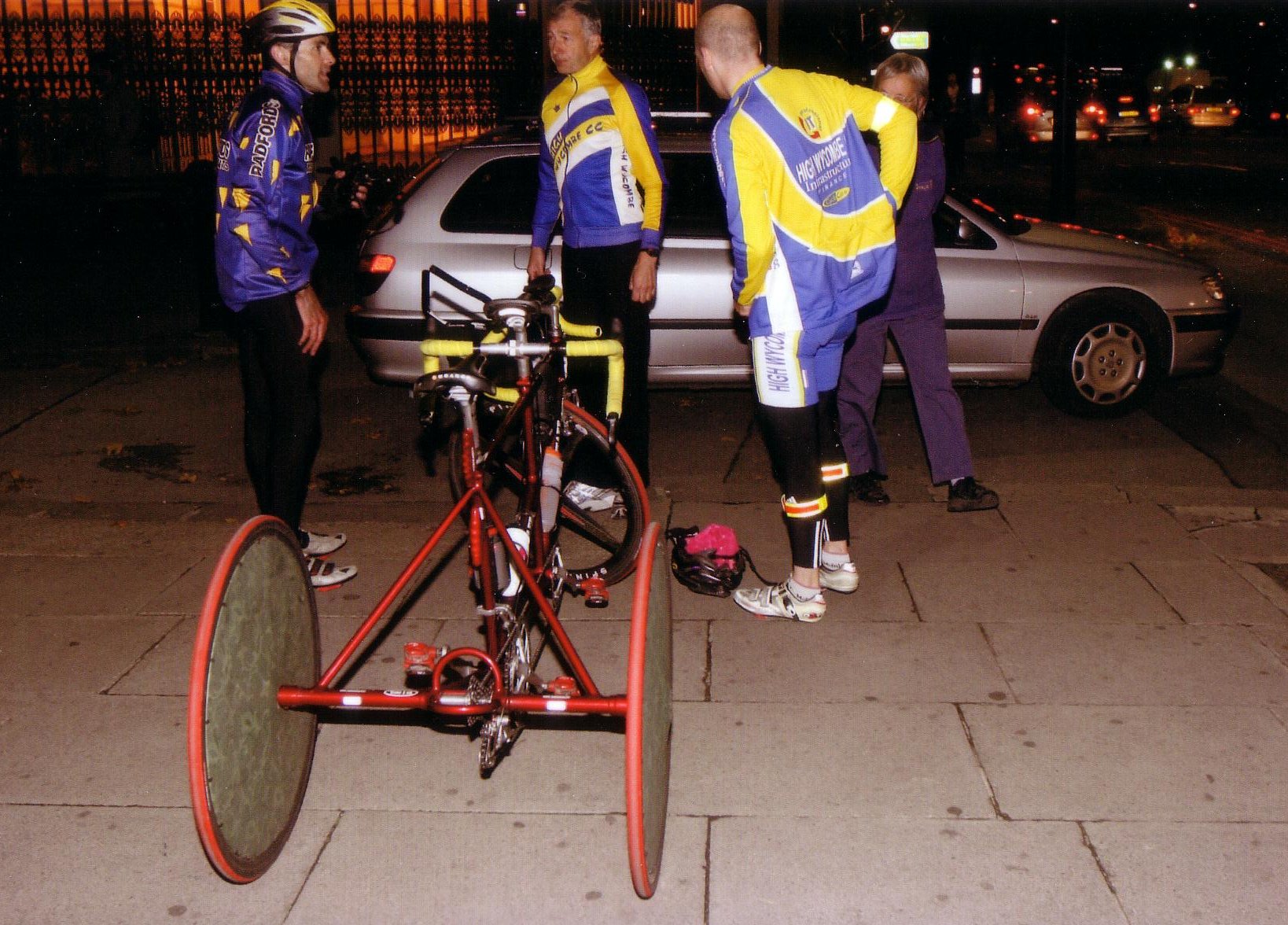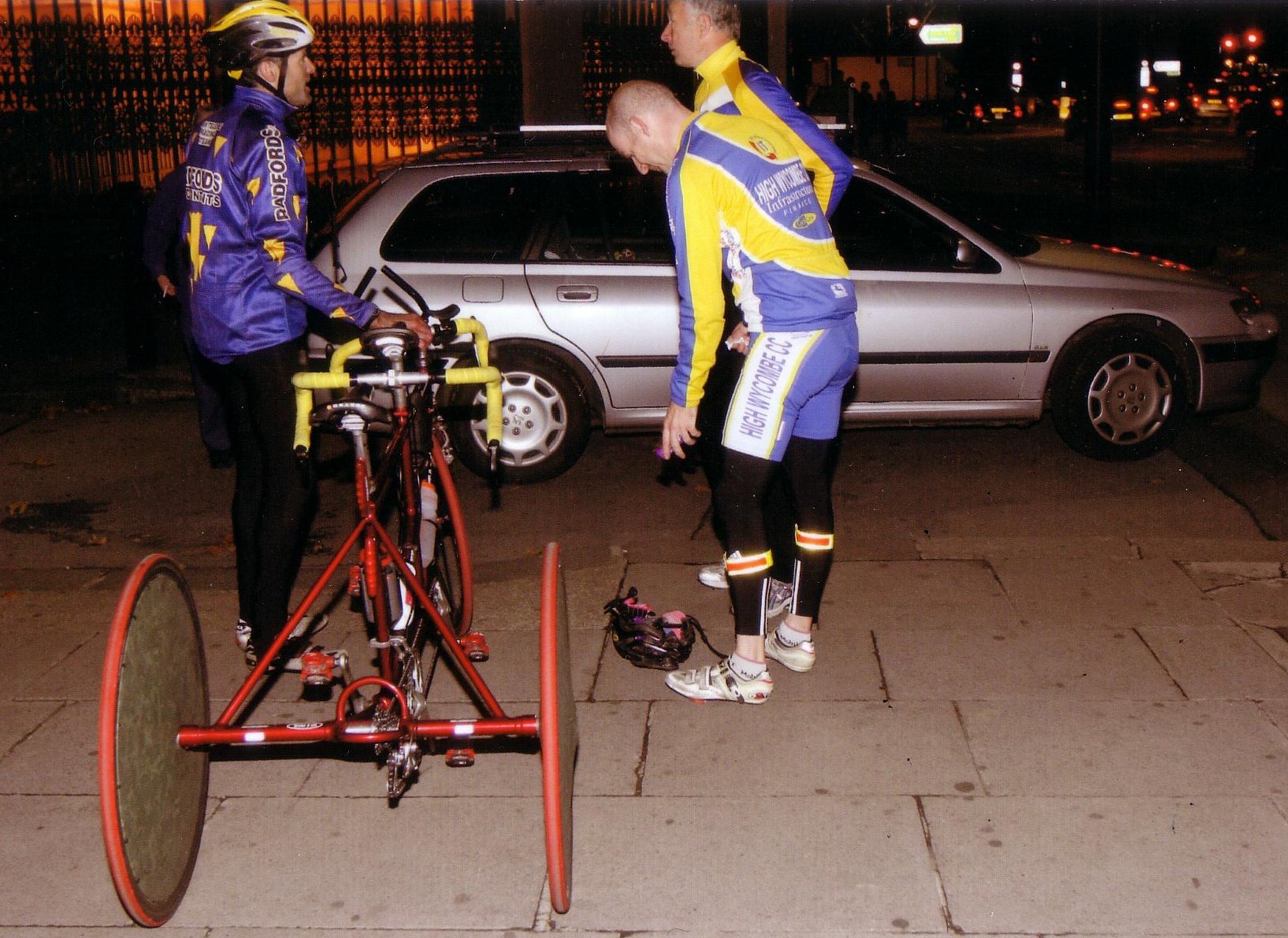 (photos by Brian Edrupt)
Well, I could relax.
But Paul had a train to catch. As soon as Scott & Audrey arrived, he was getting changed & washed down. Then we had to sort out all his stuff, get it in his bags, and then send him off to the (very conveniently placed!) Hyde Park Corner tube station. He avoided falling asleep immediately, and managed to get himself onto the 10pm service to York, and then on to Newcastle, arriving there at 2.23am. HHHhhh
We, however, just stood around for a while, did a few autographs, and set off for home. I was a bit late in suggesting where we could stop for something to eat, and so we ended up ordering food at a takeaway in Princes Risborough. Scott was going to get something to eat at home, so it was just Audrey & me who made the purchase, with Audrey carrying the bag back to the car. So far, so good.
Minutes later, when we were unloading the car outside my house, Audrey decided that instead of having her food in our kitchen, she would get herself home first. That seemed fair enough, so we said our goodbyes, and off she went.
As the sound of her car disappeared into the distance, I suddenly realised. She's driven off with my dinner, and I don't have a note of her mobile phone number ! Oh well, looks like it's beans on toast again. Sigh.
But despite that crisis, I think we're all happy with the day. I'm still slightly grumpy about not beating the record by more, but I feel we've left a reasonably tough target behind us – until, of course, the next major road rebuild happens – and it's always a good feeling to end up with a success.
Thanks to all concerned, and particularly to those poor souls who will now have to measure about 150 lumpy miles for us !
Ralph Dadswell Oct 08