The story of the Yorkshire Dales circuit record attempt
We'll start with a Facebook post from the night before.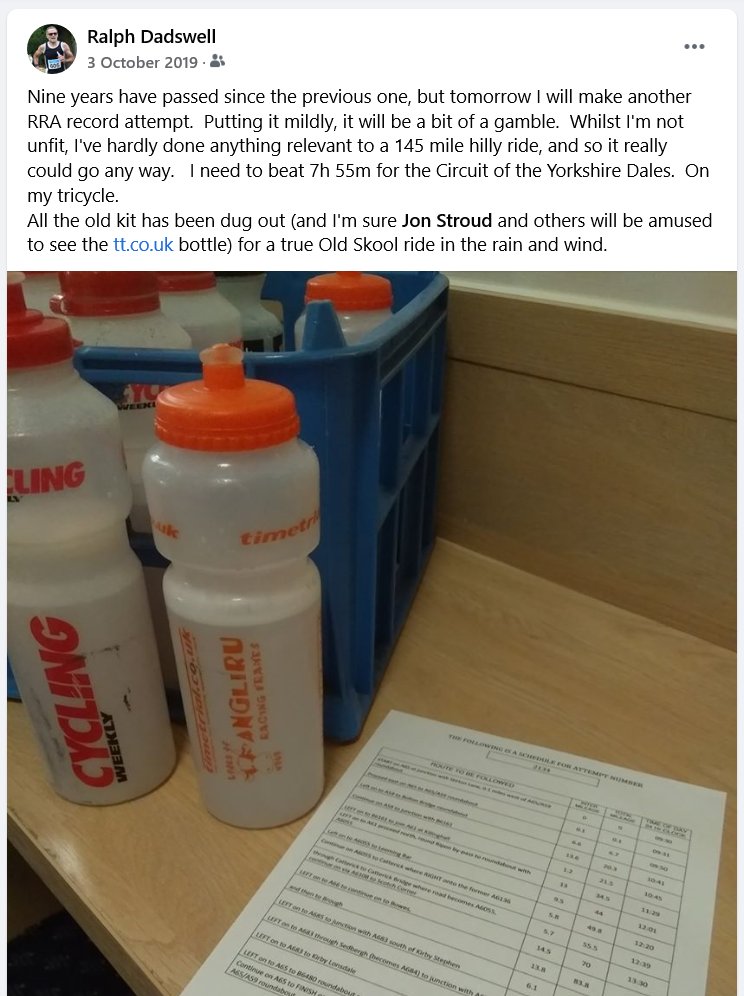 The normal way with record attempts is to sit and wait for the weather to be 'right', and then it's mad panic to get everything organised in time. Fortunately, for a ride that's essentially a big circle, this time I was just hoping for a day that was 'not too grim', and didn't have to be too fussy.
I had picked Friday 5th October, as that date fitted with my other commitments and plans, and the weather seemed likely to be ok. For much of the previous few weeks, Yorkshire had been host to the Cycling World Championships, in some fairly shocking conditions. Seeing the extraordinary amounts of rain and associated floods made me somewhat apprehensive. But the leadup to my chosen date was acceptable.
I had a team of two to look after me as I rode. Phil Hurt had officiated on several record attempts over the summer, and was therefore an obvious choice to be my Timekeeper and Observer. And when I approached Keith Lawton, he cheerfully agreed to give up a day of his life to drive my car and make sure I was properly fed & watered.
The next facebook post gives a brief summary of how it all went, and after that there's some more detail about the day.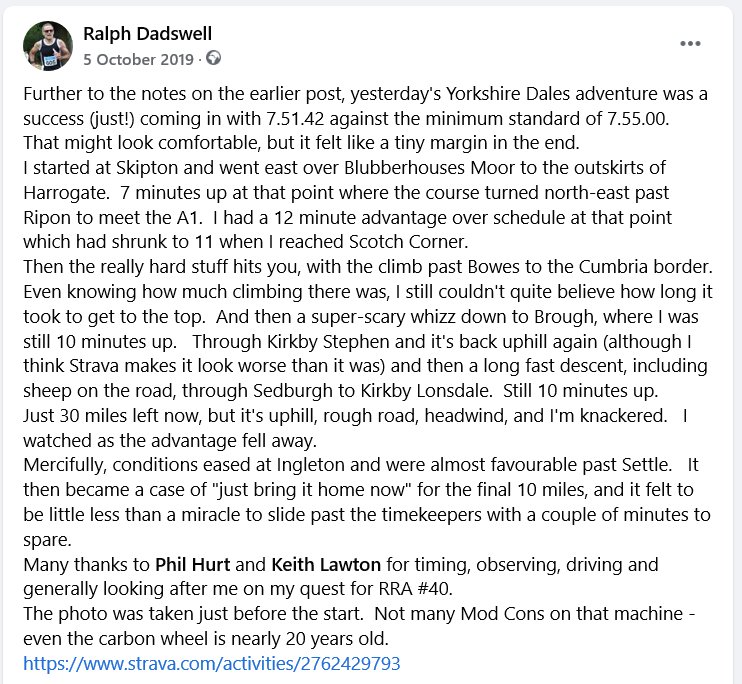 If I'd actually thought to try out riding the tricycle in conditions comparable to the Yorkshire Dales, I might have been able to head off my first error. Realistically, the only riding this machine has seen this century has been in a few flat time trials. As such, it's not really ready for big hills.
The lowest gear I had was 42x20. Normally fine in the Soft South.
After 20 minutes of riding, when I left Bolton Bridge roundabout, I saw the climb ahead. I had that moment of "oh dear, bottom gear, right now", and within seconds was wondering if I was ever going to get around the circuit.
After about 10 minutes of serious struggle, I was at the top. That was the first of several occasions where I felt that if I'd gone any slower I would have stopped and started to roll back. That thought keeps you focussed!
Fortunately things were a bit easier after that (although there's a bit of work when leaving Blubberhouses) and I was starting to regain some belief as I skirted Harrogate and turned north. On the road to Ripon, there were lots of "Advance Warning Cycling Championship" signs, and lots of large puddles. Quite slow at clearing up after they've finished.
I had a bit of "off course?" anxiety after leaving Ripon. I couldn't be quite sure I was on the right road, and I couldn't see my car behind me. But it was ok, and after a bit they were back being a reassuring presence.
The ride alongside the A1(M) was really quite long and quite featureless. My route went through Catterick Village, giving me a chance to look out for Sheila (didn't see her) before making my way along to Scotch Corner. From Catterick it really is 10km of climbing until after joining the A66. Not terribly tough, but there's not much respite.
You get a few easier kms on A66, but when the road turns west, it's 20km of climbing. Some of it was pretty hard, back in the earlier 'box' of knowing that just keeping moving was all I could do (and I can't do it for much longer either!).
Eventually, eventually, after so many false ends, I reached the summit. The descent was amazing, I was sweeping along on a fabulously smooth road at about 50kph.
And then came the speed wobble. Without warning, the front of the tricycle started to whip from side to side. Instinct said to hold on tightly and try to brake. But braking was impossible, particularly as both both brakes worked on the front wheel. And holding on tightly was quite hard as well. I couldn't keep a straight line, and swerved around in a terrifying manner. Over to the left, onto the fairly rough hard-shoulder, and then across almost to the centre lines. All this, with trucks passing in the outside lane. I really thought my time had come, and I would end up sliding along the road in whichever direction fate took me.
Nothing I could do seemed to make any difference, and the hill seemed never-ending. I was just clinging on, hoping the road would flatten out. After what felt like another forever, I got myself back in control. I settled down, and I had a drink. Whisky would have been appropriate.
Then the road pitched downwards again. What would happen now?
Oddly enough, it was fine. And indeed this final phase of the descent was the fastest bit. No problems, even when I had to take the bumpy sliproad off to Brough. Bit of a relief, I can't deny.
There was quite a sharp climb out of Kirkby Stephen, and quite an important fork left. The big effort to climb to Bowes Moor had taken a bit out of me and I found myself taking too many opportunities to freewheel when I really should have been pedalling.
The weather was quite pleasant as well, and I took the chance to admire a bit of the scenery. Obviously I wasn't going to stop for a photo, but I've no idea when I'll next visit this area so it was worth soaking it up.
Happily I was still holding a 10 minute advantage over my schedule though Sedburgh and on to Kirkby Lonsdale.
If I'd done my research properly, I would have spotted that the next short section was going to be tough. It was indeed tough - almost all uphill and I had to watch my average speed fall away.
Throughout the ride, I had had Average Speed showing in front of me on the Garmin display, and when I reached Kirkby Lonsdale my average was 29.9km/h. After this rather grim stretch it was down to 29.4km/h. I still had about 90 minutes to go, and demons were lining up to taunt me.
For a while I occupied my mind by drafting a letter to the committee asking if my ride could still be considered for a record, even though I was outside the Lowest Standard. Ironic, considering my involvement in deciding the standards!
Mercifully, it wasn't all uphill to the finish. Although there were a couple more awkward bits, things were definitely looking better by the time I reached the Settle checkpoint.
I knew the average speed had to stay above 29.1km/h, and that was all I could think about. I was down to 29.2km/h when I crested a hill to see the roadsign telling me I was approaching the finish. I was going to do it, what a relief!
I crossed the line in 7h 51m 42s, taking 99.3% of the time allowed. Absolutely not the toughest record to beat, as there are plenty of people faster than me, even in the tricycling world. But still a pretty tough ride to deliver, and one that will take a bit of courage for the next person to undertake.
And don't forget the scenery near Sedburgh is quite nice as well...